The first avocado I ever had was at Scandia restaurant in Los Angeles and I hated it. The slippery little green cubes avoided my fork, until finally, I managed to spear one. Once I did, I swallowed it – reluctantly, then avoided the rest of them on my plate. I'm not sure how I came to eventually love avocados, but the city of Los Angeles is a little like that, too; You might not like it at first, but it definitely grows on you.
Half of my family is from there so I got to visit them, and the city, during Christmas vacations when I was a kid. Leaving the East Coast snow behind and stepping out of the plane into the 80º heat, and learning that people had actual swimming pools in their back yard, was a revelation.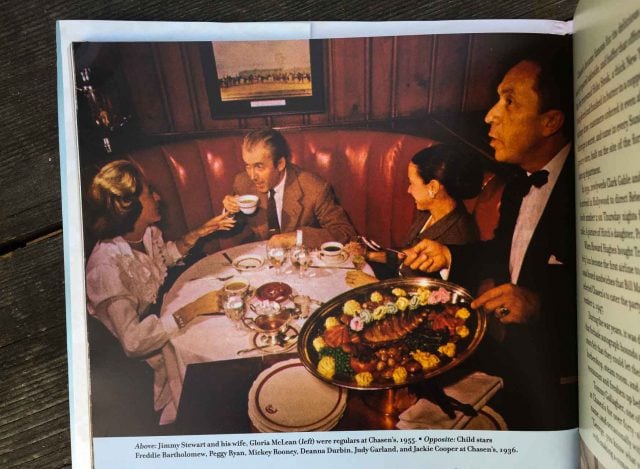 Those days were pretty much the tail end of the era of fabulous L.A. eateries. At places like Chasen's, elite regulars like the Reagan's and Elizabeth Taylor dined on chili and "Hobo steaks." Don the Beachcomber fueled America's fascination with Polynesian fare. And although I never ate there (but every time we passed the sign, we giggled at its nickname), at the Cock'n Bull on Sunset Strip, the Moscow Mule was said to be invented.
My favorite place, though, was Scandia, are airy space on Sunset Boulevard where the impeccable staff would wheel the salad cart to your table and make your salad on the spot, before being heaped on a chilled plate. Most featured crunchy Iceberg lettuce (before the advent of mesclun and micro greens) but the best was chopped romaine, tossed together with a coddled egg and garlic croutons for their Caesar Salad, which I took to right away.
Eventually, the Hansen family sold Scandia in the late 1970s and the new owners couldn't make a go of it. Like the Brown Derby, where the Cobb Salad was said to be invented, it shuttered and the building was turned into something else. To this day, though, I still associate Los Angeles with generous composed salads.
On a recent trip, I didn't have much success finding a classic Cobb Salad. One was tossed together in the kitchen before it landed on our table, and another was served in a big, deep bowl, the ingredients correctly divided into piles, but not in the traditional rows.
For those who miss the heyday of Los Angeles dining, you'll be as intrigued as I was by L.A.'s Legendary Restaurants by George Geary, a fond look back at the iconic restaurants of Los Angeles, some still standing but many, sadly, gone. Everything from Ma Maison and Trader Vic's, to the less-upscale Hamburger Hamlet and Clifton's Cafeteria, reminded me being fortunate enough to have gone to some of those places. (See? Growing older does have its rewards.)
Tastes may have changed, but aside from avocados, mine haven't, and I was craving a classic Cobb Salad. Like a Caesar Salad, sorry, but there are no substitutions on this one. In order to be a Cobb Salad, it has to have bacon, tomatoes, avocados, blue cheese, and chicken. I gave proportions that I used which you can use as a guideline but it's a salad, not a science project, so you can add a little more of this, and a little less of that.
For some reason, this kind of dressing was dubbed "French" dressing back then. The recipe makes more than you need, but the dressing keep for a week or so, in case you're feeling nostalgic for another Cobb a few days later, like I was after I made this one.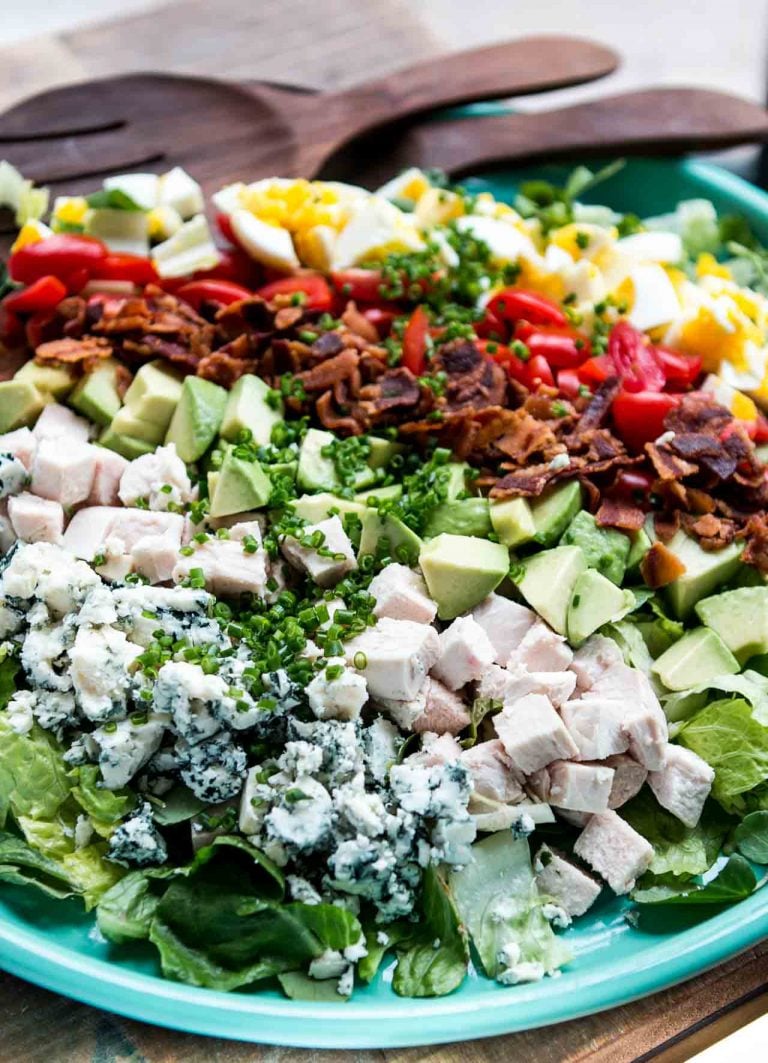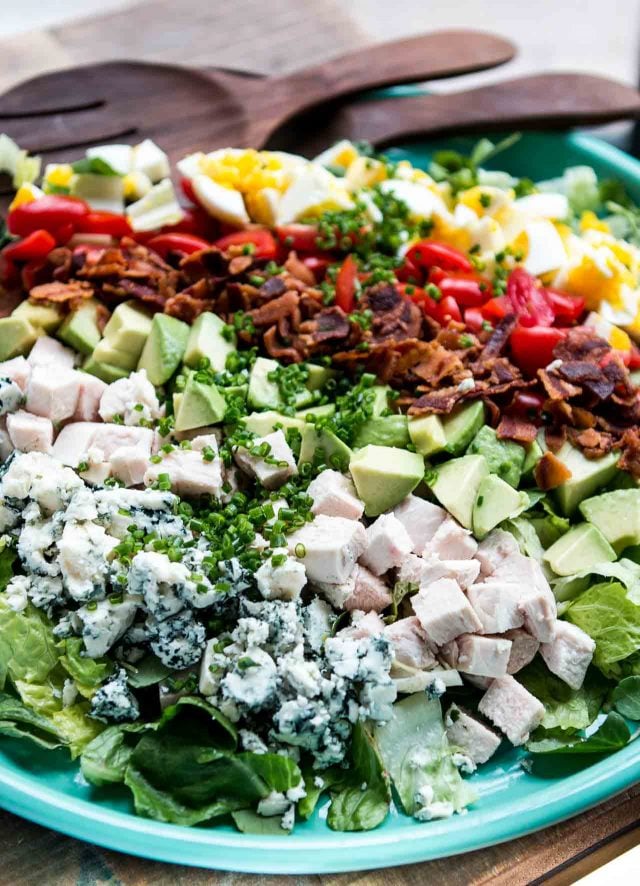 Cobb Salad
Inspired by
L.A.'s Legendary Restaurants
by
George Geary
The idea of a Cobb Salad, like a Caesar Salad, is to have all the ingredients in the right proportions so one doesn't stand out too much from the others once the salad ingredients are all mixed together. If your chicken breasts are large, you may just need one. And the chicken breasts are thick, you might want to slice them in half horizontally once cooked, i.e.; lay them flat on a cutting board and cut them in half, crosswise across the equator, so you've got two flat pieces of chicken from one breast. To cook the chicken, fill a saucepan with enough salted water so it'll cover the cover the chicken. Bring it to a boil, add the chicken breast, cover, remove from heat and let stand for 15 minutes, or until the chicken is cooked through. You can peek inside by piercing it with a knife to check for doneness. To hard-cook eggs, bring a pot of water to a boil. Slide in the room temperature eggs and reduce the heat to a low boil. Cook for 9 minutes, remove the eggs from the water, and drop them into a bowl of ice water, to cool them down. To cook the bacon, put the strips between two paper towels on a microwave-safe plate and cook for six minutes in the microwave, or as instructed by the package. You can also cook them in a skillet, if you'd like. If you don't eat pork, swap out turkey bacon. Some like to use peeled, diced fresh tomatoes. I went with cherry tomatoes since the quality and flavor of them is usually better, except in full-on tomato season. To use fresh tomatoes, you can use a
tomato peeler
, or cut a small x in the bottom of 3 medium tomatoes. Drop them into a pot of boiling water for about 10 seconds (or until the skin loosens away from the flesh), then transfer them to a bowl of iced water to "shock" the tomatoes, which encourages the skins to slip off.
Servings
4
main course-size servings
For the Cobb Salad
1

head

romain or iceberg lettuce

,

or a mix of both, chopped

1/2

head

watercress

,

chopped

1 1/2

cups (210g)

quartered cherry tomatoes

2

medium

boneless, skinless chicken breasts

,

cooked and diced (see headnote)

6

strips

bacon

,

crumbled

3

hard-cooked eggs

,

diced

1

large

ripe avocado

,

diced

4

ounces (115g)

crumbled Roquefort or blue cheese

2

tablespoons

minced chives

freshly ground black pepper
For the French dressing
1/3

cup (80ml)

red wine vinegar

2

tablespoons

water

1 1/2

teaspoons

Worchestershire sauce

2

teaspoons

Dijon mustard

1

teaspoon

fresh lemon juice

1/2

teaspoon

freshly ground black pepper

1/2

teaspoon

salt

1

small

clove of garlic

,

cut into pieces

1/2

cup (125ml)

extra-virgin olive oil

1/2

cup (125ml)

canola oil

,

(or another neutral-tasting oil)
For the salad
Spread the chopped lettuce and watercress in the bottom of a wooden salad bowl or a large platter.

Arrange the tomatoes, chicken, bacon, eggs, avocado, blue cheese, in rows across the top of the lettuce. Sprinkle chives over the top and add a few good turns of black pepper.
For the dressing
In the bowl of a food processor, or blender, combine the vinegar, water, Worchestershire sauce, mustard, lemon juice, pepper, salt and garlic. Process or blend the ingredients.

With the food processor or blender running, add the olive and canola oils in a slow, steady stream, so they make an emulsion.

Toss the salad with approximately 3/4 to 1 cup (180 - 250ml) of the dressing. Leftover dressing can be kept in the refrigerator for up to one week.
Related Links
How to Make French Vinaigrette
Take My Mother Please – Los Angeles Tours: If you want to see where all the legendary restaurants were (or anything else in LA, my friend Anne will take you around town.
Fresh Corn, Tomato, Avocado and Basil Salad