Decades ago, there was a fresh crumpet shop in San Francisco. I don't remember the name of the shop* (in searching for it, I came across Crown & Crumpet, which opened a few years back), but it was out in the avenues and each half-dozen package of crumpets had a paper label tucked inside with the name of the shop on it. Once you collected enough labels (maybe it was ten?), you could turn them in for a free bag of crumpets.
Needless to say, that prompted me to eat a lot of crumpets. I ate them for breakfast, and whenever else I could fit one in (in my race to gain a free bag of crumpets), with a pat of butter melting on top, which filled the little holes that riddled the surface with sunny, golden pools, and a spoonful of berry jam, mingling with the warm butter.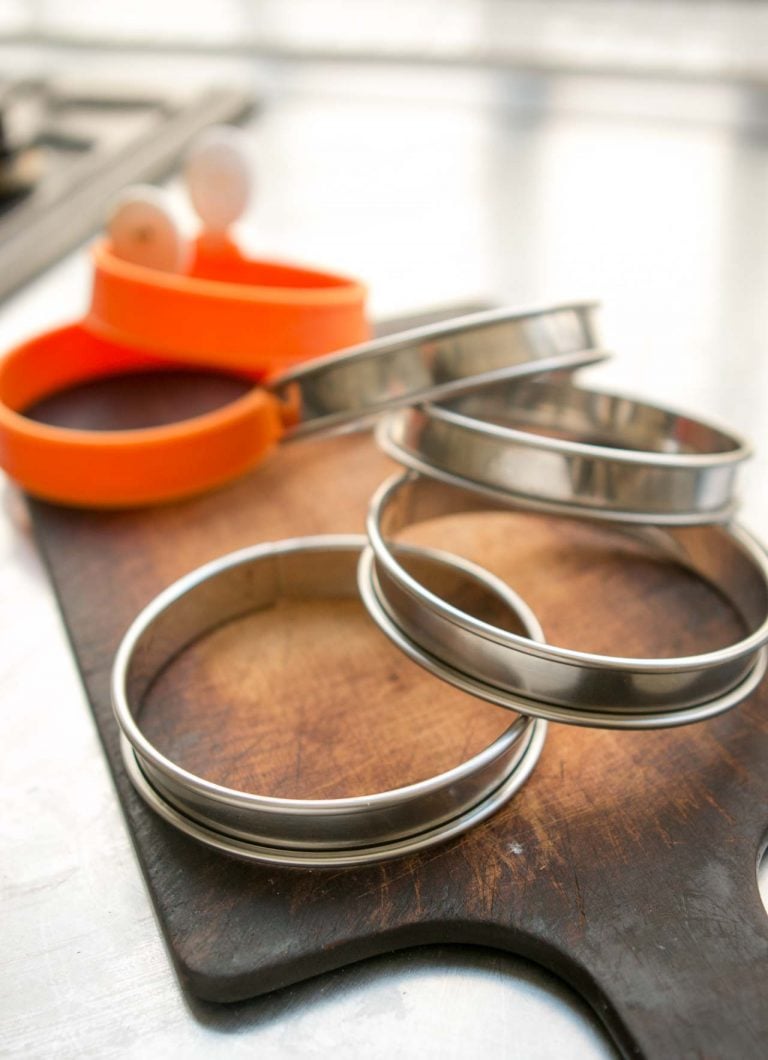 The crumpet shop eventually closed, leaving me with a stack of labels that never got used. (Kind of like the gift certificate I gave to Romain for Les Bains du Marais in Paris, which closed before he got around to using it – zut.) And I moved on to other kinds of bread for breakfast.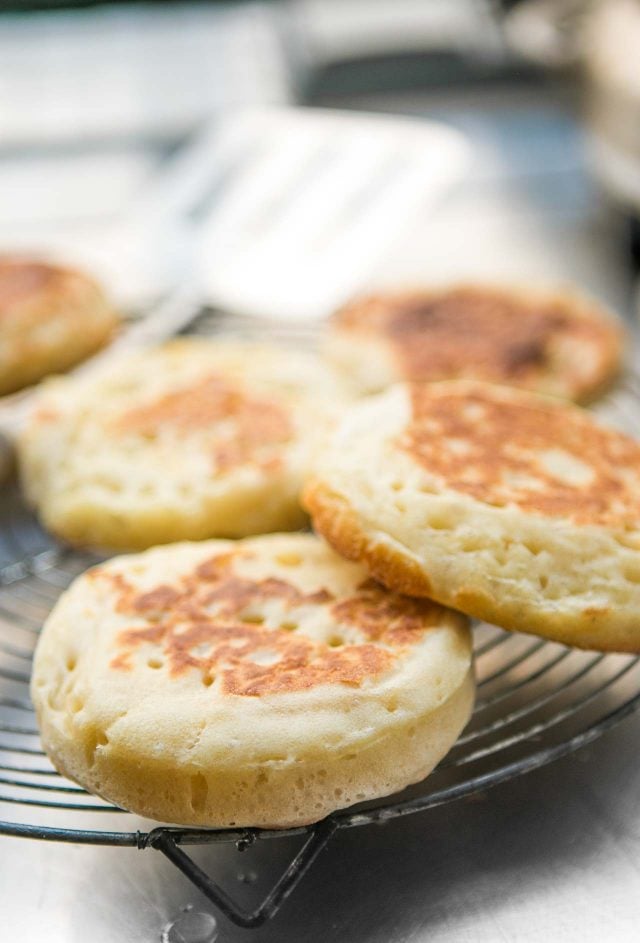 A few years later, Marks & Spencer opened food stores in Paris and not only could we get cottage cheese and streaky bacon, but crumpets, which pleased Romain to no end. Some spoilsport on social media saw me with a package of store-bought crumpets and told me that I should buy them from a place that makes them fresh. When I asked back if they could supply an address…crickets. But he or she did have a point; crumpets are a lot better when they're freshly made.
So I decided it was time to make my own. Nothing causes more controversy, and reprimands, than tackling foods from another culture. With trepidation and fear, I embarked on a crumpet bender, trying and testing a number of recipes in my kitchen.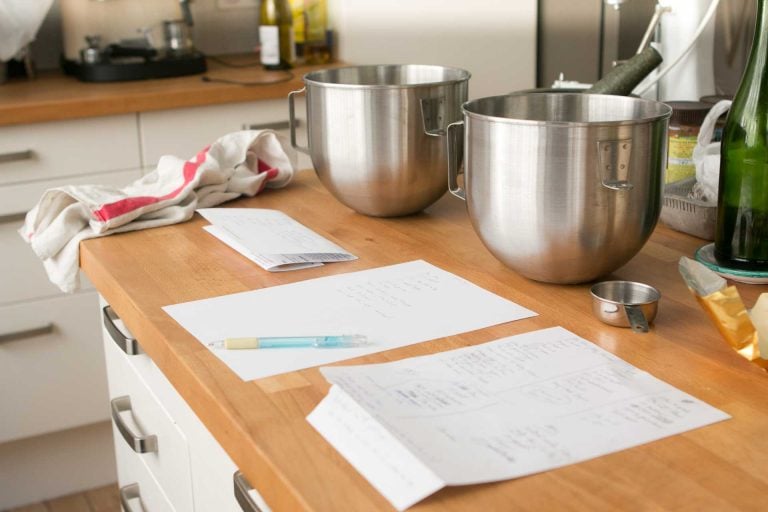 I read somewhere the crumpets are only supposed to be cooked on one side, which is fine. Although after making what I was sure was over a hundred crumpets (much to the delight of my crumpet-craving Frenchman, which made up for not getting those spa treatments), I didn't know how the tops could be cooked if you didn't flip 'em over.
I also heard from the people at Poilâne bakery, the experts, that bread should only be toasted on one side. So if you're the kind of person that only toasts bread on one side, maybe you don't need to flip them. But I do, and did.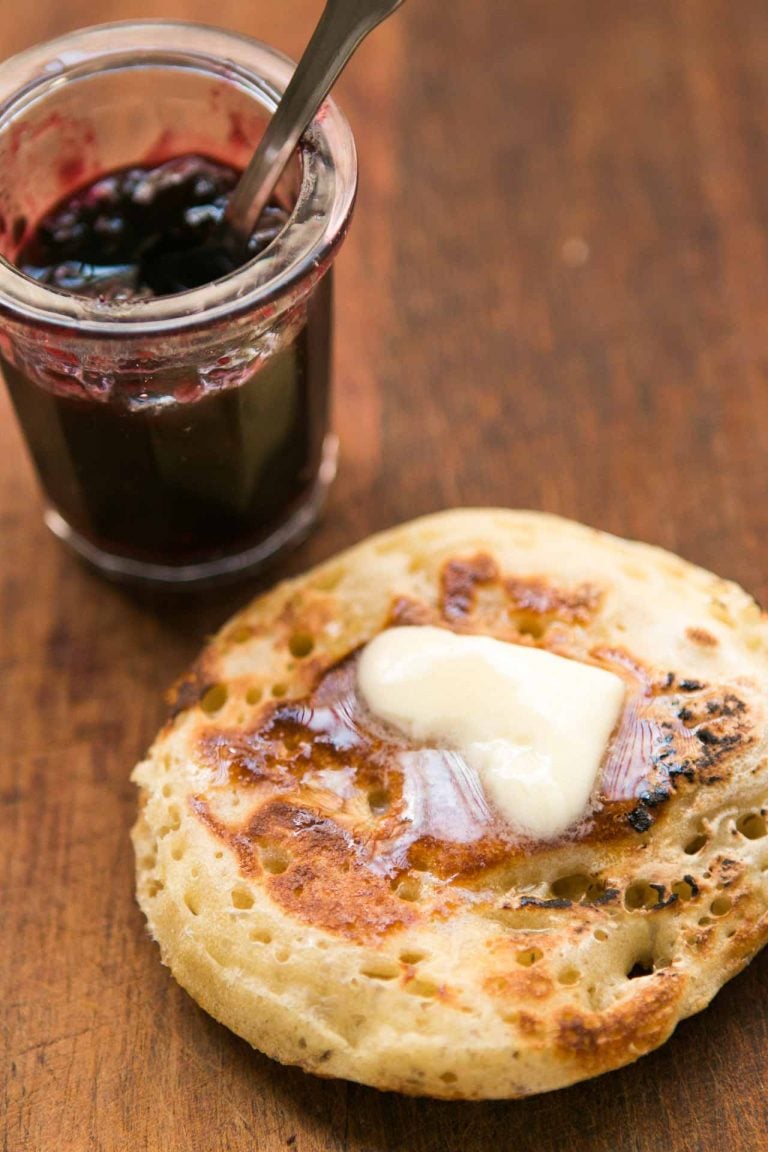 Eventually, everything came together when I landed on the recipe for crumpets in Bill's Sydney Food by Bill Granger, owner of Bills restaurant in Sydney, Australia, where I had a cup of coffee that was so good, I started to cry. (Really.) Crumpets aren't Australian, but neither is coffee, yet they do both well, as I learned when I was in Austalia. The only thing they need to figure out is how to make the flight shorter, so I can go back again.
Making crumpets isn't difficult but you need to find some rings to bake them in. You can use tart tins or rings, English muffin rings, silicone or metal egg rings, or be thrifty and start saving tuna or cat food tins and use those. (Well-cleaned, of course.) The good news is once you own a set of rings, you'll be able to have crumpets whenever you want to, whether you have enough labels saved up, or not.
Crumpets
Adapted from
Bill's Sydney Food
by Bill Granger I've read somewhere the crumpets aren't supposed to get flipped over. And indeed, the store-bought ones I've come across are browned on top, but don't appear flipped. (So I'm guessing they are blown with hot air to "finish" them in a commercial oven.) I flip mine over. You'll need to have some sort of rings to bake them in. You can save tuna cans and clean them well and use them, use large cookie cutters, metal tart rings (I bought mine at E. Dehillerin in Paris, but
this set
is especially reasonable), or
silicone egg rings
, which work beautifully.
1 1/2

cups (355ml)

milk, regular or lowfat

,

at slightly above room temperature (about 110ºF, 43ºC)

1

teaspoon

sugar

2 1/4

teaspoons

active dry yeast

2 3/4

cup (390g)

all-purpose flour

1

teaspoon

kosher salt or sea salt

3/4

cup, plus 1 tablespoon (195ml)

tepid water

1/2

teaspoon

baking soda
In the bowl of a stand mixer, mix the tepid milk with the sugar and yeast. Let proof for 10 minutes, or until the yeast starts to bubble.

Fit the mixer with the paddle attachment and gradually mix in the flour and salt. Turn the mixer to high speed and beat for 3 minutes. (You can also make this by hand in a large bowl, and beat the mixture vigorously.)

Cover the bowl with a kitchen towel and let rise in a warm place until the dough has doubled, about 1 hour.

Mix the water and baking soda together and beat them into the dough.

Heat a wide skillet over medium heat. Pour some neutral-flavored oil into a small bowl and use a paper towel to wipe the bottom of the pan with oil, and the inside of the crumpet rings or molds. (Mine were 4-in/10cm, but you can use another size.)

Place the rings in the pan and fill the molds with batter so they're halfway full. Let the crumpets cook; bubbles will appear on the top while the bottom browns. Cook them long enough so bubbles can form, checking the bottom (and perhaps adjusting the heat) to make sure the undersides of the crumpets aren't getting too dark.

When there are bubbles on top and the bottoms are browned, about 4 to 5 minutes, use tongs to remove the rings and flip the crumpets over. (Tip: You can actually remove the rings once the crumpets appear set, so they have a few minutes to cool down before you reuse for the next batch.) Cook the crumpets on the other side until golden brown. If you're like me, you'll probably toast them so they don't need to be very dark. When done, place the crumpets on a cooling rack.

Wipe the inside of the crumpet rings clean of any stuck-on bits, wipe the bottom of the pan with a bit of additional oil, and repeat the process, making more crumpets with the remaining batter.
Notes
Serving & storage: Crumpets are best served warm, or toasted, with lots of butter and your favorite jam or marmalade. They can be stored at room temperature for 2-3 days, or frozen for up to two months.
Notes: You can use this yeast conversion table if you wish to substitute another type of yeast in this recipe. Check here for tips on <a href="http://slice.seriouseats.com/archives/2011/01/protips-correct-water-temperature-for-proofing-yeast.html">proofing yeast</a>, and check my post on gluten-free substitutions for tips on gluten-free baking.
*I did more searching and found the name of the original shop in San Francisco: The English Tea Shop and Crumpet Bakery.