Where to Dine in Sydney, Australia
If I ever get back to Sydney, I may never leave. And not just because it takes the better part of a full day to get there, or to recover from the jet-lag, which Australians know about all-too-well…since for them to go anywhere, it's a considerable journey as well. But what I found interesting was whenever I told any locals how great their city was, they'd say, "Yeah, it's pretty great." Most of the time when you talk to people who live somewhere, they'll invariably have something to grouse about.
I liked walking around the small, but urban center of the city, with its tall buildings, shopping centers, and compact Chinatown. And I enjoyed putting on my walking shoes (and socks) wandering the various neighborhoods, which are eminently walkable and you can chance upon little cafés brewing up excellent coffee, sleek design shops, and ethnic restaurants with food that will blow your support hose off.
Coffee is a big deal in Sydney and now I know why two of the short list of places in Paris that specialize in quality coffee are owned by Australians. One cup of just regular drip coffee that I had at Bills from Single Origin Roasters made me want to cry. Seriously. If I didn't want to disrupt the diners enjoying their meals in the cool-white atmosphere, I would have had a little breakdown while sipping my coffee in the corner.
Seemingly all of the food in Sydney is full of big, bold flavors, and even in inexpensive Asian joints (as well as the pricier ones), very fresh ingredients were used in every dish. Because I was in the city to be a presenter at the Crave international food festival, I enjoyed plenty of great food and meals by the stellar chefs I met and worked alongside with in Sydney, who make it a point to feature regional ingredients and sustainable seafood, most of which is caught in Australia.
I also was eager to try things like locally made goat cheeses, the wines, unusual shellfish, and most notably, foraged berries that really perked up my tastebuds and changed my expectations that about how berries should look..and more important, taste.
The feel of Sydney is very much like San Francisco, both being coastal cities, but they also both shared a deep integration with Asian culture. As the host at a Chinese restaurant said to me, "Australia doesn't have its own cuisine, so they borrowed from others." And let me tell you, it was great to be able to go to a Thai "street" restaurant that spilled out on the sidewalk and have a big bowl of spicy red or green curry. Or check out one of the Yum Cha (dim sum) restaurants of Sydney. I didn't realize how much I missed spicy Thai food, and once I got a tantalizing taste of blazing chiles and curry, all simmering in aromatic coconut milk, I was hooked all over again. And think I will be doing a little experimenting in my own kitchen back in Paris.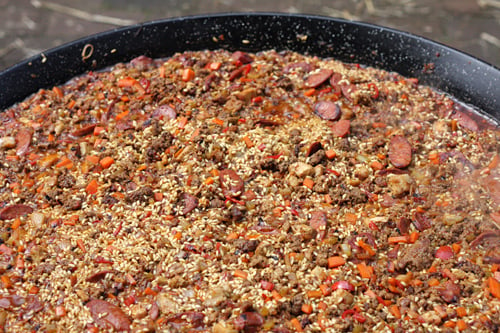 Because Australia is an island, it has a bit of an untamed or "wild" aspect to it. And because of that, the local chefs have really been able to forge a unique kind of cuisine with their native foodstuffs. Like Chef Ben Shewry, who lives close to the sea and spends his days searching the shores and in the waters for foods which he serves at his restaurant, Attica.
I was completely blown away by a selection of odd and unusual native berries and fruits, varieties I'd never seen before, that he presented for dessert one night and if I ever get back to Australia, my dream is to go foraging with him. Although I heard he gets ups early to jump into the sea, so I may wait until mid-morning to join him.
While in Sydney, I did get to know many of the chefs at a bbq hosted by John Fink of Quay, who lives adjacent to Bondi Beach. They were a great, welcoming group and there was lots to eat and drink. Our Aussie hosts created a big paëlla over the open fire, they grilled chicken and coated it with plenty of herbs, and freely poured libations in the style of good Australians.
Because we speak the same language, I didn't make too many gaffes while in Sydney, but I didn't realize how profound the difference in accents was. And more than once I had to repeat myself in shops or while ordering so that I could be understood. But Australians are very welcoming and as my friend Bryce Corbett said, "Anyone who comes all the way to Australia gets a big welcome – we love guests down here!" Which was true and on my first day, a waitress in a coffee bar told me my accent was "really cute."
I did have one wee little problem with the language and accent; when it came time to take questions from the audience during my presentation at the food festival, where I was serving chocolate orbit cake with salted candied peanuts, I had to ask a woman in the audience to repeat herself a few times since I was pretty sure she was asking me in front of everybody if I had a "small penis." Although Australians have a wider berth than other cultures when it comes to being ribald – still, I thought it was a pretty peculiar question to ask.
In fact, she wanted to know if she could have "s'more peanuts", but Australians don't pronounce the hard "t" like Americans do. So I think I do need to go back to Sydney just to prove that the rumors aren't true. (But just to be on the safe side, I'll stay away from the icy waters of the Biondi baths seaside pool.)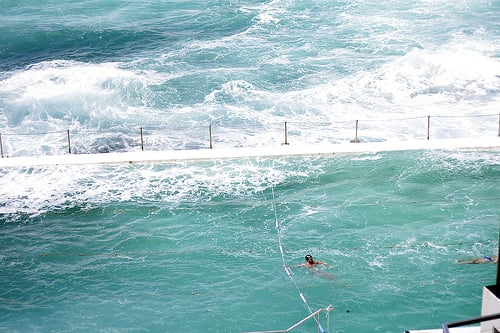 Here are some of the places I ate at in Sydney. Because I was with a bunch of chefs and food writers from around the world, some of these meals were part of the events, and some were by invitation of the local chefs who were welcoming me and others chefs from around the world to Sydney. (Or perhaps it was just me, and they felt bad because of perceived shortcomings.) Others places I either chanced upon or were recommended to me by the locals.
Bills
I can't imagine a restaurant like Bills succeeding in Paris. Not because the food isn't great, but because Bills specializes in breakfast, which is available all day. I forgot how much I enjoy a well-made full-on breakfast; maybe a stack of pancakes with a pat of butter melting on top, a bowl of five-grain porridge, a plate of warm toast, or sweet corn fritters.
Most surprising were the ricotta hotcakes with fresh banana and honeycomb butter. I thought it was kind of goofy to call honey butter "honeycomb butter", figuring it was just made with honey, but mixed in the butter were bits of honeycomb, spewing rivulets of dark, syrupy sweetness in the slices of butter. Yes, I was hooked. And yes, if Bill decides to open in Paris, he might have a hit on his hand after all. French folks do like soft-cooked eggs with soldiers (toast sticks for dipping) and I I've personally trained one in particular to like crispy bacon.
Porteño
I met up with my friends Bryce and his wife Shay, the former Lido showgirl (and cupcake-maker), who'd quit the glamour of Paris and moved back to Sydney and it was good to be reunited with them. While we waited for Shay to arrive after her exercise class, Bryce and I loosened up over a few cocktails in Gardel's bar upstairs, then headed down by the rotating asador, where chefs Elvis Abrahanowicz and Ben Milgate man the fireplace and prepare dinner.
The roasting of the whole pigs at Porteño gets started at 10am in the morning, and by around 9pm, they're almost all gone. Thankfully there was pork left when we got there, so after a plate of marinated veal tongues, sliced sausage, and house made pâté, we had a big mound of the crispy skinned pig as well as a plate of lamb ribs and a side of sautéed radicchio with pancetta and hazelnuts.
We were barely able to make it through half of the food when Shay arrived and helped us with the mountains of meat. Like I always say – Thank heaven for showgirls.
During our meal I scoped out that everyone around us was ordering the same dessert, and even though my nearly-defeated tablemates begged off, I trudged on. And they were glad I did. (Well, at least I was.)
The Postre Chaja a South American-style pavlova, consisted of pear syrup-soaked sponge cake, poached pears, custard, and topped with generous crumbles of meringue, and was one of the best desserts I've had in my life. (Which joins the ewe's milk ice cream dessert at Quay.) Even if you're a tea-totaling vegetarian, go to Porteño just for this dessert.
Spice I Am
I found myself drawn to the Surry Hills neighborhood of Sydney a few times, and I'd passed by Spice I Am, and was drawn in by folks sitting on tables spilling out onto the sidewalk and eating big bowls of Thai curry. Being nosy, I peered into their bowls of food but since it wasn't my mealtime when I went by, I made a note to go back. The only thing is, is that I wish it hadn't been just a day or so before I left. Because now that I've had a taste of authentic Thai food, something that you just can't find in Paris, I've got a hankering for it something fierce: it's very easy to get hooked on all those spices and sauces and yes, I'm hooked all over again. I dove into a big dish of Pad Cha, a spicy stir-fry of pork with curry, tiny Thai eggplants no bigger then green peas, and a boatload of very thin red chiles. My mouth is still tingling.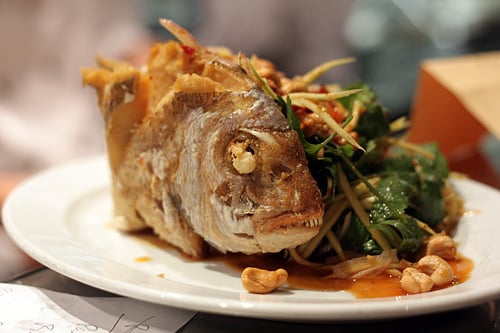 Sailor's Thai
Another Thai hotspot that I wanted to visit was Sailor's Thai, ever since I opened up my copy of Thai Food by David Thompson, one of the best and most comprehensive books on Thai cooking. It's a stunner of a book and I was anxious to eat in the restaurant he founded, even though he no longer owns it.
I ate in the canteen, with its long communal table, rather than in the downstairs restaurant, since I couldn't round up a dining partner. And although no one around me offered to share all the marvelous platters of food they were ooing and aahing over when presented in front of them, like the dramatically presented fried fish, I did pretty well for myself with a starter of vegetarian fried springrolls with sweet potatoes, and the staff kindly let me order some half portions of green papaya salad with dried prawns and coconut rice and a fiery green curry with pork and green peppercorns so I could try them. Dessert was a pandan jelly dusted with freshly grated coconut, which quivered alongside a mung bean cake, that was served warm.
Billy Kwong
Even though I had a day-long lunch at Billy Kwong, the restaurant of Chef Kylie Kwong, I wanted to go for dinner and experience the actual restaurant itself. Plus after I wrote about it, a number of readers recommended some dishes that I didn't get to try and I was anxious to return. Sure enough the crispy skin duck with organic orange sauce, as well as the forceful flavor of five-star anise, was indeed, worth returning for to try. But the big surprise was the deep-fried duck eggs (pictured.) It's hard to justice to deep-fried food in a snapshot taken in a dark, busy restaurant, but each golden-brown packet encased a soft-cooked duck egg, served at just the right temperature and consistency to capture the silkiness of the rich yolks. When I popped one in my mouth, I had one of those "Oh My God" moments of joy, when you eat something so good, you can't believe it. Judging from the line at the door upon opening, it's obvious that the folks in Sydney feel the same way as I do about Billy Kwong and if I lived here, I'd be lining up too.
Palace Chinese Restaurant
I asked a local Asian chef where to get Yum Cha (dumplings) and he recommended the Palace Chinese Restaurant, located in the multi-leveled Piccadilly Tower shopping center. As an American, the idea of eating in a shopping mall is never really appealing, but I recalled when I was in Dubai and in Japan and Thailand, where locals took me to great dining options in malls – at both ends of the scale, from high-end to casual. And I know people always want to recommend a dirt-cheap joint way out in the middle of nowhere that someone who is traveling isn't likely to have the time to visit. (And the last time I had cheap dumplings that were recommended to me, the filling tasted remarkably like dog food.) So I was happy to be seated at a lone table at the Palace and chose from the dumpling carts being wheeled around the dining room.
Unfortunately the moment I pulled out my camera and took a quick shot, immediately the floor staff jumped on it and starting talking amongst themselves, and were on high alert. It made me really nervous. (I don't understand when I hear about bloggers going into restaurants and announcing their presence. This was the first time this has happened to me and it was really unnerving and uncomfortable.) The host, who'd been hovering ever since that fateful shot, finally came by to see how everything was (it was great) and to put him at ease, I casually mentioned that I was here for the food festival as a chef and was more than delighted to be eating great Chinese food. It didn't really calm anyone down and next time I come, I'm leaving my camera at home, and bringing a bunch of friends so I could order more.
(Photos by Grab Your Fork.)
Sepia
One night a group of us had a lengthy dinner at Sepia, where chef/owner Martin Benn had just been named the Chef of the Year by the Sydney Morning Herald. He was a chef at Tetsuya and it was easy to see the Asian influence, especially in the parade of raw and lightly cooked seafood dishes, accented with chiles, dashi, water chestnuts, or wakame, that he presented in his tasting menu.
For those who think that molecular gastronomy is silly, you haven't tasted the salt and vinegar potato starch with sansho pepper "chip" made by Chef Benn, which is better than any potato chip I've ever had. (And I've had a lot.) It was like someone concentrated an entire bag of potato chips into one explosive, crumbly wisp. We had everything from smoked trout from Tasmania to crystallized Australian macadamia nuts with the cheese course, then finally onto dessert, which I particularly loved. The "Chocolate forest" came out and was a shallow bowl of airy chocolate, praline and chestnut flavors with candied fennel fronds, all topped with an oval of pure blackberry sorbet, and buried in the bottom were sparks of fingerlimes.
Piled in a bowl, which looked like rocks, were Japanese Stones (link to video); whisper-thin chocolate shells filled with coconut and caramel creams. They were both intriguing, and delicious. Say what you want about molecular gastronomy, and although that isn't the focus of Sepia, when the techniques are used right – as in making a turbo-powered, spicy potato chip or lightening up chocolate so it retains all the flavor, but dials down the richness so you can still enjoy chocolate after a big meal –naysayers should taste the results for themselves.
(I didn't bring my camera so thanks to Helen of Grab Your Fork for sharing two of her shots from the dinner.)
Bécasse (Update: Closed)
Chef Justin North welcomed us at his chef's table in his kitchen and I'm not dropping a bunch of names here, but it's always interesting – and a bit of a challenge – to dine with Diana Kennedy, who became my breakfast companion for most of the week in Sydney. What's challenging is that she's an extremely keen observer of everything and is one of those rare people in the food world that can command respect, because, well, dammit…she's earned it. And she doesn't miss a thing.
But no worries as there was little to complain about when we ate at Bécasse, where Justin North produces multi-course menus featuring shellfish grilled over a Japanese-style bbq, tangles of unusual greens, and lots of contrasts of flavors and textures. We started with a smoked scallop with carrot jelly sprinkled with toasted buckwheat, then went on to one of my favorite birds – squab – cooked over a smoking bed of pine needles. Dessert was made with locally produced Zokoko chocolate, which they offer in their providore, where you can get some of the wonderful Australian products that they use which can be brought home, including vanilla and fig syrup, which I did.
Sydney Fish Market
When my trip was winding down, I managed to squeeze in a trip to the Sydney Fish Market. I was warned that at the outside eating area, to beware of aggressive sea gulls, but I waved them away, responding that I lived in Paris and was used to objects coming at me at high rates of speed on sidewalk. So I had nothing to worry about. It was interesting seeing all the varieties of fish for sale and although there were a number of tourists, that's also where locals buy their fish. And it's easy to see why.
I was prudent and had grilled Barramundi, rather than fish and chips, although many local Chinese families around us were diving into big bowls of crab and raw fish. And the seagulls were trying to dive into their lunches as well. If I go back, I may try to take the early morning tour of the world's second largest seafood market outside of Japan.
Bird Cow Fish (Update: Closed)
What a pleasure it was to meet Chef Alex Herbert of bird cow fish. During her presentation at the festival, instead of doing smears of sauces over plates (which seemed to be de rigeur , but I held my ground with my salted butter caramel sauce on my dessert plate), she talked about how to grill, with tips on letting meat rest and how to season. Then we got to see (and taste) the results with her grilled quail with polenta and quickly cooked radicchio. I made it to her restaurant later in the week for a glass of wine, but it's at the top of my list for my next visit for a full meal.
Marque
Also at the top of my list for the next trip is Marque. I met Chef Mark Best over a plate of paëlla (or maybe it was a glass of Sauvignon blanc…?) during an outdoor grilling party, but because the restaurant is only open for dinner – and lunch on Friday, which was the day I left – I wasn't able to go. Still, I wanted to stop in at least just to say hi. And when I did, I had a late-night espresso and a lovely plate of house made candies; Aperol-filled domes, chocolates oozing with salted butter caramel, apple jellies, and I can't remember what was in those white chocolate bites (lemon?) But that doesn't mean they weren't memorable. It just means I need to go back and give them another try.
---
It wasn't all gorging myself on great food—I had to work! I was fortunate to be invited to the Crave food festival in Sydney to be a presenter and in spite of messages that I should visit elsewhere, for one thing, since I was a guest in Sydney, it wouldn't have been polite to go elsewhere. And second, when you have just a week, I like the idea of using that relatively short time to explore one place rather than hustle to get from one place to the next, and reorient myself to a different city.
Sydney is very easy to navigate. The downtown area is a grid and I mostly took buses or walked. Taxis are plentiful (my friends who used to live in Paris laughed when I was astounded at how many there were) and there's also a ferry service that leaves from the Circular Quay and I highly recommend taking one of them to anywhere, to see Sydney from the water.
I did try some Australian specialties, like Tim Tams and Wagon Wheels. I never knew what Tim Tams were, and now I know why my Australian friends in Paris get misty-eyed at the mere mention of a bag of them. The packaged Wagon Wheels, well…I think they're worth holding out for a homemade version.
During my presentation, a lovely young woman surprised me by coming up on stage. She's the owner of Cupcake Therapy, an enterprise which she said was inspired by my baking (cue my heartstrings!) but as also a major factor in helping her to recover from a life-threatening illness.
Then she presented me with a box of Lamington macarons. We both kind of had a "moment' together and I was genuinely touched that someone from the other side of the world had been somehow influenced by what I always feel is the simple act of baking. When people ask me why I bake, it sounds sort of cliché to say it's about "sharing", but no one bakes a cake or tart for themselves and bakers are usually very generous people. And the coolest people in any restaurant kitchen, thankyouverymuch, including the team that helped us visiting bakers and pastry chefs in the kitchen.
I will miss all the people I met – the chefs from Sydney and around the world, as well as the great food and even jet-lag that left me goofy and unable to discern a simple request for somemorepeanuts from an inquiry about my …well, let's just leave that business back in Sydney.
But I think someone is looking out for me and when I was pursuing the menu for the flight home…could it be true? Yes, there was a Lamington on the menu. Oddly, the flight attendant had no idea what I was talking about. I didn't want to be The Problem Passenger in 12K, but I requested they check in the galley since it was printed on the menu card.
So even though I had to spend the next eighteen-and-a-half hours feeling her wrath, I had my Lamington. And I could not have been happier.
Related Links