Since it's my blog, I can do what I want. So I'm going to start with – what else? – dessert. At one of the opening dinners for the visiting chefs who came from around the world for the Crave Sydney Food Festival, four Australian chefs got together and made dinner for us. Tasting menus can be hard because for one thing, they're a lot of small dishes and it can be hard to appreciate things when blitzed by a bunch of different foods and styles of cooking. And for another, by the time you get to dessert, your taste buds can be wiped out from the multitude of things that came before. And believe it or not, some people even wave off dessert. I know, weird.
But when this dessert was set down in front of me and I dug my spoon in, I wasn't quite sure what to expect, but found a dreamy dish of ice cream made from ewe's milk spread over a layer of caramelized walnuts and macarons, a bit of prune, and Pedro Ximénez sherry. It was a delightful contrast, the crunchy, nutty base with a layer of cool ice cream. And on top were scattered shards of pulled caramel, chocolate, and vanilla milk skin that you kind of broke off as you wished, to customize and change the taste of each spoonful.
So I was excited to go to Quay later in the week, which overlooks the Sydney Harbor. The only problem was that I'd been eating a lot between that chef's dinner and my lunch a few days later at Quay, and I didn't think I could face a big meal. Since I was going at lunch, there was a choice between a three-course or four-course meal, so I figured I could take it easy. While I was scanning the menu, my server probably read that I was a bit overloaded, yet suggested, – "Actually, the meal is meant to be a four-course tasting menu, but you are welcome to only have three courses." And since I felt I should experience the cooking of Chef Peter Gilmore as he intended, I demurred.
I did go easy on the wine, but was fascinated by the wine list, which made for good reading. There were a lot of natural and biodynamic wines on the menu, with informative descriptions. One biodynamic wine was made by Claude Courtois, a French winemaker who almost died because he drank wine with sulfides, and the wine list notes "His doctor now forbids him to drink wine other than his own." (And yes, that is a real allergy as I have a relative who had a similar near-fatal reaction when he ate lettuce at a restaurant that washed the greens in sulfides, which prevent browning, and the server wasn't aware of that. That practice is now banned in the US.)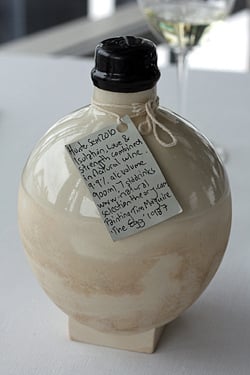 I am certain they don't need to use any preservatives at Quay because the food, especially the fish and the vegetables, were sparkling fresh. But before we leave the wine list, I also noticed that there was "The Egg Project", which was priced at $700 AUS. I asked the very friendly sommelier what that was all about and she said the wine was a Hunter Valley Semillon that was divided into three separate clay eggs. Each was stored under separate conditions: Love, Strong, and Isolation. The Love wine listened to the sound of a heartbeat during storage, Strong remained in the dark, and listened to "amplified" guitar music, and Isolation was left in sand, removed from the rest of the world.
I didn't order them, but did start my meal with a ruby-red Aperol Sour, which I couldn't resist since it contained all of my favorite bitters – Aperol, gentian, and rhubarb – shaken with gomme and egg white. Soon after I was brought a shot glass of smoked eggplant puree topped with a tiny dice of local tuna sashimi that sounded like it would be weird, but was exquisite. And I knew that any chef who could pull that off would create a wonderful meal.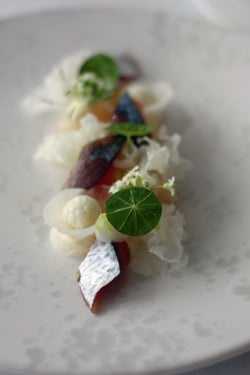 To keep it light, I ordered mostly fish and started with Sashimi of blue mackerel, smoked eel flowers, sea scallops, pickled apple, nasturtiums, Tasmania wasabi, then decided to try the Organic heirloom carrots, cumin, fennel & celery seeds, Comté-infused curd, earth & sea consommé, wasabi. (Yes, I like wasabi.) I'm not really one to order anything with a big dose of cumin in it – cumin can quickly overwhelm anything if even a smidgen too much is used – but I wanted to see what the chef would do with a humble carrot, since I was so impressed with how he used eggplant to its full advantage with the amuse-bouche.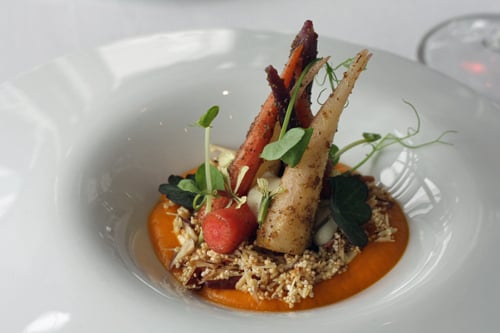 And sure enough, it was terrific; perfect and pinky-sized little carrots, each roasted and dusted with not-quite fine spice powder, sitting on crunchy amaranth with teeny slivers of almonds discreetly mixed in. I had a small glass of Pennyweight gamay, which the sommelier suggested because she said it had "spicy" notes and would compliment the carrots, (which she said was her favorite dish on the menu) but I found it more herbaceous, with the aroma and aftertaste of Chartreuse, an herbal liqueur produced in the French alps.
Before I could dive into dessert, I had one more course to go; Roasted line-caught cod, spring vegetables, oyster & wakame seaweed reduction, native sea parsley. There was a wagyu beef course available off the menu which I was tempted to try, after seeing all the well-aged beef previously at Victor Churchill butcher shop. But I was glad I chose my courses lightly because I ended up getting two desserts, which happens when you're me. I don't mean to rub it in, but it's a professional courtesy. Because we all know what each other has gone through so it's kind of a reward for working in a restaurant kitchen, like "Here, you deserve to it."
I was told by just about everyone who knew I was eating at Quay that I had to try the famous Snow Egg, which in its present incarnation, was served on a bed of jackfruit granita. The Snow egg is considered a must-have dessert if you are in Sydney and it's a ball of soft meringue filled with custard, then just before it's served, a caramel tuile is draped over the top then warmed until it's melted and envelopes the round of meringue where it hardens and forms a brittle crust. So when your spoon goes into the egg, through the powdered sugar, you get a few textures when you dig deeper into it. If you want to reproduce it, the recipe and technique is detailed in Peter Gilmore's cookbook, Quay and online.
I liked it, but was surprised because I had also asked for "just a spoonful, to taste" of the ewe's milk ice cream that was also on the menu. I am a really big fan of fresh goat and sheep's milk ice creams and although I can't find either all that easily in Paris – if at all – I guess Sydney is closer to farms because they have them more readily available. So I always try to order ice creams made from them if I see them on a menu here, or anywhere. Yet they decided not to take me at my word and brought me the full-on dessert, and I was (very) happy to see that it was the exact same dessert I'd had a the chef's dinner a few nights prior. Eating it a second time inspired me jot down in my notebook "One of the world's best desserts", which it truly is.
(Although one of the servers went into a rapture when she told me during other seasons, they do a version with almonds and sour cherries, which sounds like something I need to plan a trip around. As well as the Eight texture chocolate cake.)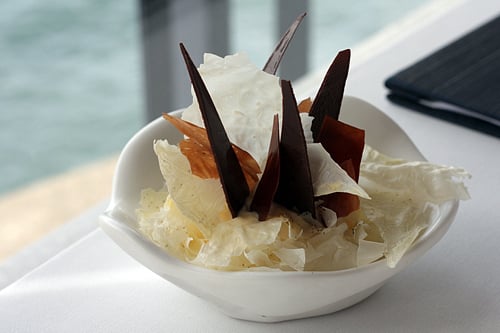 Speaking of trips, when I was finished, I was in a bit of a dessert daze, and decided that I needed to see the Sydney harbor up close since I'd been dining at a restaurant that overlooked it. So I hopped onto one of the city ferries just down the quay and took a spin around the city by boat. The city was quite an impressive sight when seen from the water, but I had a hard time concentrating on anything, except that dessert.


Quay
Upper Level, Overseas Passenger Terminal, 5 Hickson Road
Sydney, Australia
Tel: 9251 5600


Related Links
Quay, Circular Quay (Raspberri Cupcakes)
Quay, Sydney (Doublecooked)
Quay Restaurant, Sydney (Grab Your Fork)