Fulgurances
It's been a hectic year and I haven't gotten out as much as I'd like to, in spite of a long list of places I'm trying to visit in Paris, and a more I plan to check out this fall. Early in the summer, I reserved a table at Fulgurances, intrigued by the food of Israeli chef Tamir Nahmias, former executive chef at Frenchie. His cuisine is infused with the flavors of the Middle East; tahini, pickles, lot of tomatoes and eggplant, long-cooked meats, and a generous hand with fresh herbs. All of which appeal to me.
Paris has taken a turn in the last few years with younger chefs and talent emphasizing freshness, sourcing ingredients from small-scale farmers and local producers, and a liberal use of vegetables on their menus.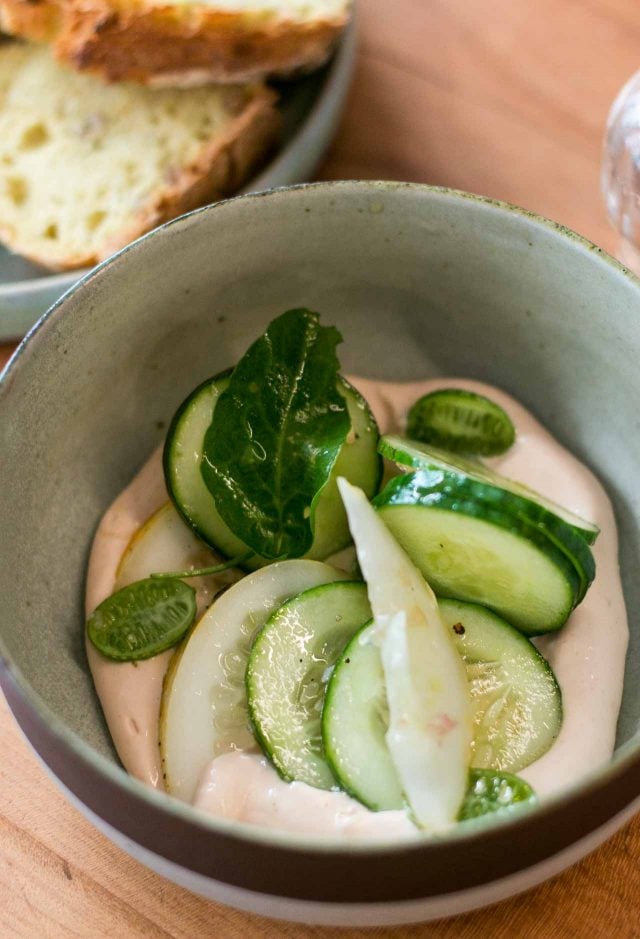 Fulgurances has been open for about a year and doesn't have a fixed chef. Instead, chefs are welcome to come and cook for a period of time, whatever fits their schedule. A fulgurance is something that comes at great speed, and has a dazzling quality. In this case, it's a chef arriving and exciting us with outstanding food.
I had to change the reservation I'd made in the early summer a number of times, then ultimately cancel it, which was unfortunate, but too much was happening at the time. Thankfully I finally made it to Fulgurances with my friends Ann and Elizabeth for dinner, and liked it so much, I went back for lunch a few days later, when the light was better to take some photos: The daylight was coming into the restaurant, which provided a better backdrop for the food. A few dishes were some of the best I've had in Paris.
During the day, Fulgurances is filled with natural light (when the grisaille, grayness of Paris, decides to let up), and I took a seat at the bar to eat and watch the cooking. Chef Tamir Nahmias will be there through the end of November 2016, until he leaves to open his own restaurant.*
I started off with a bowl of taramasalata that was a revelation, served with red onions and a variety of cucumbers, including lemon cucumbers and what are called Mexican cucumbers. When I asked the chef where he got them in France, since I've never seen either variety of cucumber at the markets, he told me he sources many of his ingredients from a farm near Tours. I loved the pairing of the fresh, cool cucumbers with the super-smooth fish roe paste. And I used the hearty bread they serve to make sure I got every bit.
Although it wasn't on the lunch menu, I had fond memories of the beet hummus I had with my friends at dinner, flavored with savory za'atar. But the houmous de haricots cocos de Paimpol (fresh shelling beans) I had at lunch was just as good, if not better, topped with agneau confit, long-cooked lamb (below). The chef and I talked about how good tahini was so important in hummus and he agreed, which almost made me hand over some of the sesame pastes that I've stocked up on during trips to Lebanon and Israel, to help him with his sourcing.
Meanwhile, I'm getting less-adept at taking pictures, while jotting down notes, remembering every course and wine I try, while dining out and drinking wine with friends, which is why I understand bloggers who bring along a photographer to restaurants to take pictures for them. Unfortunately you're still stuck with me and my picture of the outstanding hummus (above), that doesn't do it justice. I wanted to return just to reshoot that photo (and of course, dive into another bowl of it), but haven't – yet.
The other entrée that day was Caponata served on a crouton with a soft-cooked egg resting on top. Like the Sicilians do, Chef Nahmias cooks his eggplant in plenty of olive oil, with the soft cooked egg creating a runny sauce when broken with a spoon.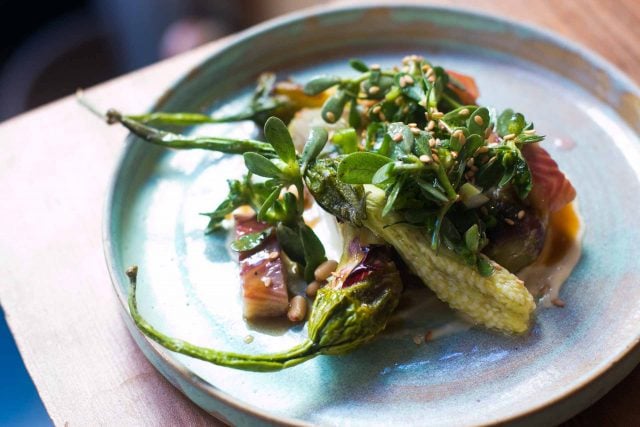 Because I'm an enthusiastic eater, he prepared for me a dish of smoked eel with tiny roasted eggplants and purslane (above), that paired the slithery creature from the sea with the cushiony plants.
He remembered I didn't eat octopus from the other night I'd dined there, but he did let me snap a picture for those of you brave enough to tackle the tentacled beast.
The other main courses that came out of the kitchen that day were the raie (skate) cooked in browned butter on a creamy cushion of potatoes, capers, and mustard. There was a pluma of Iberian pig with grilled corn, peppers, and tomatoes, which made me remember all those summers in New England where fresh corn was so abundant.
It's nice to see chefs in Paris using it and perhaps in the future, it'll find a bigger audience. In fact, I saw some fresh corn on the rue du Faubourg Saint-Denis the other day and a Frenchwoman was checking it out, wondering how to prepare it. "À la vapeur," I chimed in, "Steamed," then added, "avec beaucoup de beurre, et du sel." And we each went home with a bagful of ears.
Desserts for the day (the menu changes from meal to meal) was a straightforward, yet excellent chocolate tart with pears and almonds. I don't like when people mess around too much with chocolate, so it was nice to enjoy the bittersweet chocolate tart in its simplicity, accompanied by poached pears and an oval of just-churned vanilla ice cream.
Even better, though, was the cannoli filled with whipped goat cheese and honey ice cream, served with ripe, fresh figs and a drizzle of acacia honey. My friend Elizabeth, who lives in Rome, snickered about my Frenchified pronunciation of can-nol-LI, but thankfully the authenticity police had the night off because it would be a shame not to enjoy this excellent dessert, no matter how you pronounce it.
The wine list at Fulgurances is filled with natural wines, which I often find a little too cider-y for my taste. But the Le Bégou I had from Maxime Magnon, that the friendly waiter suggested, was a great choice with lunch to go with all the dynamic flavors in the food.
Another welcome fulgurance in Paris is the new wave of coffee roasters and shops that have spread across the city, and restaurants serving nicely made coffee, too. Here, the coffee is from Lomi, which comes out with a delicate foam on top, in small cups, making it the perfect ending to the meal.
Fulgurances
10, rue Alexandre Dumas (11th)
Tél: 01 43 48 14 59
Métro: Rue de Boulets
*Tamir opened his restaurant, Adar, which is terrific in the Passage des Panoramas.
Related Reviews
Fulgurances (Hungry for Paris)
Fulgurances (Patricia Wells)
Fulgurances (Paris Update)
Fulgurances (Paris by Mouth)