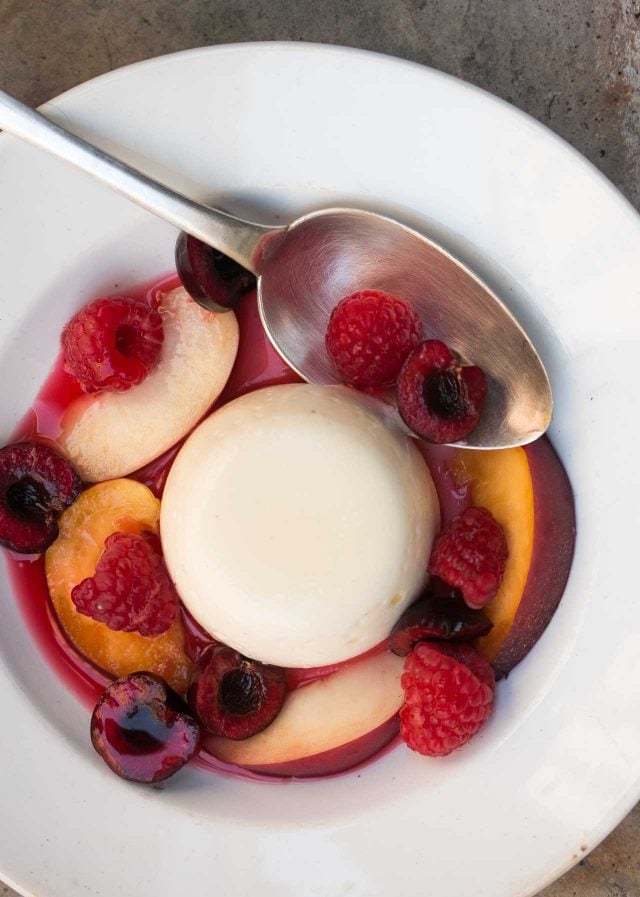 Panna cotta is incredibly easy to make, and if it takes you more than five minutes to put it together, you're taking too long! The result is a silky, custard-like dessert that pairs well with fresh fruit, a compote of baked fruits, or even just a spoonful of homemade jam.
Interestingly, it's become popular in Paris and nowadays, it's just as common to see it on menus as crème caramel and crème brûlée. The nice thing about Panna cotta is that you don't have to make a custard or worry about baking it in a water bath. And the pairing possibilities are endless.
This recipe is adapted from my friend Judy Witts, who has been teaching cooking classes in Tuscany for decades, and leads culinary tours. I spent a few days with her in Italy and within the first few minutes, I knew I was in expert hands as we toured the market and tasted our way through Florence. Judy bypassed the traditional route and self-published her own cookbook, Secrets From My Tuscan Kitchen, a personalized, hand-written recipe book with favorites from her Tuscan cooking classes.
It's become a favorite in my house and I recently updated the recipe on my site with some new pictures when I saw how lovely ripe nectarines, raspberries and cherries surrounding the creamy white mound of silky cream. Other accompaniments could include salted caramel sauce, cherry compote, a drizzle of aged balsamic vinegar, cherries in red wine syrup, baked apricots or plums, or as I did here, with berries and nectarines marinated in the refrigerator for a few hours in sweetened red wine. For picnics or another presentation, you can also make Panna cotta in jars or glasses and serve it without unmolding.
 If you want to cut the richness of Panna cotta, you can swap out half-and-half for the heavy cream, or buttermilk. Because there are no eggs or custard-making involved, you pretty much have a lot of leeway when making Panna cotta. One could infuse the cream with lemon verbena, fresh mint leaves, cinnamon sticks, or even rose petals, in place of the vanilla.
Don't fret if you don't have custard cups or molds. I made mine in coffee cups, oiling them lightly before pouring in the Panna cotta mixture. They turned out beautifully.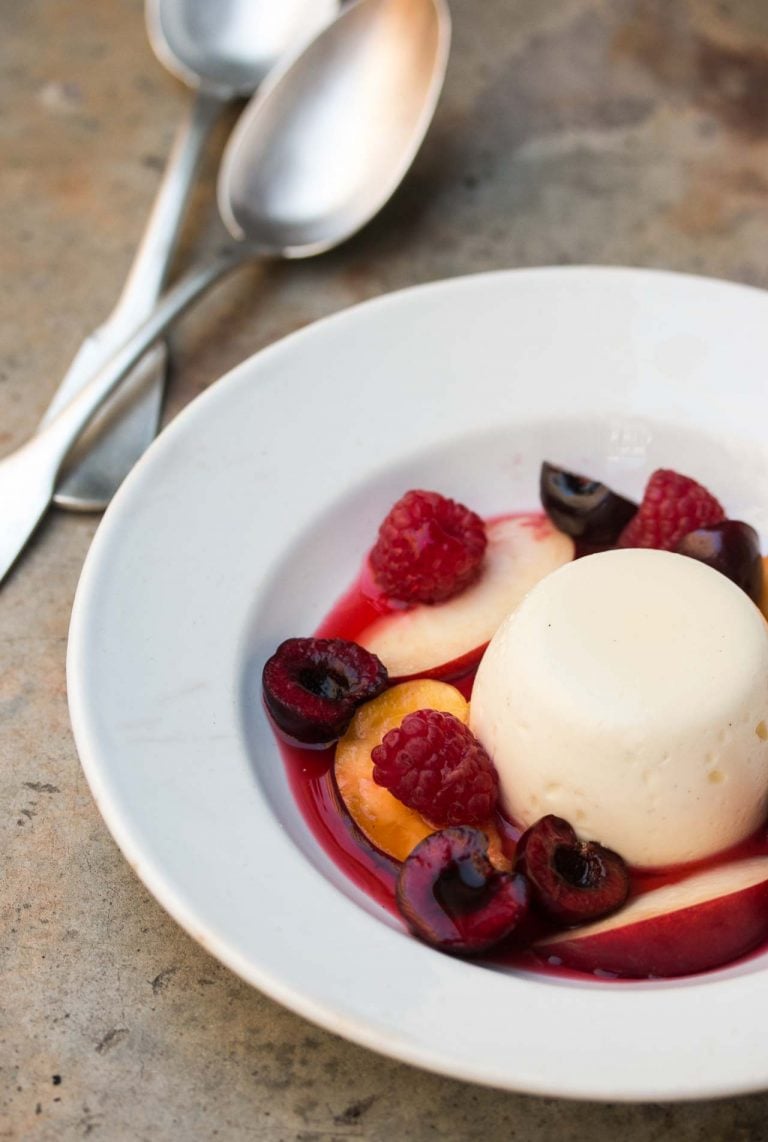 Panna Cotta
Adapted from
Secrets of My Tuscan Kitchen
by Judy Witts I love this dessert and the great thing about Panna cotta is that it needs to be made in advance, the perfect do-ahead dessert. You can make them up to two days ahead and keep them well-covered and chilled. For gelatin-related questions, read my
Tips for Using Gelatin
. You can find instructions for using sheet gelatin at the end of the recipe. I've not used non-dairy milks, such as soy, coconut, oatmeal or nut milks, but I am sure they would work with this recipe. For alternatives to using regular gelatin, check the links at the end of the recipe. To make buttermilk Panna cotta, substitute buttermilk for a little more than half of the heavy cream that's called for. Heat only the cream. Then, in step 4, let the mixture cool until tepid, and stir in the buttermilk.
4

cups (1l)

heavy cream or half-and-half

1/2

cup (100g)

sugar

2

teaspoons

of vanilla extract

,

or 1 vanilla bean, split lengthwise

4

teaspoons

powdered unflavored gelatin

,

(slightly less than 2 packets)

6

tablespoons (90ml)

cold water
Heat the heavy cream or half-and-half and sugar in a saucepan. Once the sugar is dissolved, remove from heat and stir in the vanilla extract. (If using a vanilla bean, scrape the seeds from the bean into the cream and add the bean pod. Cover, and let infuse for 30 minutes. Remove the bean then rewarm the mixture before continuing.)

Lightly oil eight custard cups (or similar vessels) with a neutral-tasting vegetable oil.

Sprinkle the gelatin over the cold water in a medium-sized bowl and let stand 5 to 10 minutes.

Pour the very warm Panna cotta mixture over the gelatin and stir until the gelatin is completely dissolved.

Divide the Panna cotta mixture into the prepared cups, then chill them until firm, which will take at least two hours - but they may take at least four hours. If you're pressed for time, you can pour the Panna cotta mixture into wine goblets or drinking glasses so you can serve them in the glasses, without unmolding.

Run a sharp knife around the edge of each Panna cotta and unmold each onto a serving plate. If your molds have curved sides, run a small, thin-bladed flexible silicone spatula around the inside of the mold or cup to release the Panna cotta. Serve with some of the suggestions listed in the post.
Notes
To make Panna Cotta with sheet gelatin: Soften 25g (approximately six sheets) in a liter of cold water for 5 to 10 minutes. Wring the sheets out and stir them into the warm Panna Cotta mixture in step # 4, until dissolved.
Related Links
3 Vegetarian Substitutes for Gelatin (The Kitchn)