Homemade Marshmallow Recipe
Some of my favorite candies are marshmallows. Actually, I should backtrack a bit and say at the very top of my all-time favorite things to eat are marshmallows. I love their pillowy softness and their tender sweetness with undertones of vanilla. If it sounds like I'm getting a little Proustian for them, you're right. I recently made several batches for some projects, which not only rekindled my love of them, but when I brought them to a few parties, people were stunned at how good they were and could not stop raving.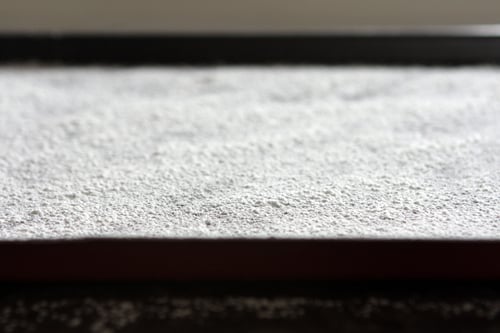 Of course, all compliments are welcome—I'll take them whenever I can get them. But there's really nothing complicated about making marshmallows and anyone with a few extra egg whites on hand and a sturdy mixer, can produce world-class marshmallows right at home.
They're very easy to make – if you can whip egg whites, you can make marshmallows. And it's pretty fun, too. Once you've whipped up the stabilized meringue, you can swirl and spread it on a baking sheet and cut them later, or form them into whatever shapes you want.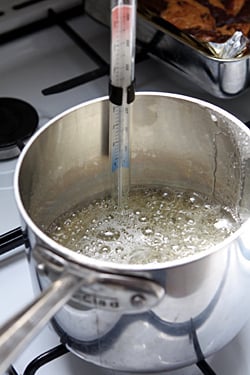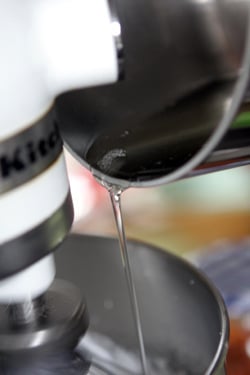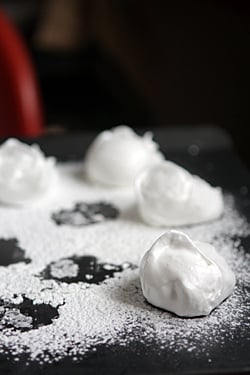 I've made all sorts of marshmallows over the years and here's my basic recipe which I've tweaked a bit as I've gone along. In America, powdered granulated unflavored gelatin is widely available, which is commonly used there, although people elsewhere in the world use sheet gelatin, so I've given directions for both. (At the end of the recipe, I've added some links about using various kinds of gelatin.)
The most important thing about making candy is this: Have fun. There's kind of a theory in the cookbook world that the minute you ask readers to get out a thermometer, you've lost them. But it takes all the guesswork out of candy making and it makes the process foolproof.
Although most people just spread the mixture on sheets and let it cool before cutting it into traditional squares, there's no reason you can't simply scoop blobs of the mixtures onto a prepared baking sheet. Once firmed up, you can place them on top of wedges of tangy lemon tart or lime tart. If you really want to impress your friends (or yourself) you could also run the tart under the broiler for a few moments to caramelize the marshmallow mounds, too.
The great thing is that unlike meringue-topped tarts and pies, marshmallows don't weep. I recently had an ice cream sundae party and we used the marshmallow on top of our ice cream creations, with swirls of sauces and candied peanuts, and an unofficial vote (ie: plates scraped clean) proved that it was a great swap-out for whipped cream.
You can certainly add flavors to the marshmallows, such as spices like cinnamon during the final beating stages, or add a shot of liquor, like absinthe or Armagnac, replacing some of the water used for softening the granulated gelatin. (Or the 2 tablespoons, if using sheet gelatin.) Peppermint oil works well, as does powdered espresso, both of which you can add to taste. For those looking for a chocolate marshmallow recipe, there's one in The Sweet Life in Paris.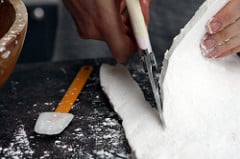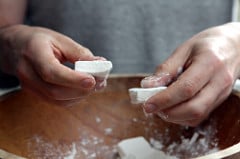 There's really just three steps to whipping up a batch of marshmallows; Make a syrup, whip the egg whites, then pour the syrup and gelatin into the whites while whipping. Once that's done, you can cut or snip them into any size or shape. What are you waiting for?
Marshmallows
Adapted from
The Great Book of Chocolate
I've offered instructions for using powdered unflavored gelatin, which is most commonly used in the United States, as well as gelatin sheets, which are what are used elsewhere. There are a few other options that people might wish to use due to individual diets, so I've linked to recipes that use agar-agar below.
2

envelopes (17g)

powdered gelatin or 17g sheet gelatin

,

(8 to 10 sheets)

1/2

cup (125ml)

+ 1/3 cup (80ml) cold water

1

cup (200g)

sugar

1/3

cup (100g)

light corn syrup

4

large egg whites (1/2 cup,

,

110g), at room temperature

pinch

of salt

2

teaspoon

teaspoons vanilla extract or 1 teaspoon vanilla paste
Marshmallow mixture
1/4

cup (35g)

corn starch

3/4

cup (105g)

powdered sugar
1. In a small bowl, sprinkle the gelatin over the 1/2 cup (125ml) of cold water to dissolve and soften. If using leaf gelatin, soak the leaves in about 2 cups (500ml) cold water.

2. In a small saucepan fitted with a candy thermometer, mix the sugar and corn syrup with 1/3 cup (80ml) of water. Place over medium-to-high heat.

(Note that you will use this saucepan twice, to make the syrup and melt the gelatin, eliminating the need to wash it between uses).

3. In the bowl of an electric mixer, pour in the egg whites and beat on low speed until frothy. Add the pinch of salt.

4. When the syrup reaches about 210ºF (99ºC), increase the speed of the mixer to high and beat the whites until they are thick and fluffy.

5. When the syrup reaches 245ºF (118ºC), while the mixer is running on high speed, slowly pour the hot syrup into the whites, pouring so that the syrup does not fall on the whisk since some of the syrup will splatter and stick to the sides of the bowl.

6. Scrape the gelatin and water into the pan that you used for the syrup, or put the gelatin sheets and 2 tablespoons of the water into the pan and swirl it to dissolve. (There should still be residual heat left in the pan from making the syrup in it to dissolve it).

Pour the liquified gelatin slowly into the whites as they are whipping. Add the vanilla extract or paste and continue to whip for 5 minutes, until the mixture is feels completely cool when you touch the outside of the bowl.

7. Dust a baking sheet evenly and completely with a generous layer of the marshmallow mixture. (I use a sifter to do this.) Make sure there are absolutely no bare spots.

8. Use a spatula to spread the marshmallows in a layer on the pan. Allow to dry for at least 4 hours, preferably overnight, uncovered.

9. Sift the marshmallow mixture into a large bowl.

Dust the top of the marshmallows with some of the marshmallow mixture. Use a pizza cutter or scissors (dusted as well with the marshmallow mixture) to cut the marshmallows into any size or shape pieces that you'd like and toss the marshmallows in the marshmallow mixture. Shake the marshmallows vigorously in a wire strainer to remove the excess powder.

Alternatively, you can dust a baking sheet and put scoops of the marshmallow on it, and let them cool, as shown in the post.
Notes
Storage: The marshmallows can be made up to one week in advance, and stored in an airtight container.
Tips and Troubleshooting
-If you're wondering whether the corn syrup is necessary, or another sweetener can be used, please refer to my post Why and When to Use (or Not Use) Corn Syrup. There are also links there which explain the difference between regular corn syrup and the high-fructose variety. I've not tried this recipe with other liquid sweeteners so can't advise or guarantee the results if you do make the substitution.
-If you are looking for an egg-free marshmallow recipe, there is one in my book, The Perfect Scoop.
-Some candy makers use only corn starch, and no powdered sugar, but I find the taste of the corn starch to be a little gunky by itself, so I mix the two. You can use all corn starch if you wish, but I don't recommend using all powdered sugar as it can dissolve and make the marshmallows a bit damp.
-Should you cook the syrup too far in step #5, no need to toss it and start again; just add a few spoonfuls of water and recook it to the correct temperature.
-If the finished marshmallows are too soft, it's likely your thermometer isn't accurate. Test it in a pot of boiling water; if you live at sea level, the temperature should read 212ºF (100ºC).
-If your marshmallows have a wet layer on the bottom after the drying period, if likely means that you did not beat them until completely cool in step #6. You can blot the moisture off with a paper towel and dry them with the damp end up overnight to dry them out.
Related Links and Recipes
Why and When to Use (or Not Use) Corn Syrup
Vegan Marshmallows (Vegetarian Times)
Vegan Marshmallow Recipe (Vegan Marshmallows)
Wobbly Science (Gelatin strength and "Bloom" explained) (The Age)
Gelatin Sheets (L'Epicerie)
Marshmallows in Paris at Pain de Sucre
Fouquet's Chocolate-Covered Marshmallows