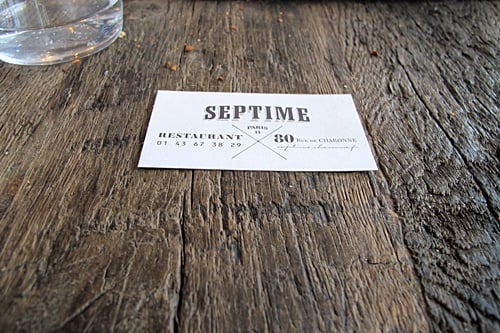 When I go out to eat, it's usually not with the intention of writing about a place. I go out to eat to have a good time with friends and enjoy the food. (And perhaps a little wine.) But I found that whenever I don't expect it, I hit on a place that merits talking about. Septime opened and caused a ripple of excitement in Paris. A number of years ago it was gastro-bistros, usually owned by well-regarded chefs who'd closed their larger, fancier places to open smaller dining rooms serving variations on traditional French food, at reasonable prices. They all appealed at the time, when regular dining had because out-of-reach for locals and visitors, and it gave the chefs a chance to relax and serve the kind of food that they (and guests) were happier to eat on an everyday basis.
Then a few years ago, a younger generation of cooks came up through the ranks, who wanted to break from traditional French cooking, the génération coincé, or "cornered generation", who felt constricted by the rules and traditions, and started doing things out of the boundaries. Septime has risen head and shoulders above the new crop of restaurants in Paris, and landed at the top.
I started off with Velouté refraichi / Haricots verts / Pêche blanche, a rafraichi bowl of room temperature soup blended with green beans. Parisians don't go for 'sparks' of flavor; they prefer subtle and smooth, replying on herbs as the underlying flavors rather than chiles and spices. And I missed those 'sparks' of something salty or lemony, or something peppery, to offset the uniform smoothness of the soup. I think the white nectarines meant to provide that jolt, but having big chunks of fruit on top of vegetable soup was a little incongruent. But the somewhat sexy mound of rosy white peach mousse on top served the purpose of incorporating a fruit element successfully. Although I should confess, I'm generally not a big fan of sweets or fruits in soups or salads and it would have been nice to have something salty or assertive to perk it up.
But then again, I don't even normally order soup in restaurants. So what do I know?
So why did I order the soup? Because I really wanted the poitrine du cochon / carrotte /choux pointu, and thought it wouldn't be prudent to order the lamb appetizer as a first course, especially because a few months back I vowed to eat more vegetables. And I was so glad I did.
The crispy caramelized pork belly strip was excellent, one of the best things I've eaten in a while. There was a swoop of carrot puree and a delicate touch of vegetables scattered loosely around it all that lightened things up and provided me with part of my daily dose of légumes.
It was funny because there was some famous chef—or chefs, dining in the restaurant and others were buzzing around them, including other customers, staff members stopping by for a chat, and other guests who looked to me to be vaguely notable (were they critics?) who were walking around taking pictures. Am I'm sitting there, across from Dorie Greenspan and said – somewhat jokingly – to her, "It's funny because you're the most famous person in this room!"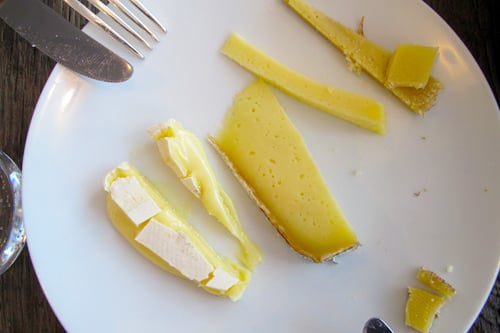 Of course, being the definition of modesty, she waved me away. Then went back to craning her neck to see who the famous chefs were.
For dessert we split a plate of excellent..two really perfect slices – of French cheese, which were absolutely spot-on ripe and so good, it made me realize that how many times I sometimes take French cheese for granted. The slice of Reblochon was oozy-ripe, along with a pungent slice of tomme, both of which the waiter told us they got at a small shop just up the street, so it's nice to know they're supporting the neighborhood. When you taste cheeses like these, that's the spark the French like, proving you don't need to jazz things up or mess with food all that much. You just need to get good ingredients and serve them properly. Bingo.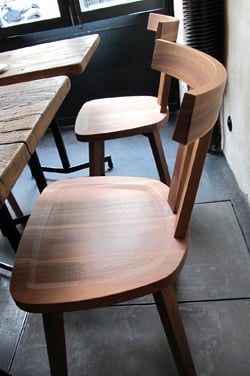 The other dessert was Riz au lait vanille / Caramel lacté / Passion, a fluffy mound of rice pudding aerated with whipped cream, a puddle of milky caramel and a neat oval of passion fruit sorbet that was nice and tangy, surely intended to offset the caramel and rice pudding and add a definitive punctuation mark to the meal.
The interior is Scandinavian modern, another break from the French traditional look. There's a lot of wood and hard surfaces – like dining in a Danish barnhouse – but one filled with friendly and handsome servers who are French. However because of all the hard surfaces it got a little noisy at lunch, so I'd imagine at dinner it gets even more so. Perhaps they'll throw down a few flokati rugs to soften things up. And happily, there was no food served on rectangular pieces of slate, one of the most enervating habits of the modern crop of restaurants in Paris. I can't tell you how excruciating it is to watch waiters lean over and try to pry the flat slabs of slate from a flat tabletop when you're done eating.
So I appreciated a chef who thinks about the entire dining experience, including how the serving staff will be working when planning a menu and choosing dinnerware. Everything was plain white, plates (round, not square – thanks) and bowls, which were the right backdrop for highlighting the food. You don't need anything else.
What appealed to me even more about Septime is that the cooks are actually cooking, not just coming up with tricks and trends (like slate "plates" and jam jars) to obscure the fact that they don't know what they're doing, or that their ingredients aren't good enough to be presented on their own without some sort of fuss and fanfare. Chef Bertrand Grébaut doesn't seem to want to (or need to) resort to any culinary tricks; he's just using good ingredients sensibly. And his presentations are beautiful.
Septime
80, rue de Charonne (11th)
Tél: 01 43 67 38 29
Related Links
Two Delicious Dining Guides to Paris
Septime (Paris by Mouth)