It's been quite a year for businesses in Paris. From the gilets jaunes movement, to the longest transit strike in French history, then a pandemic, they've had to tough a lot of things out. One of the troopers has been Dirty Lemon. After a major remodel of a space that formerly held a LED-lit sushi restaurant, I had a night out with friends – Jennifer, Jane, and Forest – at Dirty Lemon, tasting and testing some of the cocktails on their menu. And even better, enjoying the food of cheffe/owner Ruba Khoury.
Ruba's goal was to create a bar and space that was for everyone, but especially women-friendly, something she said was lacking in Paris. The name comes from a bad experience she had with a funky lemon she was served, and ate (with unfortunate results), at a cocktail bar in the Marais. But Ruba knows her stuff. She worked at such esteemed restaurants in Paris at Septime, Yam'Tcha, and Frenchie before creating the menu at Ibrik, which I loved, that reflected her Palestinean heritage and growing up in multicultural Dubai.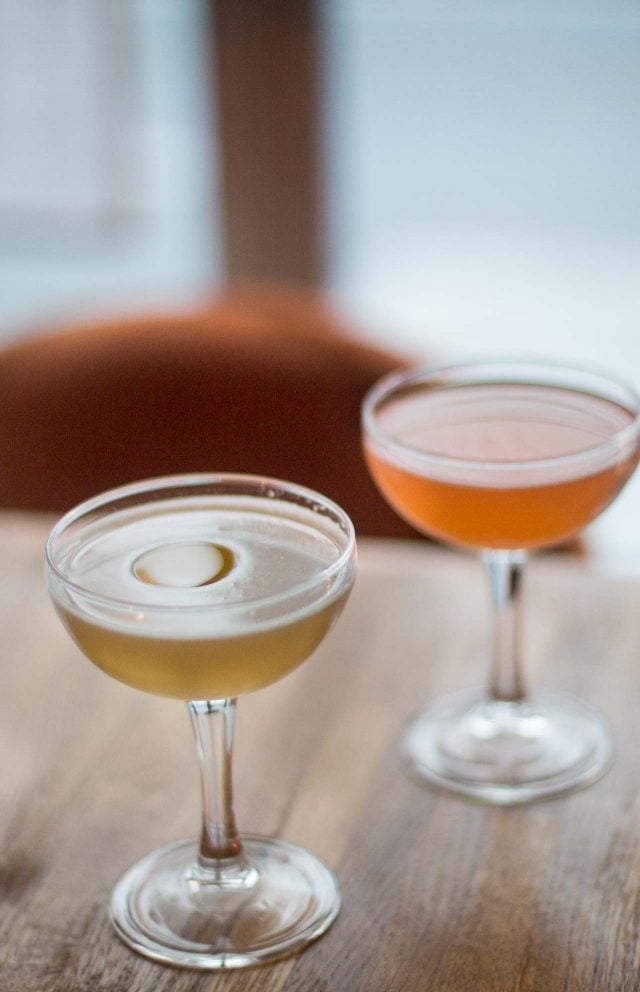 I'm happy to report that after several visits, between closures and re-openings, Dirty Lemon is back and now open again with terrace seating and the same great food and drinks.
The cocktail menu changes seasonally and on my first visit, I had a creative riff on the Manhattan cocktail with a floater of olive oil, fleur de sel, and a touch of chocolate. Other cocktails maison included a Trophy Wife with apricot-dill shrub juice, gin, genepy, and verjus, an icy-cold Basil Smash with fresh berries and gin, and a Dirty Lemon Martini seasoned with a little spice, and a dash of olive brine.
One trend that Ruba picked up on, during a trip to the States, was a cocktail menu that featured the type of glass the drinks are served in, and whether or not the drink is going to be served up, or on-the-rocks. I love that. That saves people like me, who are pesky and have to run down the menu with the bartender or server, asking which drinks are up and which are on ice. I do like both, but sometimes I'm in the mood for a cocktail in a coupe, other times, I want one over ice.
If cocktails aren't your thing, being France, wines are available by the glass or bottle, like the rosé I recently enjoyed there this week. I'd started with a glass of Viognier, but my friend's rosé looked so appealing, I ordered a glass of that next.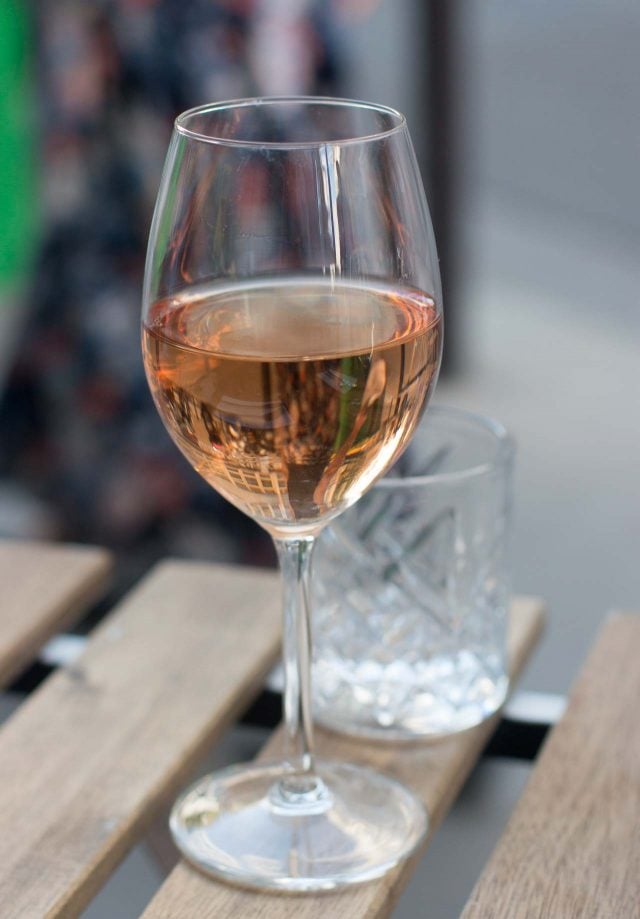 But if good food is your thing, you've come to the right place. Ruba's interpretation of various dishes, and use of spices and seasonings found in the foods of the Middle East, find their way into inventive dishes like a plate of fried oysters with spiced mayo and charred lime that was on the À partager (To share) portion of the menu, but you'll find that it's hard not to want to eat them all on your own.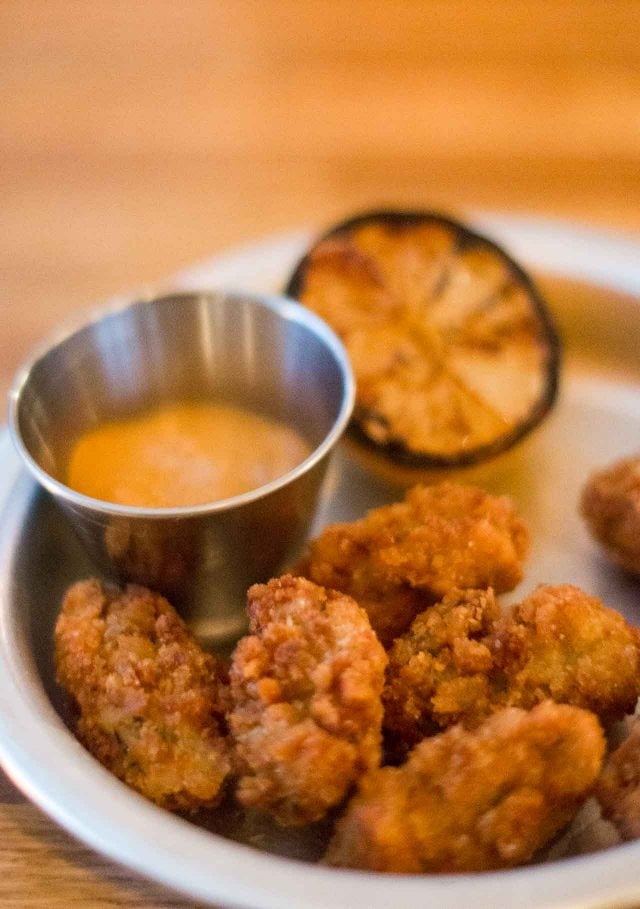 The oysters weren't on the menu on a recent visit but one thing they can never take off the menu are the "Dirty" frites (shown at the top of the post), a platter of housemade French fries with garlic sauce and lamb confit. Omg, are those good!
Another winner that was on the menu on my first visit was Hummus with deviled eggs, gem lettuce, za'atar, and fried onions (shown above – with apologies for the less-than-stellar photo taken in low light.) People like to debate who makes the best hummus, where it's made, etc…but I'd like to put this out there that is one of the best plates of hummus I've had, anywhere. Period.
Ruba recently updated the hummus, above, offering it with summertime green beans, housemade lemon confit, pinenuts, and tangy sumac. We lapped it up with some of the fresh baguette slices offered on a warm summer night, sitting outside, enjoying the relative tranquility of Paris in mid-summer, as the city empties out for les vacances.
Ruba is out there, overseeing it all, when she's not in the kitchen. It's nice to see her back at the helm as cafés, bars, and restaurants in Paris figure out what's next. One interesting twist to Dirty Lemon is that the bar is open until 2am, with food being served until 1am, a rarity in the city. I'm usually in bed well before then, but for those with late-night cravings, there's a great new option.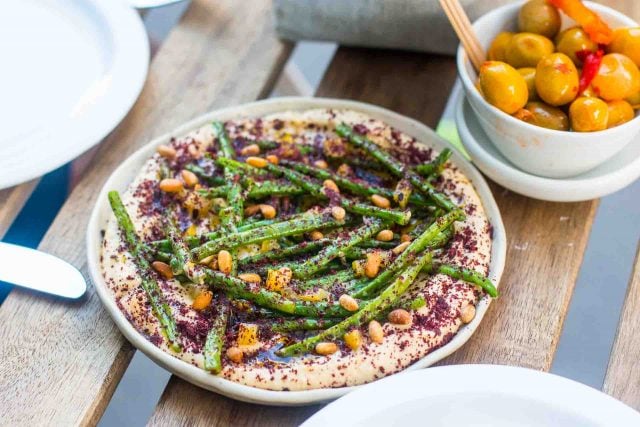 Dirty Lemon
24, rue de la Folie Méricourt (11th)
Métro: Richard Lenoir or St-Amboise
Follow Dirty Lemon on Instagram, which also lists opening hours.