When I walked into Ibrik café the other day and sat down in the upstairs dining room, I saw this scenario next to me. After spending the morning rummaging through an unruly restaurant supply salvage yard out in the suburbs (I didn't buy anything, but they gave me three cake pans as a gift), it was nice to sit somewhere that was clean, organized, and dry.
It made me so happy that I thought it'd make a nice picture, too. Two women were dining at the table, and I avoid taking pictures of people without asking, especially if I plan to put it on my blog. I once was at an event and snapped a picture that included a couple, who quickly waved their hands furiously in front of their faces, "…Non, NON….we're not married to each other!"
But I've used the general reluctance regarding photos to my advantage, as it's a good way to clear a path on a busy sidewalk in Paris: Hold your smartphone up in front of you as if you are filming. (Although I should also add that it's probably an equally good way of getting your phone swiped.) Being a café, I asked the women if I could snap a photo of their beautiful lunch. (While assuring them that I wouldn't be taking their picture.) "Mais oui, monsieur," she cheerfully agreed, "But it's not just beautiful – the food is very good!"
And indeed, she was right. For a small cafe whose front door gives little impression of what's behind it, the food at Ibrik is remarkably good. Palestinian chef Ruba Khory, who grew up in Dubai, is turning out some of my favorite food in Paris.
Ruba worked in a few of the top restaurants in Paris, including Septime and yam'Tcha, although she's circled back to her roots, seasoning foods from, or inspired by, the Middle East, with za'atar and sumac, smoking eggplants for caviar d'aubergines, and tucking warm falafels under generous heaps of just-chopped herbs and crisp salad greens, with rivers of garlic cream running through it.
[Update: As for February 2018, Ruba is no longer the chef at Ibrik Café.]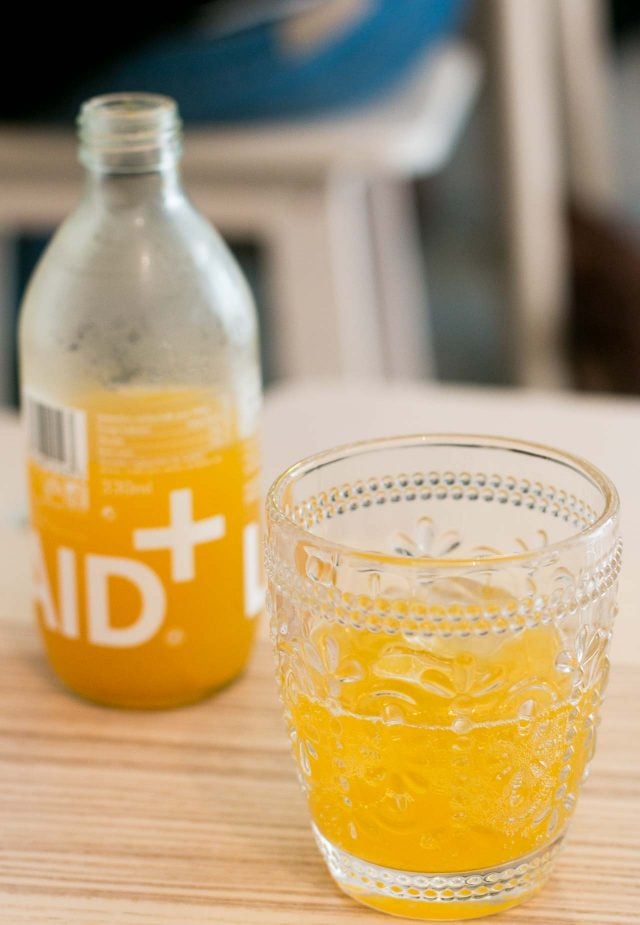 The focus of the menu at Ibrik is meze, Middle Eastern appetizers, most meant to be shared, so if you go with a few friends, you can share everything and make a nice lunch for yourselves. There are daily lunch formules (specials), but the first time I ate here and ordered my own meal, I ended up swiping food off my friend's plates, and vice versa. So you're better off ordering several things and sharing them. My only wish is that they'd switch to thinner flatbread that you use for scooping up all the lovely spreads and salads. My mother used to say when we went out to dinner in a restaurant, "Don't fill up on bread!" because I would immediately attack the bread basket – and butter – as soon as we sat down. Nowadays I'm still a big bread fan, but because the food is so good here, I'd rather fill up on the terrific falafels and especially good (and very generously portioned) fried halloumi, rather than thick bread.
Desserts are made in-house and I wholeheartedly recommend the pistachio cake packed with bright green nuts, with a thin gloss of sweetness poured over the top. There's also lokum, otherwise known as Turkish delight, which Cathy, the owner who tends the café bar, told me was from the last artisanal lokum maker in Paris. And definitely save room after dessert because one of my favorite chocolate shops in Paris, Fouquet, is just one block away.
Riding the wave of places focusing on good quality coffee in Paris, Ibrik serves traditional coffee drinks (even though the sign outside says "Weird coffee for weird people," which may be why I like it), but also makes "Café Ibrik," Turkish coffee brewed up in an ibrik (or cezve) the traditional metal pot that it's made in.
After mixing the coffee together, the pot is buried in hot sand whose slow heat helps coax out flavors of the coffee. The menu advises that it takes ten minutes to prepare, so give yourself time. Even though we lingered long after the other customers left, one of the women seated at our neighboring table had apparently been lingering downstairs over coffee. I was surprised she'd been there longer than we were. But then again, I didn't want to leave either.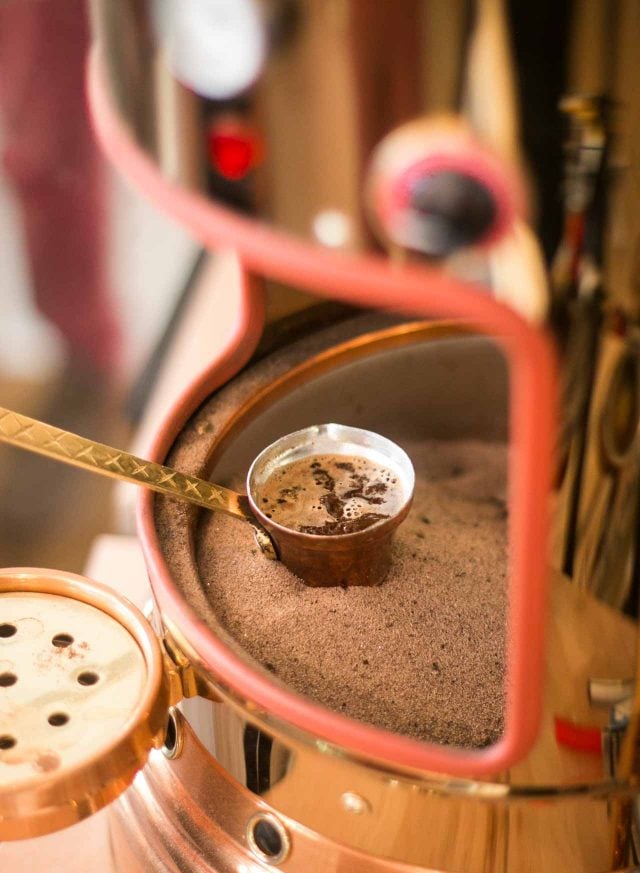 Ibrik
43, rue Lafitte (9th)
Open Monday through Friday, 8:30am to 5pm, Saturday 8:30am to 4:30pm.
Related and Posts
Holybelly and Belleville Brulerie
Where to find a good cup of coffee in Paris
How to make Turkish Delight (Oh, the things we'll make)
Lokum (Sense and Edibility)
Lokum (196 Flavors)