Pickled Chard Stems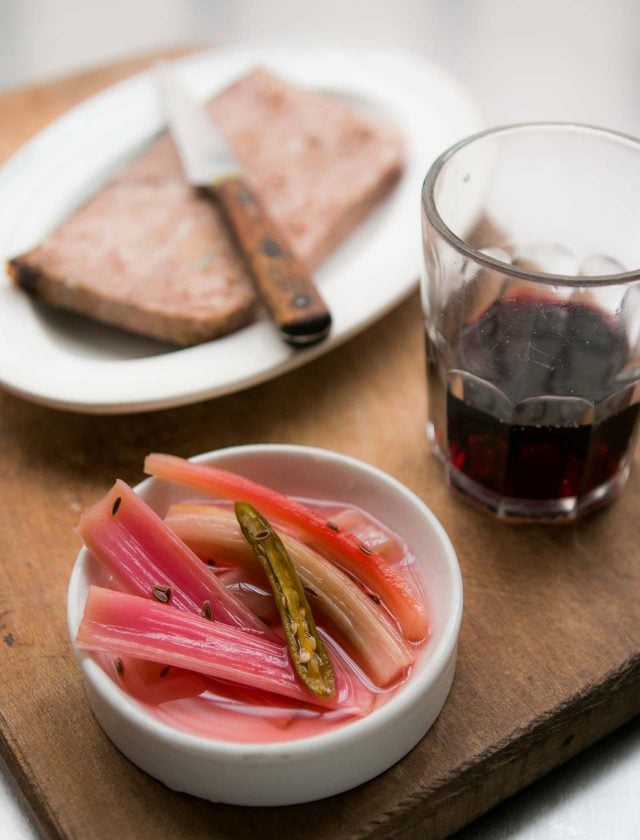 There's a certain movement afoot not only to make whatever you can from scratch (at some point, people will be forging their own cast iron skillets), as well as increased consciousness about anti-gaspillage, or not letting food go to waste.
I seem to be cooking or baking 24/7 and if I used up everything that came my way, from the whey used from making labneh (which could be used in soup, although I'd have to go shopping for vegetables and beans, then cut them up, then prepare it, then find room in my refrigerator, or freezer to store it), to the butter I accidentally melted when baking cookies in a jetlagged state the other day (which I turned into clarified butter), I'd need to dial those numbers up to 26/8. But I don't have the power to add another hour to my day, or another day to my week, even though I'm thinking most of us could use an extra one of either, or both.
Recently I was making a recipe that I found in the newspaper for using the rainbow Swiss chard that I scored at the market, which instructed me to "discard the chard stems." I rarely throw anything away that can be used and spend 90% of my time using stuff up (however I'm learning not to bake while jet lagged, which should reduce that even further), and since rainbow chard is still an oddity in France, I didn't want to let any of it go to waste, so decided to pickle them.
I've seen jars of beautiful chard stems packed in neat rows, in jars, but my chard stems were curly and as unruly as the cowlick on the back of my head that haunted me until I was 50, then finally fell out altogether. And boy, do I miss it now.
Hence I ended up using a lot more brine that I normally would for this amount of stems. But white vinegar is super-cheap in France (about 45 centimes a bottle) since we use it in, well,….everything, and most of us keep plenty of it on hand.
I suppose you could be OCD with your DIY and cut every stem to the perfect size to fit in a jar, but I had to let it go that I might have a little extra brine leftover. I suppose I could've pickled more vegetables with it, but then I'd have to go out and buy radishes, or carrots…and then I'd have to use the radish leaves for soup, or the carrot greens for pesto, etc…
But I'd rather have you mad at me for having a little too much brine, rather than having not enough. Actually, I'd rather have no one mad at me, but I don't think that's going to happen, so you may have a little leftover brine and we can leave it at that.
And lest you think I'm not a dedicated DIY type, I picked, and used, fennel that I ripped out of a friend's garden and dried the seeds myself. Then I stripped them from the stems, which was quite fun, and the fragrance that wafted forth from the exceedingly fresh spice as I toasted them made it worth the investment in time.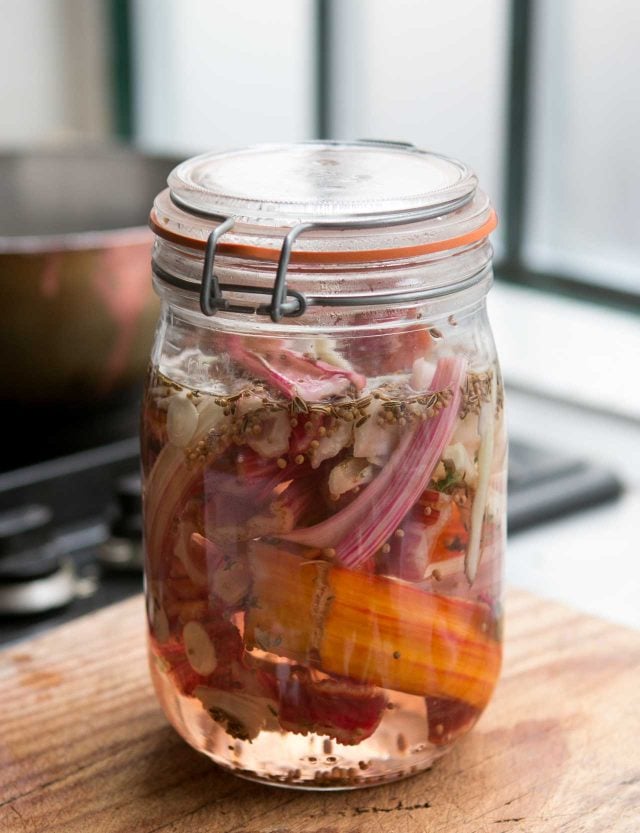 So if you find yourself with some Swiss chard stems, here's a recipe to help you use them up. Feel free to slip a few chiles into the mix. I added a split Thai chili, but you could toss in a slice or two of jalapeño, although you'd have the rest of the chile to deal with. But then again, if you buy a whole bag of them, you could pickle those, too.
(And in case you have any leftover chile seeds, those can be sowed in your homemade window planter.)
| | |
| --- | --- |
| Pickled Chard Stems | Print Recipe |
These are quick pickles and not meant to be kept a long time. If you want to can them, check out the USDA complete guide to home canning. I'd say it's best to eat them within a few months, as they'll fade the longer they're kept. You can vary the recipe by using rice vinegar or white wine vinegar, although I wouldn't use anything too fancy because the spices and other flavors will overpower it. The chile adds a bit of heat but you can skip it if you want to.
Swiss chard stems from one large bunch,
about 12 ounces (340g) stems, washed
1
Thai chile, fresh or dried,
split lengthwise (optional)
2
cloves
garlic,
peeled and sliced thinly
1/2
teaspoons
fennel seeds
2
cups (500ml)
white vinegar
3 1/2
tablespoons
kosher or coarse white sea salt
1. Trim the chard stems of any bits of leaves and put them in a large jar that has a lid (mine was about 1 quarts/2l) along with the split chile (if using) and sliced garlic.
2. Toast the seeds in a skillet, stirring them frequently over medium to medium-high heat, until they're fragrant, which will take just a few minutes. Set aside.
3. In a small, nonreactive saucepan, heat the vinegar, water, sugar, and salt, stirring until the sugar and salt are dissolved. Remove from heat and let the brine cool 5 minutes, stirring a couple of times as it cools.
4. Pour the brine into the jar, add the seeds, and cover it. Let it sit at room temperature for about an hour, agitating the jar every so often. If after an hour, if some of the stems aren't submerged in the brine, open the jar and press them down, so they are. Refrigerate the Swiss chard stems for about one week before eating them.
Serving: These pickles are very good with charcuterie (smoked or cured meats), or pâté, as shown in the post. They can also be slivered and used as part of a rice bowl, on sandwiches, or anywhere else you'd serve pickles.