How to Make Clarified Butter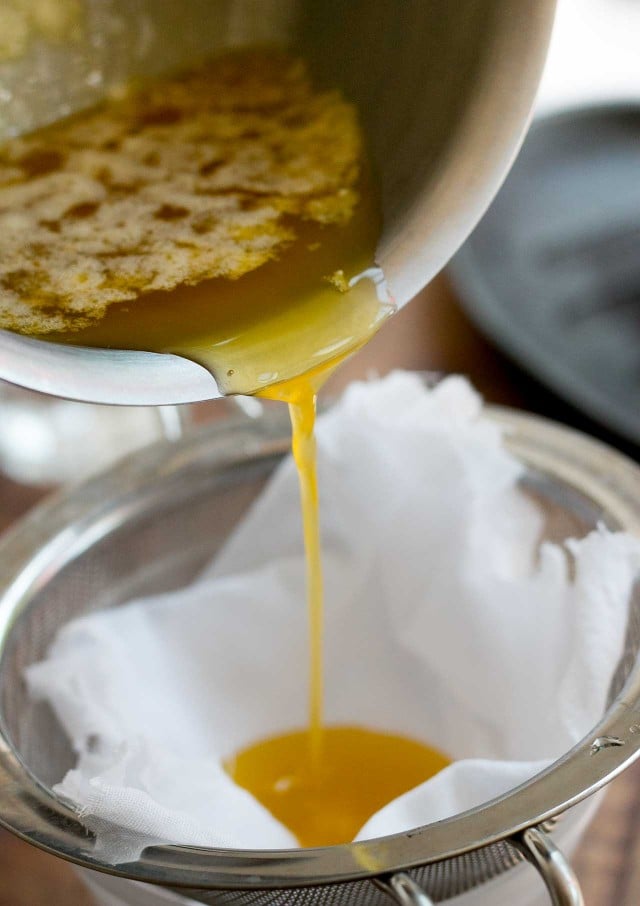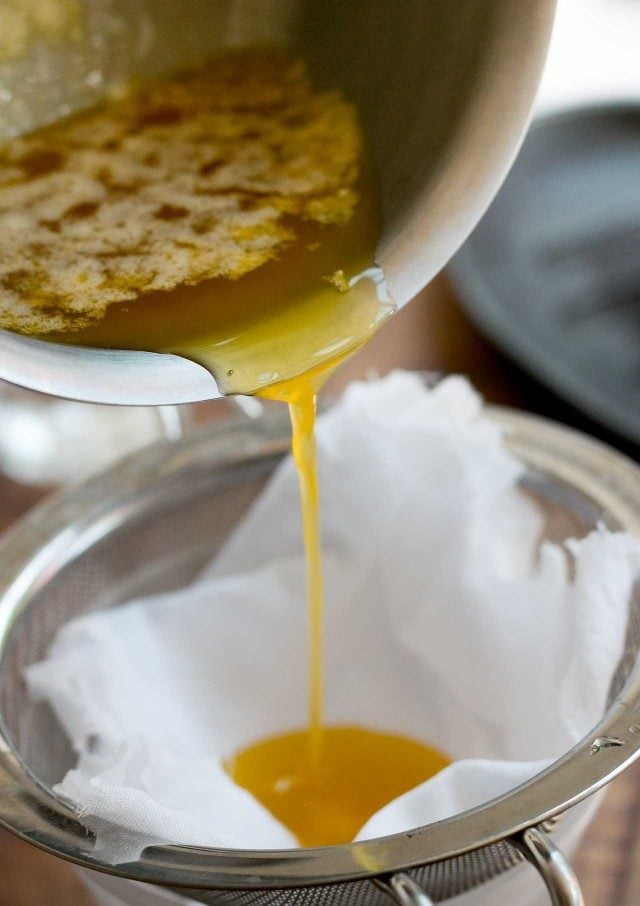 Clarified butter is used when you'll be frying something either for an extended period or over high heat. For those times when you want the flavor of butter, rather than oil, you'll want to use clarified butter can stand being cooked longer, and to a higher temperature, than regular butter. Clarifying butter removes the milk solids, which are what causes the butter to burn if cooked for a long time.
Many Indian cooks use ghee, which is similar, except it's usually been cooked longer to decrease the moisture and deepen the flavor, and is sometimes seasoned with turmeric, fenugreek, or another spice. But in its plain form, it's interchangeable in recipes that call for clarified butter and can be found in markets that specialize in Indian cooking or online.
Be sure to use unsalted butter. And use a good quality one—you'll notice the difference once it's reduced down.
You can clarify any quantity of butter than you wish. If you want to make a specific quantity for a recipe, figure that you'll lose about 25% of the volume of butter. So for example, if you start with 4 ounces (115gr) of butter, you'll end up with approximately 3 ounces (85gr) of clarified butter.
A little jar of clarified butter in the refrigerator is nice to have on hand for scrambling eggs, frying meats, fish, and vegetables in a skillet, or stirring into a pot of just-cooked rice. It's sometimes called into play in the pastry kitchen as well.
Clarified Butter
Unsalted butter

,

cut into cubes
Heat the unsalted butter in a heavy-duty saucepan over very low heat, until it's melted. Let simmer gently until the foam rises to the top of the melted butter. The butter may splatter a bit, so be careful.

Once the butter stops spluttering, and no more foam seems to be rising to the surface, remove from heat and skim off the foam with a spoon. (It can be saved and added to soups, bread doughs, polenta, pilaf, or a bowl of warm oatmeal.) Don't worry about getting every last bit; you can remove the rest when straining it.

Line a mesh strainer with a few layers of cheesecloth or gauze, and set the strainer over a heatproof container.

Carefully pour the warm butter through the cheesecloth-lined strainer into the container, leaving behind any solids from the bottom of the pan.
Notes
Storage: Clarified butter will keep for 3 to 6 months in the refrigerator. Some say you can leave it at room temperature if the conditions are optimal, but I keep mine under refrigeration. It can also be frozen for a similar length of time. Note: If you continue to cook the butter in step #2, it'll turn a nutty-brown color and take on a pleasant aroma, which the French call beurre noisette, because of the nut-like smell and taste. You can use it right away as is, with or without the foam, and it's wonderful drizzled over steamed vegetables.
Related Links and Recipes
Ghee (Wikipedia)
Clarified Butter (Wikipedia)
How to Brown Butter (Simply Recipes)
Flavored Ghee (Delectable Visuals)
Salted Butter Caramel Ice Cream
How to Make the Perfect Caramel