Vaghareli Makai (Spiced Indian Corn)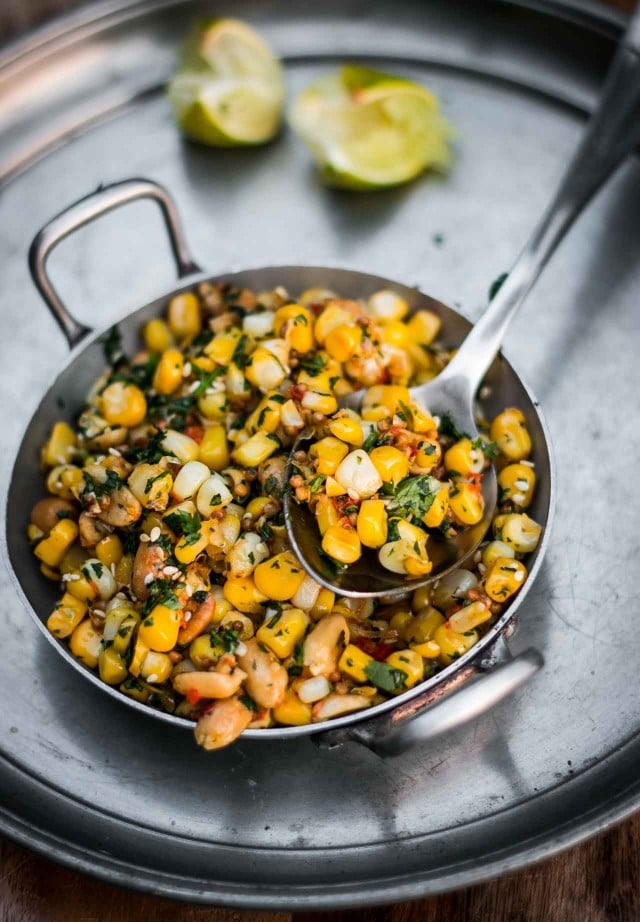 If I had a nickel for every time I heard, "You should go to_________," I'd have enough money to upgrade on all those flights that I'd be taking, which would make that prolific quantity of air travel a little more tolerable. Don't get me wrong, I appreciate suggestions and people looking out for me, so I don't miss anything great.
But for anyone who has ever spent an afternoon (or morning, or evening) in an airport, waiting on the tarmac, or in the airport for a delayed flight watching the overworked staff calm everyone's frayed nerves, or being crammed into one of those remarkably uncomfortable economy airplane seats for 12 hours, perhaps you'll understand why I'm not all that anxious to get on a plane, in spite of all the great places that I am missing out on visiting.
At this rate, I don't think India is going to happen for me unless I find myself with a month of free time, because it seems like going over there and not spending that much time would be criminal, and they let me sleep in the area where the flight attendants sleep on the plane. (If any are reading, I promise to bring you cookies and treats for our little slumber party.) But for now, it looks like I will only have to imagine the swirl of colors, naans, dust, spices, curries, mukhwas (seed mixtures), animals, chutneys, music, and fiery chiles that all come together in that fascinating country.
So I was stoked when my copy of Near & Far: Recipes Inspired by Home and Travel by Heidi Swanson landed in my mailbox. (See? I'm so lazy, I don't even like to travel to the store…) Heidi writes the blog that most inspires me to quit blogging since I don't think mine could ever be as beautiful as hers. Every photo on her site looks like something I need to eat right now, even if it has an unusual name or features an ingredient that I am unfamiliar with.
Fortunately I'm not the jealous type so you'll still have me to kick around a little longer. And to be honest, Heidi's also a lovely person – and a coffee (and Kouign Aman) pal when I'm in San Francisco – and has shared a glass or two of rosé with me in Paris, too.
In addition to liking the same foods and wines, she also seems to like all the same countries and cuisines that I like, which she features in this gorgeous cookbook, which isn't just a book of recipes but also a travelogue inspired by her travels to distant lands, as well as her home in San Francisco.
Italy, Japan, France, and Morocco are represented in the book, and the one place that's still on my "You should go to" list, India, which, when I have enough miles (or goodwill, in the form of cookies for the flight attendants) to upgrade to a bigger seat on the plane, I hope to visit. While I wait for that good karma to arrive, I'll have to be an armchair traveler and enjoy India from afar, which is a pleasure in Heidi's book, with her descriptions of the markets, traveling on funky roads and, of course, hitting the food stalls.
The first recipe that caught my eye in the book was an Indian dish, which was accompanied by her description of seeing a woman dressed in a colorful sari at a market, who was possibly a spice vendor, eating a bowl of something she describes as "…beautiful and simple and you knew at a glance that it tasted good." Everything you want to know about this dish is pretty well summed up in that one sentence. And I had to make it.
Since fresh corn was still hanging on for the season, I quickly rounded up the few spices needed to give it a go. Sure enough, it was good. In fact, it was great, and very easy.
You make a spicy paste, then fry up mustard seeds until the sizzle, add kernels of corn and roasted peanuts, then finish the dish with a flurry of cilantro and sesame seeds. A few squeezes of lime brings the flavors alive, and you'll be as hooked as I was when you spoon up that first mouthful. (If corn isn't in season, you can use frozen corn, thawed, or another vegetable that's available. A few are suggested right before the recipe, below.)
I had dinner with a friend last night who I cooked with at Chez Panisse, and when I told her about this dish – spicy corn, peanuts, chiles, butter, finished with a hit of lime, sesame, and cilantro, her eyes got wider and wider as I described it. I could tell, she was going to make it as soon as I posted it today.
Far & Near is one of those cookbooks that's so beautiful that you're almost afraid to use it. But please do. My copy is bookmarked with a few other recipes to try, and once you flip through it, yours will be too.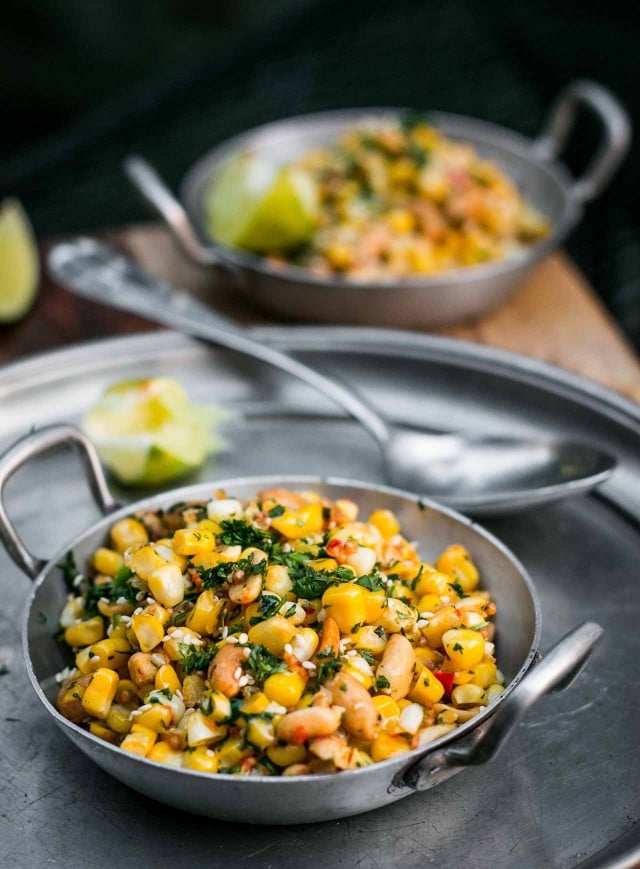 Vaghareli Makai (Spiced Indian Corn)
Adapted from
Near & Far
by
Heidi Swanson
For this recipe, you'll need to clarify some butter, which lends an extra-buttery flavor to the corn. You'll find instructions
here
, or head to your local Indian shop for some ghee. Although this recipe is terrific with fresh corn, if it's not available you can use frozen corn, thawed. Heidi says it's nice made with asparagus or broccoli, but my bets are that I'll be making it with cauliflower come winter. The original recipe called for "2 small red chiles" so you can use whatever kind of chile pepper you want, depending on how hot and spicy you like things. I split the difference with a habanero (very hot) and jalapeno (somewhat milder). In the photo in the post, the habanero is the smaller, wrinkled pepper and the jalapeno is the longer one . Toasted cashews would make a good substitute for the peanuts, or for those avoiding nuts, use pumpkin seeds. To make it vegan, Heidi recommends using sunflower oil in place of the butter.
2

small red chiles

,

stemmed, seeded (if desired), and sliced

2

medium garlic cloves

,

peeled and sliced

One

1-inch (3cm) piece of

fresh ginger

,

peeled and sliced

1/4

teaspoon

ground turmeric

3/4

teaspoon

sea or kosher salt

2

tablespoon

clarified butter

1 1/2

teaspoons

yellow or brown mustard seeds

3

cups (450g about 3 large ears)

fresh corn kernels

1/2

cup (60g)

roasted peanuts

1

cup (30g)

chopped cilantro

lemon or lime wedges

2

tablespoons

toasted sesame seeds
In a mortar and pestle, or with a mini food processor, grind the chiles, garlic, ginger, turmeric, and salt to a paste.

Heat the clarified butter in a wide skillet. Add the mustard seeds and cook, stirring until they pop, which will take a minute or two. Stir in the corn kernels and cook a few minutes, stirring frequently, until they just start to feel tender, which will take a couple of minutes.

Stir in the peanuts, half of the cilantro and half of the red chile paste. Cook for another minute then taste. If desired, for additional heat, add more of the chile paste and perhaps a bit of salt. Remove from heat and add a squeeze of lemon or lime juice.

Serve the spiced corn over rice, or as a side dish, topped with the remaining cilantro and sesame seeds. (It might be nice to serve some cooling

raita

with it, too.) Have lemon or lime wedges handy for guests to add as they wish. Any leftovers can be reheated in a skillet with a little more clarified butter.
Notes
Note: If you have leftover red chile paste, I used mine to make a quick salsa by adding a dab to a small bowl of halved cherry tomatoes, adding a little extra salt, cilantro, oil, and a squeeze of lime juice. It got served atop grilled fish, although would be good with any grilled meat or as lively side dish with something else.
Related Recipes
Fresh Corn, Tomato, Avocado and Basil Salad