There's a pretty interesting Indian community in Paris and I've taken to walking around areas in Paris like La Chapelle and rue du Faubourg Saint-Denis, poking my nose into noisy restaurants and trying to figure out what those colorful and oddly shaped fruits and vegetables at the produces stalls are. There are all sorts of stuff in those shops and I'm particularly taken with something that's green and leafy – about one meter (about 3 feet) long – that I can't figure out what anyone would do with it, let along try to navigate getting it home through the sometimes difficult to navigate sidewalks of Paris. But I'm too timid to ask.
But I was not too timid to accept an invitation into the kitchen of Beena Paradin, who heard my plight as I've been trying to recreate Indian dishes at home, with ups and downs. On the downs, it feels like there's something I seem to be missing; the liberal spicing, perhaps. Or the "feeling" one must absorb when trying dishes from another culture, which usually involves letting go of our notions of how food should be seasoned and spiced, and adapting to a completely foreign way of cooking.
Beena's written several books on Indian cooking and had a program on French television. And when I arrived in her Parisian kitchen, Beena was finishing up filtering a jar of ghee. It was probably an impolite gesture to do upon arrival, but I stuck my nose in it right away and took of good sniff of the warm jar of French butterfat: it smelled like heaven.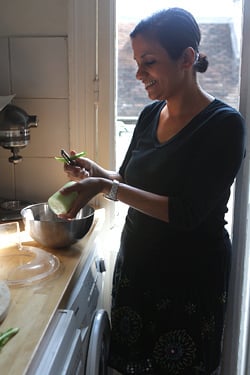 She'd asked me what I wanted to make and I thought it would be fun to share something with you that was simple, but endlessly adaptable. So I chose raita. As Beena explained to me, "Raita can have anything in it; pineapple, apples, or bananas. In the winter, I even make it with (cooked) pumpkin."
When she pulled out a bunch of the most perfect coriander (cilantro), with not a limp leaf or limb in sight, we talked about the quality of produce in Paris, both agreeing that the Biocoop natural food stores have some of the best produce in the city. Although she likes to buy things at the stand of Joël Thiébault, who I'd love to shop from but he's only at markets in the far-off sixteenth arrondissement. Plus I've just realized that the people in the natural food stores are some of the nicest people in Paris, which leads me to think that not enough people are eating organic fruits and vegetables around here ; )
When I remarked to her how open Indian cooks were to people who experiment and try variations on their cuisine, she reasoned – "It's because we have so many cultures in one country and there are so many different ways of doing things. We're just open to other styles of cooking."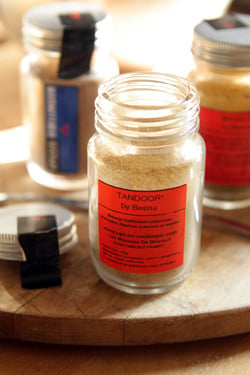 Right away she put together the raita in minutes in a stainless-steel, deep-sided dish, and when she was done, added a demi-spoonful of her masala powder. (You can buy her personal blend of spices at Roellinger.) Then she stirred it up, ready to be served with freshly made naan.
Interestingly, as Elise pointed out in her recipe for Cucumber Mint Raita, yogurt counteracts the heat of spicy food, making raita a fitting accompaniment to Indian stews and curries. Beena uses just a few bits of chopped fresh chili peppers when cooking for French guests (and from the looks of it, American ones as well), but said she would add the entire chili for Indian tastes.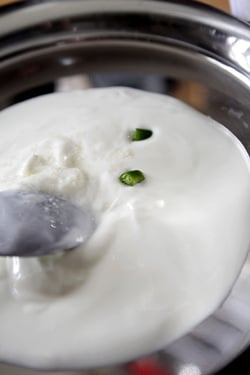 That led us to a discussion about spicy foods and how spices are sometimes used too liberally, obliterating any other flavors in a dish. And she advised that "chiles are used as a spice, but should not be the only flavor." So when you make her raita, not only can you add whatever kinds of fruits and vegetables strike your fancy, but you can dial the heat in either direction, depending on your tastes.
I was so excited to cook with Beena that I woke up that morning at 4:15am, partially because I was afraid I was going to oversleep and miss our 10 am rendez-vous, and partially because I'm a little obsessive-compulsive about…well, just about everything. But raita is so easy and so versatile that this is one dish that you – nor I – need to stress about.
Raita
Beena used full-fat yogurt, but you could use lowfat yogurt in place of it if you really must. As mentioned above, raita can be made with a variety of fruits and vegetables, and you can dial up the flavors using mint, scallions or green onions, or whatever spices strike your fancy.
1

cup (250g)

plain yogurt

1/2

large cucumber

1

medium tomato

6

springs of cilantro

1

small chili pepper

1/2

teaspoon

cumin seeds

1/2

teaspoon

masala powder

sea salt
Scrape the yogurt into a bowl.

Peel the cucumber, slice lengthwise, and scrape out the seeds with a spoon. Dice the cucumber into bite-size pieces. Core the tomato and dice the tomato into bite-size pieces and add them to the yogurt along with the cucumbers.

Chop the cilantro and add most of it to the bowl, reserving a little to garnish the finished raita. Chop as much, or as little, of the chili pepper as you'd like to use and add it to the mixture.

In a mortar and pestle (or with a hammer in a sturdy zip-top bag), crush the cumin seeds to a slightly coarse powder. Stir the ground seeds to the raita, along with masala powder and salt (to taste).

5. Sprinkle the top with additional chopped cilantro. Serve at room temperature, or chilled, alongside a favorite Indian dish or as a salad.
Notes
Masala powder is available at stores that specialize in Indian food and well-stocked grocery stores. You can find recipes for it on Food Blog Search if you'd like to make your own.
Related Links and Recipes
Quick Saffron-Coconut Ice Cream