Verjus
If you're one of those people who've been trying to get one of the coveted places at Hidden Kitchen, the supper club in Paris, liberté and egalité have arrived in the form of a wine bar and restaurant called Verjus.
After running their successful dinners, they've decided to take the plunge and create a warm space where they could welcome any and all guests, whether they want a glass of wine in their cave, or a full meal in the upstairs dining room. The restaurant is now open (and it sounds like they have enough stories about the problems they've had starting it up to write a book), the wine is flowing in the cave beneath it, and both are wonderful.
I've become a good customer of wine bars in Paris, over restaurants, because I like the casual atmosphere, the ability to have a few different kinds of wines at reasonable prices, and not dealing with the stress of having to make a reservation. (Although some of the wine bars in Paris now take reservations.) At most bar à vins, the staff is generally young, friendly, and much more interested in doing a good job with the food and wine selection than the older and more established bistros, while still remaining resolutely French.
Braden Perkins and Laura Adrian aren't French, but are part of the young generation of chefs and cooks who are doing something a little different here in Paris, which isn't something especially easy in a culture where change comes slowly. At Verjus, they're managed to combine a nod to the traditional wine bar with hot, made-to-order food. Food like this often gets deemed tapas-style in Paris, and quality can really vary. But the selection here is much more substantial and inventive than what is usually offered around town, so I'd like to propose a city-wide initiative to call them petits plats, especially since we're in France.
Les petits plats at Verjus run from €4 to €7, and the wines come in between €5 and €12 a glass (for Champagne), which change frequently and are curated with the help of Juan Sanchez of La Dernièr Goutte. And for those of you who can't resist sweets – after you've made a meal out of a few savory bites and a glass (or two) of wine – Laura's past as a pastry chef shines through in desserts like a Salted Caramel Pudding, Roasted Figs with mint ice cream and chocolate cookies, or a Quince Sorbet with candied kumquats, which change, depending on the season.
The regular choices change daily as well, but if Braden were to take the Poulet frit au lait ribot, salade de chou et jalapeno off the menu, crisp-fried chicken with a spicy cabbage salad, there would be a revolution. (And this one would make the last one here look like a debutant party…) And I'm a big fan of their French fries, which are cooked from fresh-cut potatoes and served absolutely crisp, with a side of house made ketchup and spiked with togarashi, a Japanese chili powder-based seasoning with provides a little extra heat.
The restaurant is a hit, although I'm often happiest in a wine bar, pulling up to a counter and sipping some nice wines. And if there's crunchy fried chicken and good French fries? – Well, those doesn't hurt either.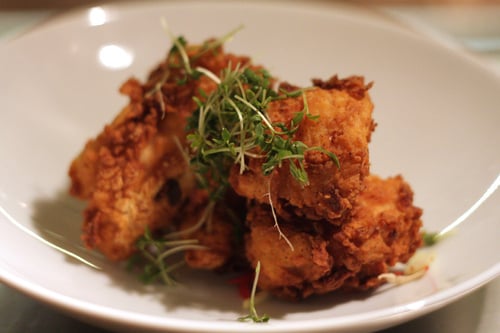 Verjus
47, rue Montpensier (Bar à vin)
and
52, rue de Richelieu (Restaurant)


Related Links and Posts
Caramelized White Chocolate Cakes
Verjus (The Paris Kitchen)
Verjus (Paris By Mouth)
Verjus (Facebook page)