The Best Hot Chocolate in Paris
People come from all over the world to sip le chocolat chaud in the busy and cozy cafés in Paris. And there's a reason for that – it's excellent! But you can't just walk into any café and be assured of a great cup. Thankfully you'll find a number of places in Paris that take the time to pour an excellent cup of hot chocolate. Here are some of the top addresses in town to warm up with a cup!
Angelina
226, rue de Rivoli
Métro: Tuilleries
This famous hot chocolate salon is getting a well-deserved makeover. But no matter; the place is always packed full of French society women and tourists side-by-side spooning up their gloriously rich, and impossibly thick, le Chocolat Africain. The service has taken some knocks, but most chocophiles forget any glitches in exchange for the privilege of sipping the world's most famous hot chocolate.
Berthillon
31, rue St. Louis-en-Î'le
Métro: Pont Marie or Sully-Morland
Pair a mug of frothy hot chocolate with a scoop of Paris' best ice cream for a decadent afternoon snack. Their salon de Thé next door to the ice cream shop has terrific desserts, including perhaps the best, and most perfectly caramelized, tarte Tatin in Paris. Pair it with a scoop of caramel ice cream making it a wedge of heaven. Closed Monday and Tuesday.
Cafe de la Paix at The Grand Hotel
12, boulevard des Capucines
Métro: Opéra
Overlooking the extraordinary Opéra Garnier, this is the most picturesque (and expensive) spot in Paris to sip hot chocolate. Be sure to request fort en gout (strong flavor), unless you prefer your hot chocolate touché delicate, with a delicate touch. Open late in the evening for those after-the-opera chocolate cravings.
Charles Chocolatier
15, rue Montorgueil
Métro: Les Halles
Revitalize in this tiny, modern chocolate shop near bustling Les Halles on the trendy rue Montorgueil with a cup of their dark, bittersweet brew which gushes from their well-polished copper cauldron. (Available only in the winter.)
Hotel Meurice
228, rue de Rivoli
Métro: Tuileries
Unwind in fabulous gilded splendor at this chic address across from the Jardin des Tuileries. The ultimate luxury here is ordering your hot chocolate according to the cru (tropical origin), including fruity Manjari chocolate from Madagascar and intense Guanaja from South America.
Jacques Genin
133, rue de Turenne (3rd)
Tél: 01 45 77 29 01
Métro: Filles du Calvaire
The master of chocolate makes a dark, less-sweet hot chocolate, using French chocolate in his modern laboratory. It's incredibly dense and is one of the best cups in Paris. The desserts are works of art as well, and don't leave without getting a bag of his outstanding caramels. Note that during busy times, there is often a wait for tables.
Jean-Paul Hévin
231, rue Saint-Honoré
Métro: Tuilleries
Divine hot chocolate is served in the upstairs tearoom. I challenge any die-hard chocoholics not to resist one of the rich, elegant chocolate cakes as well.
La Charlotte de Îsle
24, rue St. Louis-en-Î'le
Métro: Pont Marie or Sully-Morland
This funky tearoom serves their ultra-thick le chocolat chaud in tiny Japanese cups, encouraging you to savor it one chocolaty dose at a time. La Charlotte got a boost from a favorable write-up in The New York Times a few years back, so the cluttered shop can get a bit cramped on weekends. It's recently changed hands too.
La Maison du Chocolat
52, rue François 1ème
Métro: FDR
For other addresses, visit their website
Only a few locations of La Maison du Chocolat have tasting 'bars' where you can sit in the summer, slurping down a chocolate frappe or during the winter, treat yourself to a steaming mug of hot chocolate made from the world's finest chocolate. The exotic Caracas hot chocolate is not for the timid, nor is the Bacchus, with a rather adult shot of dark rum.
Ladurée
75, avenue Champs-Elyées,
Métro: George V
For other addresses, visit website
Ladurée was Paris' first tearoom, offering unescorted women a place where they could socialize. Nowadays everyone, single or otherwise, male or female, can indulge in a silver pitcher of chocolate chaud Ladurée while overlooking the lively promenade of Parisians and tourists on the Champs-Elysées. The original location, on the rue Royale, is the most charming.
Pâtisserie Viennoise
8, rue de l'Ecole de Médecine
Métro: Odéon
This dark, well-worn hang-out is one of Paris' best-kept secrets, a favorite of nearby students from the Sorbonne. The hot chocolate is barely sweetened and not for the timid. Most visitors customize their cups with the packet of sugar offered alongside. Warning: If you ask for whipped cream, you'll have to plow through a luxurious cloud of whipped cream to unearth the unctuous, barely sweet, chocolat Viennois hidden below. Closed weekends. (This place, and their hot chocolate, were featured in my book, The Sweet Life in Paris.)
Puerto Cacao
203, rue du Faubourg Saint-Denis
Métro: Ledru-Rollin
Featuring fair-trade chocolate, this chocolate bar will custom your cup with everything from cinnamon to Aztec-inspired spices.
SIP Babylon
46, Boulevard Raspail
Métro: Sèvres-Babylon
This corner cafe whips up pleasant lunches, but the real treat here is the hot chocolate with a scribble of creamy hazelnut paste oozing over the top. Located just near the Bon Marché department store, it makes the perfect respite after a hectic afternoon of shopping.
Carette
25, place des Vosges
Métro: Saint-Paul
If the idea of sitting by the Place des Vosges, and sipping a gorgeous cup of hot chocolate sounds good to you, Carette is your place. You can savor your drink under the arches of the place while nibbling macarons or other treats in the summer, or snuggle inside in the winter, and get cozy with a pastry, along with your hot chocolate.
Un Dimanche à Paris
4-6-8 Cour de Commerce Saint André (6th)
Tél: 01 56 81 18 18
This mini chocolate empire in a passage off the place de l'Odeon is a sleek homage to all things chocolate. The brew is rich and served in an individual pitcher. Available with a selection of bite-sized desserts.
Can't make it to Paris? Here are my recipes for Parisian Hot Chocolate and Belgian Hot Chocolate.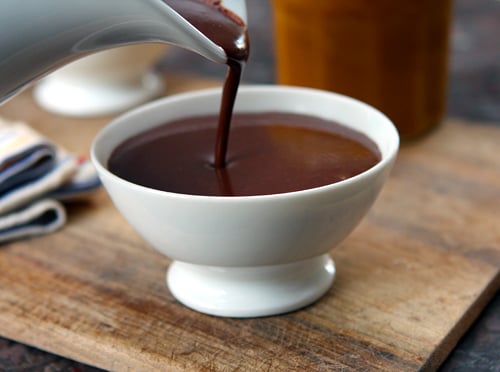 Related Posts
10 Insanely Delicious Things You Shouldn't Miss in Paris
Where to Find the Best Steak Frites in Paris
Where to Find the Best Duck Confit in Paris
Two Delicious Dining Guides to Paris
French Menu Translation Made Easy
Paris Chocolate & Pastry Archives