The Chocolate Hemisphere
In this month's Hemispheres Magazine, the magazine of United Airlines, you'll find my article about exploring the chocolate shops of Paris. I talk about many of my favorite places, why I like them…and what I recommend you get while you're there!
Although the article is only available on United Airlines flights in October (so book your flight to Paris today!) you'll find a special 'Cyber Sidebar' at their web site of great addresses for le chocolat chaud, the famed ultra-thick and rich Parisian hot chocolate.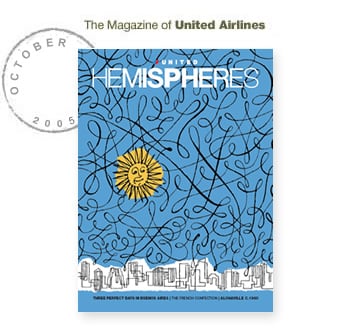 To read the bonus Cyber Sidebar on their web site, click on the bottom link-bar, the 'Cyber Sidebar'.
It's my carnet of hot chocolate addresses in Paris, some are justifyably famous and well-known, and there's a few secret new addresses that you probably don't know about, but should.
I acted on "insider information" from a few Parisians; at one very famous hot chocolate emporium, the saleswoman pulled me aside and secretly scribbled down a few of her personal favorites and handed it off to me…for research!
Next month, I'll post the Parisian hot chocolate recipe given to me by a well-known pastry chef and served in his chic salon, which I've adapted for home cooks…you'll be sipping le chocolat chaud all winter long.


UPDATE: Hemispheres magazine has changed hands and removed many articles in their archives. If you're looking for my favorite hot chocolate addresses, I'll be offering a directory of Paris sweet addresses in the near future.