Caramelized Peanut Coffee Cake
Whenever I'm looking through a new cookbook, what never fails to make me bookmark a recipe is when I come across something that has caramelized nuts on it, or in it. Whether it be Honey-Almond Squares or Swedish Almond Cake, you can be sure you'll find me in my kitchen within the next 24 hours, and baking it. This Caramelized Peanut Cake that takes very little effort to make, but yields big rewards. Big, crunchy, peanutty ones, with a bonus of moist, buttery cake underneath, holding it all together.
The good thing about this cake (aside from it being covered with a generous pile of caramelized salted peanuts, as if it can get any better than that) is that you likely have most of the ingredients already on hand. That was my case, so I was able to make it right away. The only 'technique' you need to master is boiling butter, honey, cream and sugar, then stirring in the roasted peanuts. The topping couldn't be easier.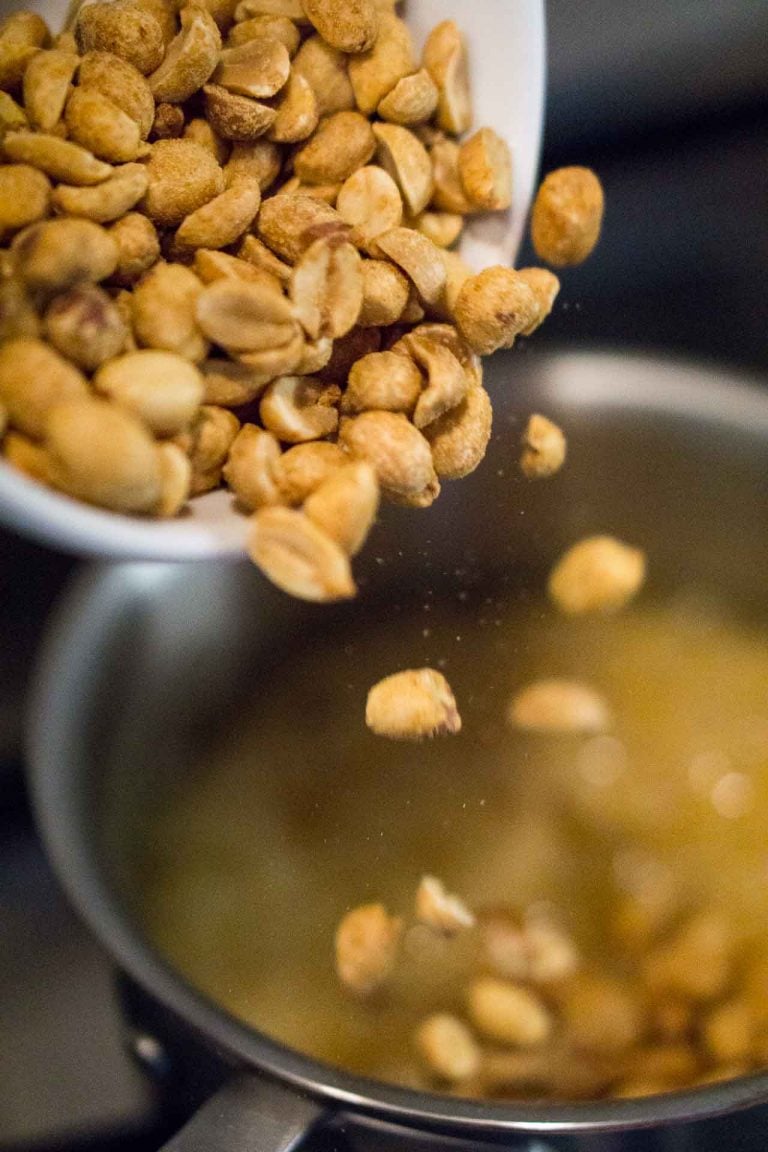 This recipe is adapted from The Joys of Baking, an unabashedly sweet ode to baking by Samantha Seneviratne that riffs off stories and situations in her life, ones that inspired the recipes. Gingered Cashew Nut Brittle showered with sesame seeds, a Roasted Plum Cloud Cake topped with swirls of snowy meringue, bittersweet Amaro Stracciatella Ice Cream, and Salted Chocolate-Covered Chocolate Caramels are the kinds of things that I'd agree are a joy to bake, and to eat.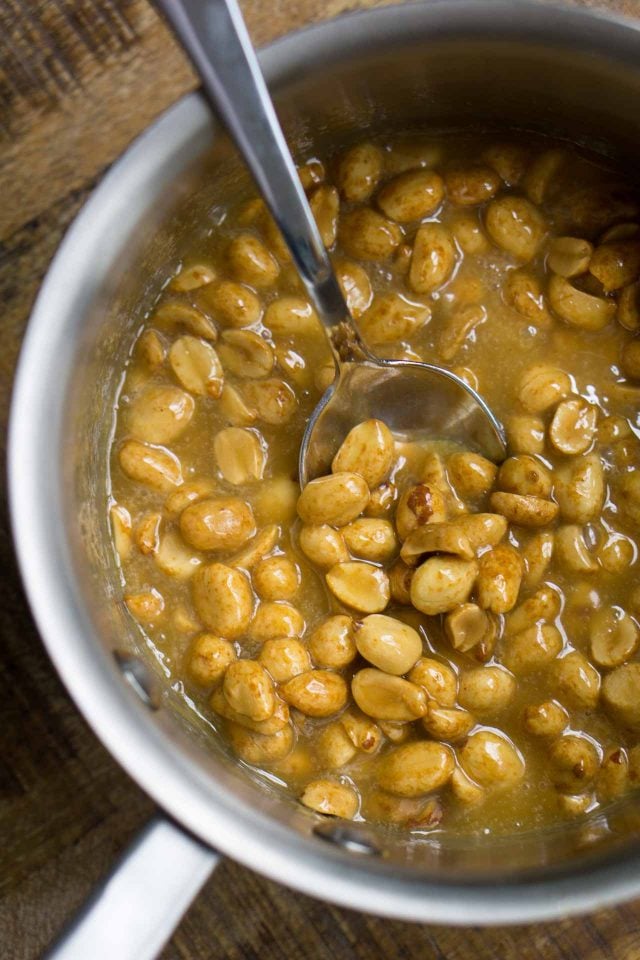 So how could I resist cake topped with SALTED CARAMELIZED PEANUTS? Sorry for shouting, but this cake is something to shout about. I mean, just look at it…
The only difficulty you might encounter is getting the cake neatly out of the pan. Mine got a little dark around the edges (why, oh why, wasn't I born a food stylist, to make mine as neat as the one in the photo in the book?) I found that letting the cake rest for about 5 to 10 minutes after it comes out to the oven, then using a sharp paring or utility knife that's either sprayed with a bit of non-stick spray, or lightly greased, to separate the sides from the cake pan while it's still warm, is your best bet for easy (or easier) removal of the ring of the springform pan. Any pieces that fall off can be reaffixed to the cake.
Or let them cool…and eat them yourself.
Which is what I did with the missing chunk in the photo, above. (Why, oh why, wasn't I born with photo editing skills?) But honesty is the best policy, and I hope you'll trust me when I say this cake is as good as it looks. And if a few pieces go missing, here and there, well – you only have yourself to blame. But unlike me, you don't have to tell anyone about it.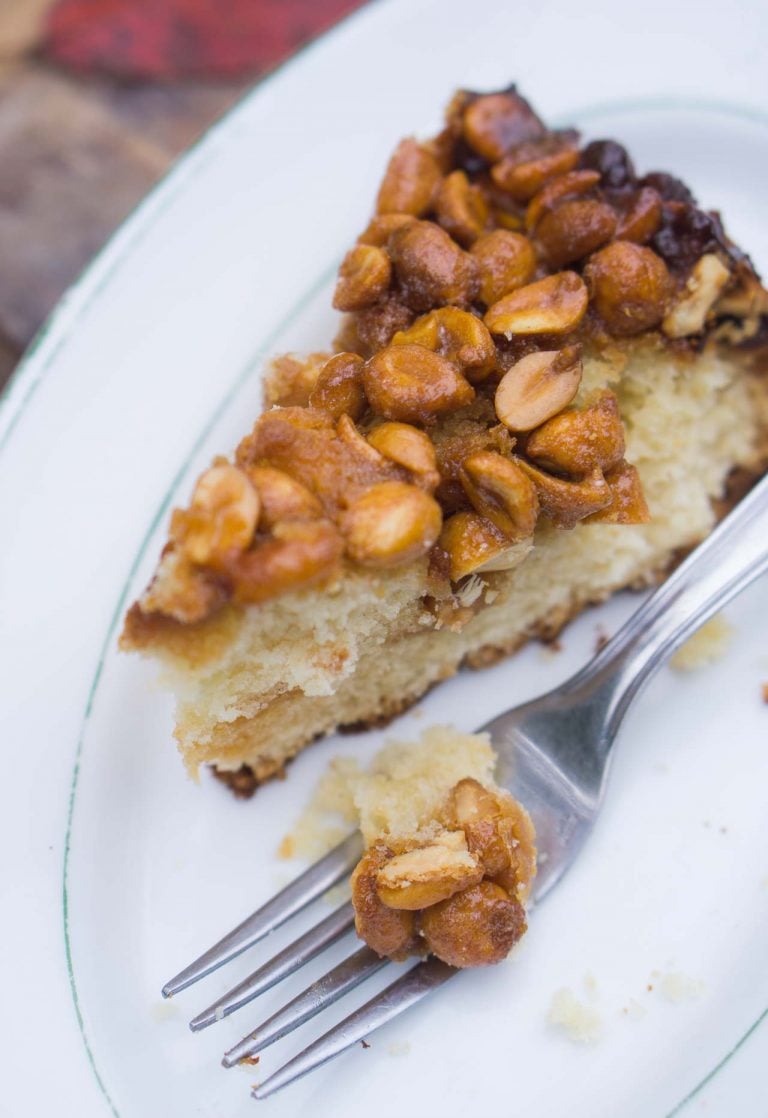 Caramelized Peanut Coffee Cake
Adapted from
The Joys of Baking: Recipes and Stories for a Sweet Life
by Samantha Seneviratne One tip: If you have low-fat milk on hand, you don't need to go out and buy whole milk just to make this cake. Since the topping only calls for 1/4 cup (60ml) of cream, you'll likely have some leftover cream if you've gone out and bought a carton or bottle. So you can mix some of that cream in 50:50 proportions with low-fat milk to approximate whole milk. Another tip from a reader, who used a
silicone cake mold
(which I don't own) and said the cake slipped out of the mold easily and the sides didn't get too dark.
For the peanut topping
6

tablespoons (3 ounces, 85g)

unsalted butter

,

cubed

1/3

cup (65g)

sugar

3

tablespoons (60g)

honey

1/4

cup (60ml)

heavy cream

1 1/2

cups (7 ounces, 195g)

roasted, salted peanuts
For the cake
6

tablespoons (3 ounces, 85g)

unsalted butter

,

cubed, at room temperature

2

cups (280g)

flour

2

teaspoons

baking powder

,

preferably aluminum-free

1/2

teaspoon

kosher or sea salt

1

cup (200g)

sugar

1

large

egg

,

at room temperature

2

teaspoons

vanilla extract

3/4

cup (180ml)

whole milk

,

at room temperature
Butter the sides and bottom of a 9-inch (23cm) springform pan very well. Preheat the oven to 350ºF (180ºC).

To make the peanut topping, warm the unsalted butter, sugar, honey, and heavy cream in a small saucepan, stirring occasionally until the butter is melted. Bring the mixture to a boil and let it cook at a low, but steady boil, for 3 minutes. Remove from heat and stir in the peanuts. Set aside, stirring every once in a while to cool it down, while you make the cake batter.

In a small bowl, sift or whisk together the flour, baking powder, and salt.

In the bowl of a stand mixer fitted with the paddle attachment, or in a large bowl mixing by hand with a spatula or wooden spoon, beat the butter and sugar until light and creamy, about 3 minutes. Reduce the speed to low and add the egg and vanilla extract, stirring to combine. (You may want to stop the mixer during the step, and scrape down the sides if using a stand mixer, to make sure all the ingredients are well incorporated.)

Stir half of the flour mixture into creamed butter (with the stand mixer set on low speed), then add the milk, then mix in the rest of the dry ingredients.

Scrape the batter into the prepared pan and smooth the top. Spoon the peanut mixture over the top of the cake. It will have thickened up but do your best to make sure it's relatively even, and avoid pushing it right up to the sides of the pan, as it'll stick to the pan and make it a little difficult to release later.

Bake the cake for 50 to 55 minutes, until a toothpick inserted into the center of the cake comes out clean. Do not touch the top of the cake to check for doneness as the caramel is hot and sticky, and it can burn. (Trust me...) Let the cake stand 5 to 10 minutes, then lightly grease a paring or utility knife and run it around the outside of the cake to release it from the sides of the pan. Then remove the outside ring of the springform pan. If any bits of caramelized peanuts stick or come off when removing the outside ring, either reunite them with the cake, or let them cool and eat them yourself.
Notes
Serving: Serve the cake just as it is, or with lightly whipped cream or a favorite flavor of ice cream. Storage: The cake is best the day it's made but can be kept at room temperature for up to three days either well-wrapped or under a cake dome.