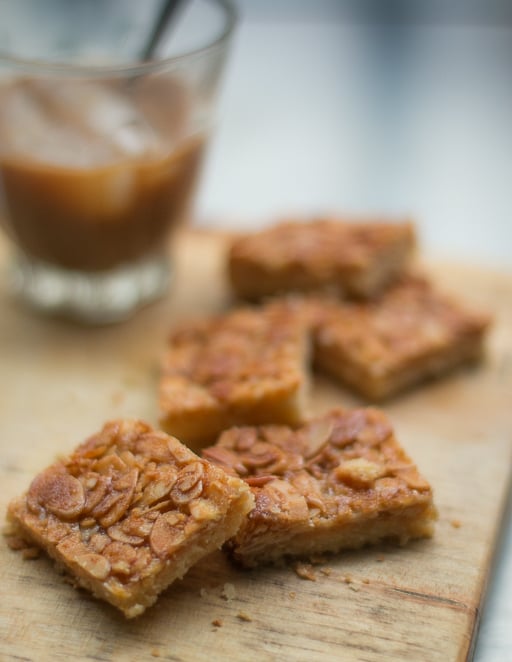 When I take visitors through those big glass doors of the La Grande Épicerie in Paris, the first stop may very well be the spectacular pastry section, where fanciful cakes wrapped with ribbons of chocolate, or covered with a spun-sugar lattice topping, are proudly displayed in glass showcases like jewels.
In the corner, less obvious, are the sweets for le grignotages, or snacking. (Which they also call le snacking, in French.) Among the sugar-topped chouquettes and scalloped madeleines, are squares of candied almond-covered shortbread, called miella. Although they don't grab your eye with the same intensity as the surrounding pastries, they are my favorite thing in the showcase and I am borderline addicted to them. When I point them out to people, they rarely show the same enthusiasm as I do, being more transfixed by the rows and rows of colorful macarons and glossy éclairs. "Tant pis" (tough sh*t, or more politely "too bad") as they say – more for me!
Fortunately, I am able to limit my consumption to the occasional trips across Paris, when I feel the need to do some damage at the grandest culinary supermarket in town. Not that I need an excuse to go there, but it's probably best I don't have easy access to those caramelized almond-honey squares. (And the three aisles of chocolate bars.) Well, until now.
I was combing through The French Kitchen Cookbook by Patricia Wells, and landed on a similar-looking recipe, though hers contains bits of candied orange. Since I stockpile honey, I am always looking for ways to use it, especially some of the rarer varieties that I've collected, now packed in my "honey" cabinet. (Which, for some reason, is also used for storing coffee.) I pulled out the buckwheat honey, which I knew would be the perfect choice for making these squares, where the flavor of a good honey would shine. (You'll notice mine have a bit of a matt finish because my buckwheat honey is unfiltered. If you use a smooth honey, you'll get a glossier topping.)
Patricia recently updated her Food Lover's Guide to Paris – a book I faithfully toted along with me on my first – and every other – trip to Paris – which is full of her favorite places, sweet and savory. I've been thumbing through that as well, admiring the ever-changing face of the culinary scene in Paris, bookmarking places to visit. Of course, La Grande Épicerie is in there, along with pastry and chocolate shops, boulangeries, bistros, and cafés.
But for now, I'm staying put, right at home, since I've been making these little crispy-buttery treats, a cross between a cookie and a candy, great with strong coffee. At some point, I'll need to restock my coffee, and if I keep making these, my honey as well. And I've got the guide to get me to the right places. That is, if I can drag myself away from these almond-honey squares.
Almond Honey Squares
Adapted from
The French Kitchen Cookbook
by Patricia Wells For best results, you should use a strong, dark honey, such as buckwheat or chestnut. If you have only mild clover or orange blossom honey, the recipe will still work and be just fine, but the honey flavor will be less pronounced. If you can't get almond powder, you can use blanched sliced almonds (measuring them by weight, not volume) in place of the powder; pulverize them in the food processor along with the other dry ingredients. For more information and tips about using almond powder, check out my post -
Almond Flour FAQs
.
The crust
1/2

cup (50g)

blanched almond powder

3/4

cup plus 2 tablespoons (120g)

all-purpose flour

3

tablespoons

sugar

1/2

teaspoon

salt

6

tablespoons (3 ounces, 90g)

unsalted butter

,

chilled and cubed

1

large egg yolk

2

tablespoons

water

1/2

teaspoon

vanilla extract
The almond topping
4

tablespoons (2 ounces, 60g)

unsalted butter

,

cubed

1/3

cup (65g)

sugar

2

tablespoons

dark honey

,

such as buckwheat or chestnut

zest of 1 orange

,

unsprayed

scant 1/4

teaspoon

sea salt or kosher salt

1/2

teaspoon

vanilla extract

1

cup (80g)

sliced almonds

,

preferably blanched
Preheat the oven to 400ºF (200ºC).

Line a 9-inch (23cm) square baking pan with aluminum foil, easing it up the insides of the pan. Spray the foil with nonstick spray or lightly grease it with a bit of softened butter.

To make the crust, add the almond flour, all-purpose flour, 3 tablespoons sugar, and salt to the bowl of a food processor. Pulse a few times, then add the 6 tablespoons (90g) of cubed butter and pulse until the mixture resembles very coarse cornmeal. Add the egg yolk, water, and vanilla and process until the dough comes together. If it's too dry, add another tablespoon of water. (You can also make the dough by hand, cutting the butter into the dry ingredients with a pastry blender or a fork.)

Press the dough into the pan so it covers the bottom evenly. Bake the dough until the top is golden brown, about 12 minutes.

While the dough is baking, make the topping by melting the 4 tablespoons (60g) butter in a small saucepan. Once it has melted, add the sugar, honey, orange zest, vanilla, and salt, stirring until smooth. Remove from heat and add the sliced almonds, stirring until they're completely coated with the butter-honey mixture.

Scrape the almond mixture onto the still warm baked crust and spread it evenly over the top. Bake for 10 to 12 minutes more, or until the almond topping is nicely bronzed. Let cool. Remove from the pan by lifting out the foil. Cut into squares or rectangles.
Notes
Storage: The almond-honey squares are best the day they are made, although they will keep for up to three days in an airtight container at room temperature.
Related Recipes
Toscakaka (caramel almond cake) (Poires au Chocolat)