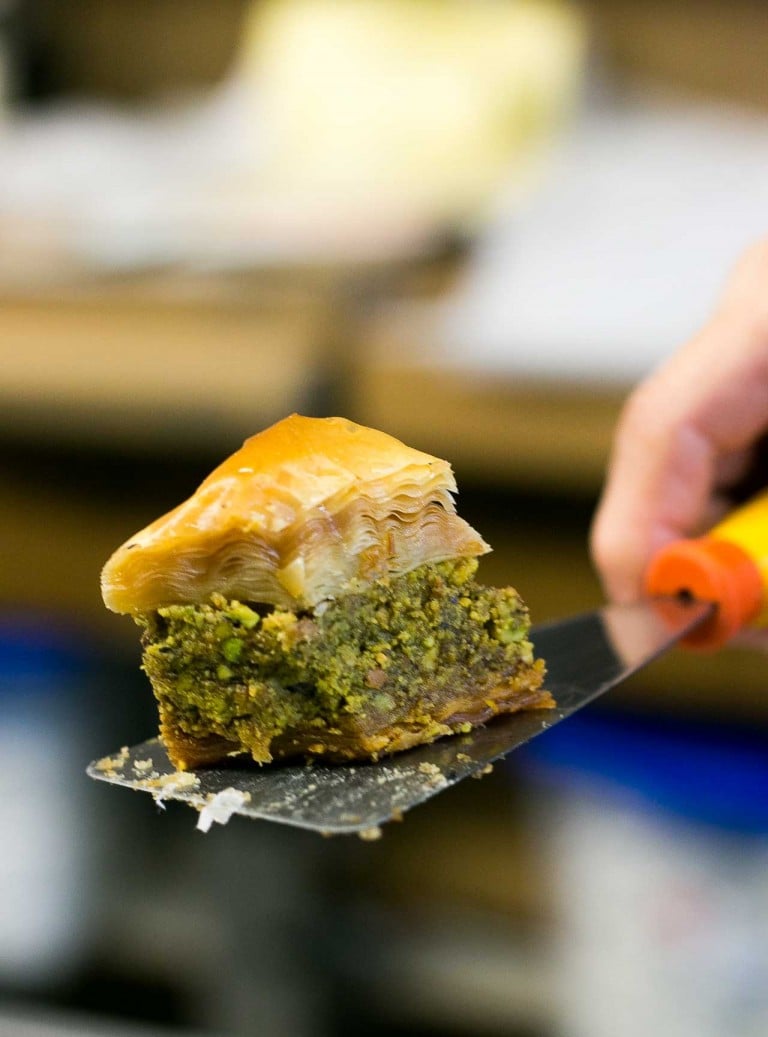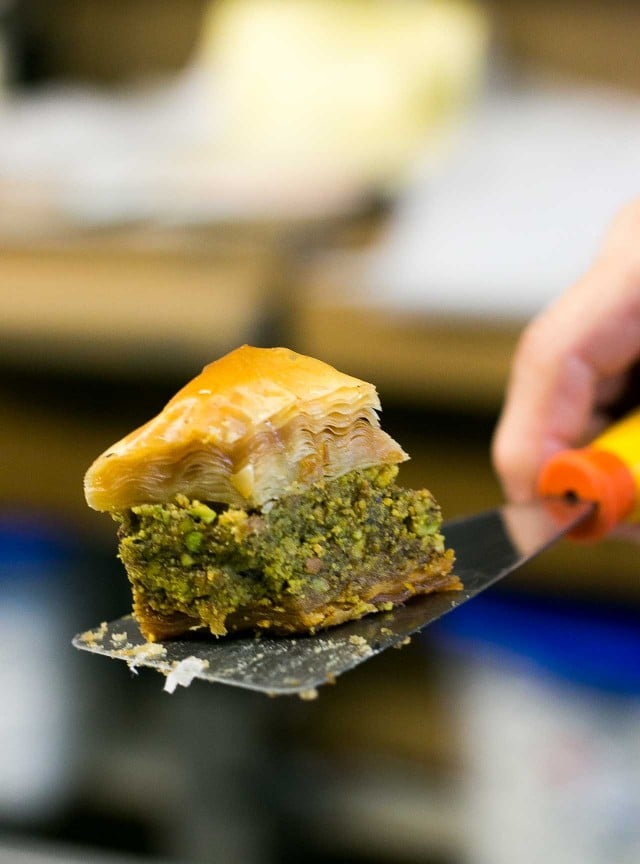 One of the appeals of Brooklyn is the rich ethnic mix of cultures, cuisines, and traditions, that is somewhat of a microcosm of America. Many of our grandparents, including mine, arrived on Ellis Island and assimilated to life in America in New York City. And it still remains a lively, if sometimes uncomfortable, mix of upscale, downscale, rich, poor, happy, angry, frustrated, and content. But everybody's gotta eat.
During the last few years, it's no secret that the borough of Brooklyn has exploded and become something so internationally recognizable that La Grande Épicerie in Paris redecorated their iconic Parisian food store in the style of Brook-leen, as they say. But it's not just a bunch of people walking around in knit caps and plaid shirts, or spinning wool in a waiting room. There's all sorts of foods – from artisan to Armenian, Sicilian to Soviet, and American to Yemeni –  all just a subway ride away.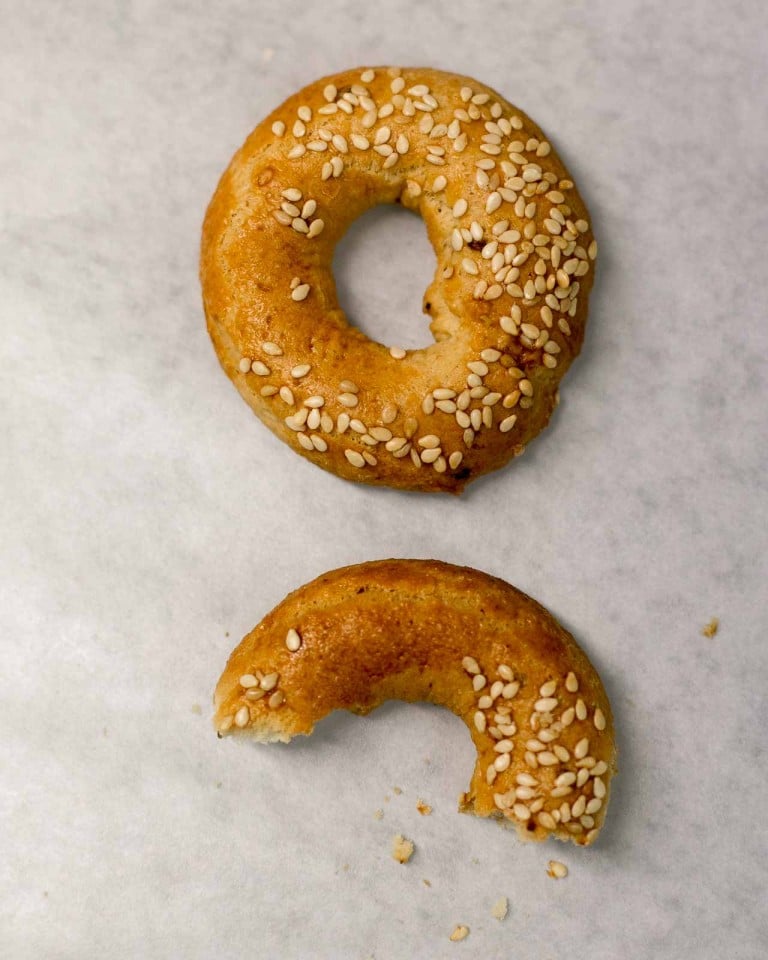 If you go deeper into the enormous borough – its size alone, if it was its own city, would be the third largest in America – you'll find streets and neighborhoods the reflect the diverse multiculturalism of the borough, with neighborhoods of food shops, restaurants, bakeries, and pizzerias, representing the rich blend of immigrants who've settled here over the years.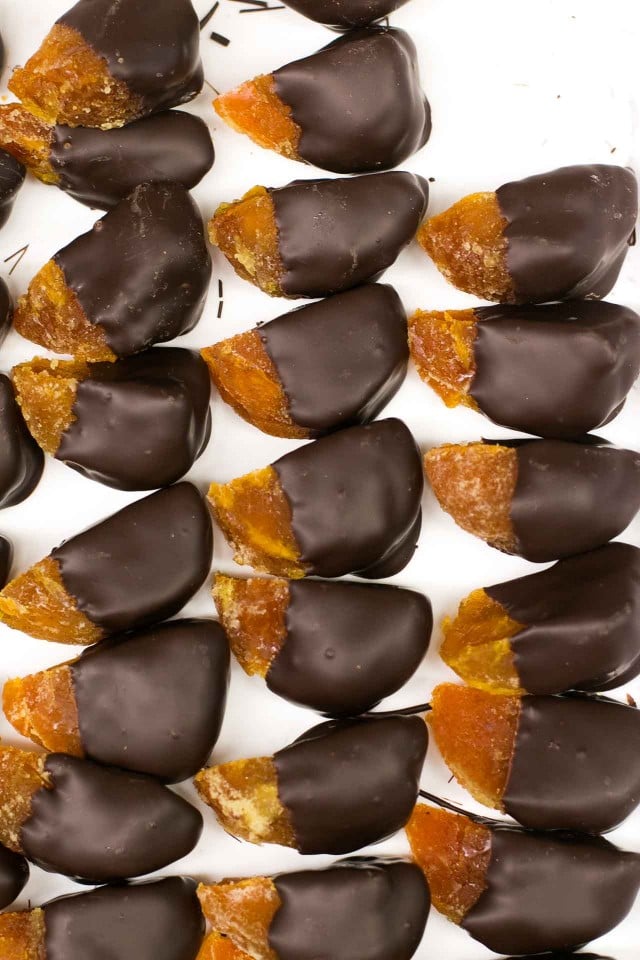 One culture that interests me is Syria since some of my family was from there, who came to America during the wave of immigration which turned part of New York into Little Syria. We hear a lot about Syria in the news these days, often (unfortunately) due to the turmoil in the country. And for many of us, the things we see on television are the impressions we have of these countries. I had not been to Syria, which was a shame, but friends who have been said it was incredible.
Mansoura was established in Brooklyn in 1961 and food writer Gabriella Gershenson suggested that I go to the Syrian bakery on my last visit to New York, since she knew I loved Middle Eastern food. I wasn't able to make it then, but it was right at the top of my list for this visit. So I was happy when she offered to meet me there. Gabriella was an editor at Saveur, and is now at Rachael Ray magazine (how do I get on her show?), and we met up in the Gravesend neighborhood in Brooklyn. And let me tell you, this place was worth the trip – and the wait.
You can read the complete story and history of Mansoura on their website, because I'm realizing what a challenge it is to take it all in: Snapping pictures, keeping notes, translating, meeting the people, and more importantly, eating pastries (and getting the facts straight while trying to decipher my notes when they're covered with honey and powdered sugar…), all at the same time. We spent nearly three hours in the bakery and a week later, I wanted to go back.
The Mansoura family started making pastries hundreds of years ago in Syria, then moved to Egypt in the early 1900's, then to Paris for a couple of years while they waited for their U.S. visas. The finally settled in the States, and opened their shop in Brooklyn in 1961.
Today, Jack Mansoura, who's 27 years old, is the baker in the family, along with his brother David. Unlike other Middle Eastern bakeries, that swap out glucose for honey and use nuts that are past their prime, the first bite of pastry I had at Mansoura made me realize what a special place it is.
The first thing we tried was a disk of chewy Apricot Roll: Hand-rolled Turkish apricot paste cooked down to a paste then formed into cylinders with crisp pistachios. By taste, I assumed they were tangy California apricots but these were so flavorful, I may be a convert to the Turkish varieties.
Rolled up Kataifi is made with strings of dough extruded from a machine. (Video) The thread-like pastry, made in their kitchen, is wrapped around a tight center of pistachios, baked in a spiral, then moistened with a light orange blossom syrup before being sliced.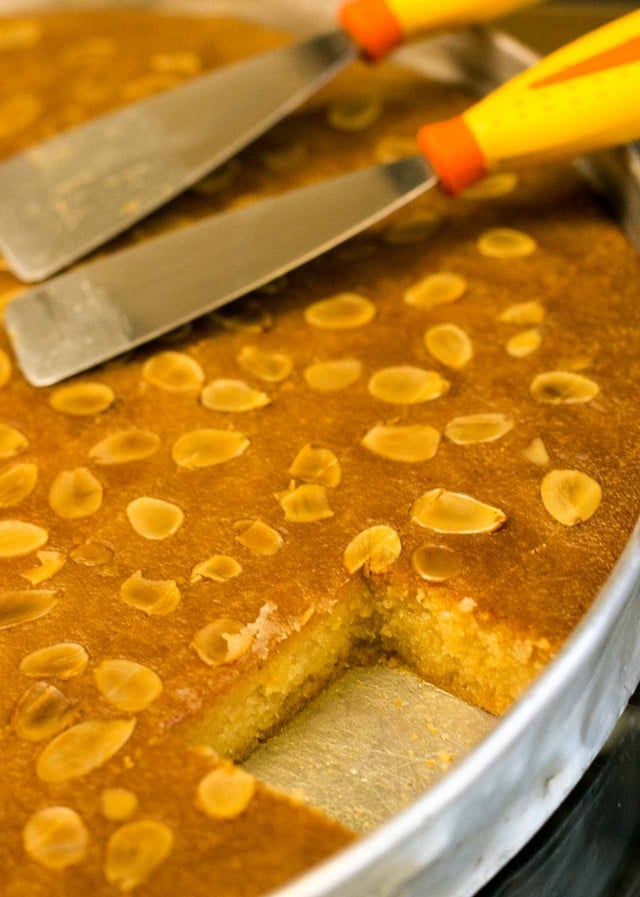 But I think my favorite was Basbousa, an exceptionally moist semolina cake with a hint of coconut, topped with sliced almonds, and also moistened with a not-too-sweet syrup. I thought it was just perfect. Until…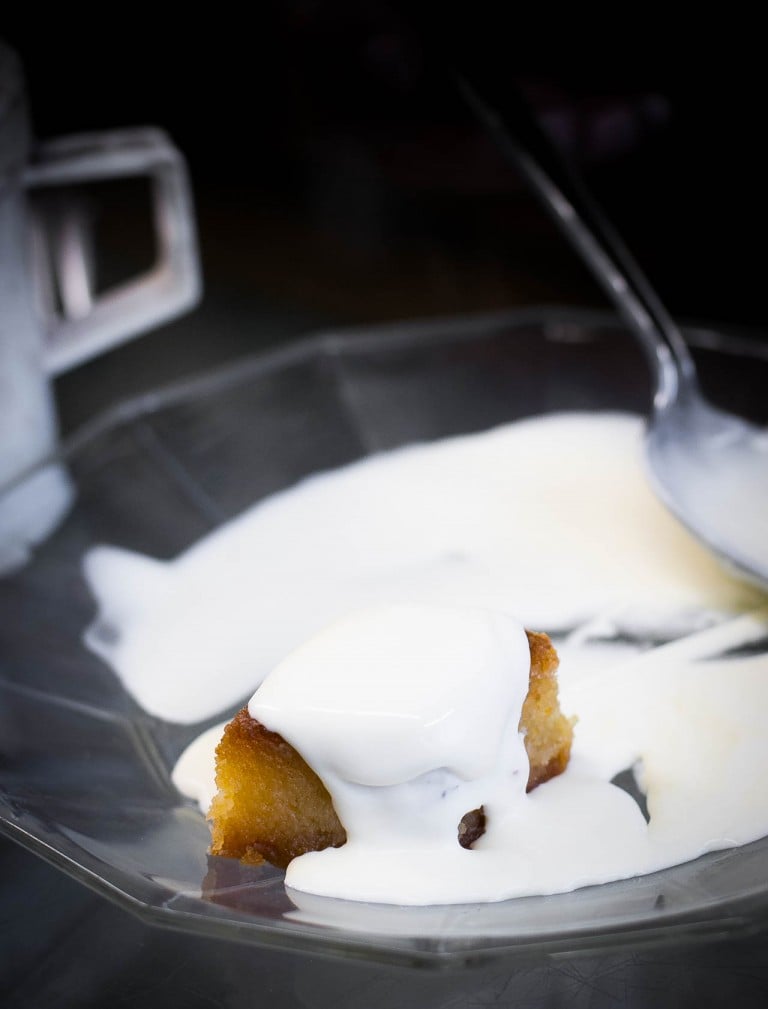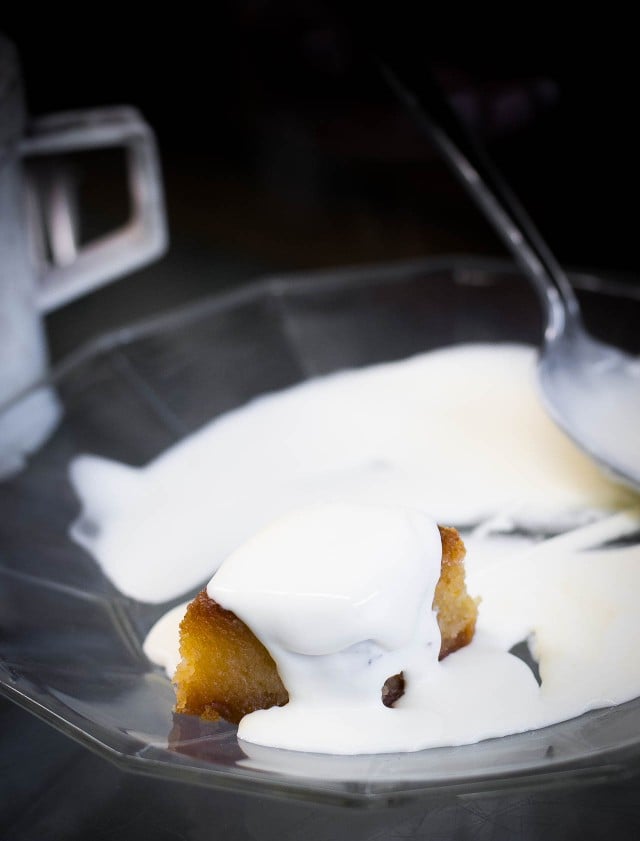 That is, until Jack and David's mother, Josiane, took out a jar and spooned what she called "butterfat" over it. None of us were quite sure what the rich cream was called in English, but it really took the cake way, way up – and then over – the top.
Ma'amoul was packed with more pistachios of those delicious pistachios and had a suggestion of orange flower water in each flaky bite. The little fluted cakes are made in molds, which gives the pastry its distinctive shape. They only had one ma'amoul left in the shop, and offered it up to us.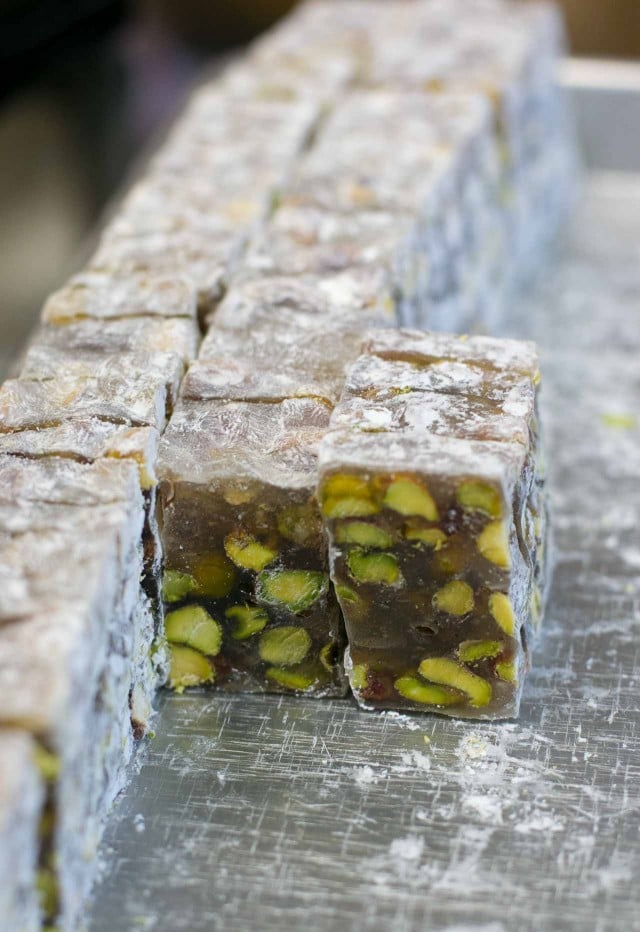 I'm a big fan of gummy candy, anything from Orange slices and Swedish fish, to marshmallows and Turkish delight. I've had some gunky Turkish delight or cubes over-infused with rose water in my life, however I usually eat them all, no matter what. The neat rectangles at Mansoura may not be as flashy (or, um, as colorful) as others out there, but the tender rectangles were worlds away (or boroughs away) from the others.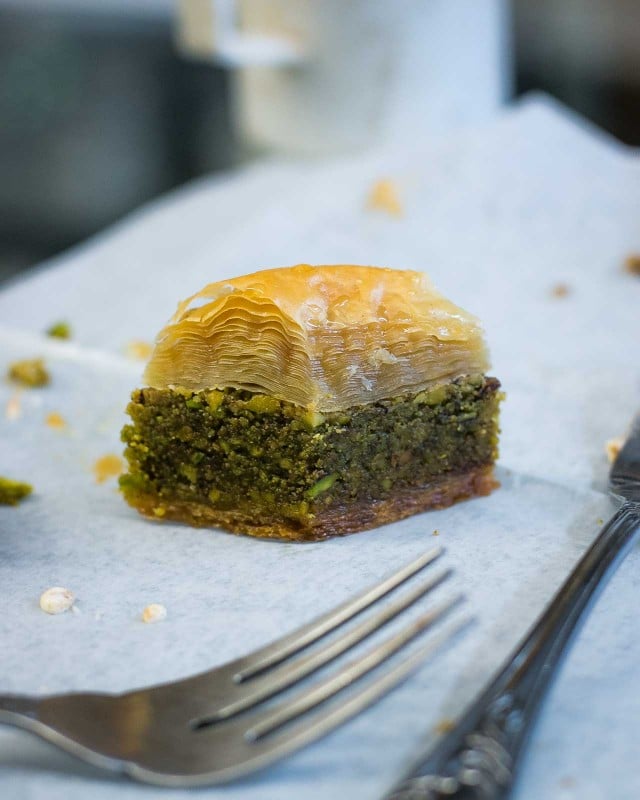 I didn't count, but they say the baklava at Mansoura has seventy layers. From what I saw for sure in the afternoon I spent at the shop was that it's their most popular pastry, as people stopped in for a box, and often decided to leave with a box of their house-dipped chocolates as well. I came home with a bag of buttercrunch and chocolate-covered marshmallows, as well as a block of soft, house-made cheese with caraway seeds. That's likely going to be spread on bread or used to maybe top Ma'anoushe flatbreads. If you go, it's worth taking a look in their refrigerator as they sometimes make things like Kibbeh and other Middle Eastern goodies, that come and go in their repertoire.
Always in stock are Kaak, ringed crisp biscuits similar to the circles of Taralli that I had in Sicily. (Much of the food in the Middle East has traveled not only between various countries in the region, each giving it their own flourish and name – and sometimes disagreeing about it, but also to Italy and other Mediterranean countries.) They're flavored with a hint of anise and go great with cocktails or as a snack. My mother once tried to make them, but they didn't come out like these.
By the time Gabriella and I were ready to go, we realized that we'd spent three hours in the shop, talking to Jack, his mother, and David. Gabriella had several boxes of pastries in tow, and I had quite a few goodies in my bag as well that I'd bought to last me through the week. But a few days later, I realized that I didn't buy enough!
Mansoura
515 King's Highway
Brooklyn, NY
Tel: (718) 645-7977
Hours: Sunday through Thursday, 9am to 5pm, Friday 9am to 4pm. Closed Saturdays.
(Closed Sundays during July and August.)
Related Links
A Visit to Mansoura (Eater)
Al Bohsali: Middle Eastern Pastries in Lebanon
Ma'amoul Recipe (Tasty Kitchen)
Walnut Ma'amoul Recipe (Maureen Abood)
Kanafeh Recipe (Closet Cooking)
Kaak Recipe (Taste of Beirut)
Basbousa Recipe (SBS)