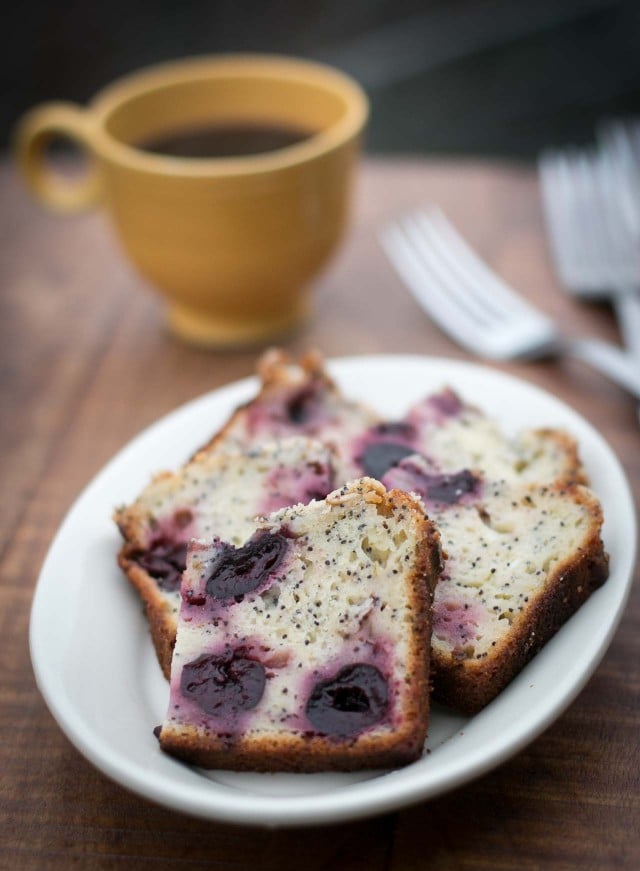 With spring around the corner, all thoughts are turning to fruit, while we wait for stone fruits to arrive. Nectarines, peaches, plums and apricots will soon be at the markets, usually led by cherries, which are often the first to make an appearance. I was leafing through Sweeter Off the Vine, by Yossy Arefi, a book dedicated to using fruit year-round, from squash, pumpkin and apples in the fall, to blackberries and figs, which – depending on where you live – signify that summer is coming to a close.
I saw a galley (a preview) of the book before it was published and thought, "Wow – this is gorgeous!" (And wrote an enthusiastic quote for the book jacket.) Plus it was full of the kinds of desserts I like a lot, fruit-forward, bursting with berries, cherries, citrus, and more.
I got so excited when I got an actual copy of the book that I couldn't wait for cherry season, and used some frozen ones to bake up a sneak preview. I'd originally bookmarked a whole wheat cobbler with blueberries and had a stash of blueberries in my freezer from last summer. Blueberries are very hard to come by in Paris, so I decided to save those. (Still not sure for what…) But cherries, once the season starts, become widely available. And decided to bake up the Cherry Poppy Seed Cake.
I once wrote a book on fruit desserts, although publishers were wary, saying that people weren't that interested in fruit, which was a surprise to me, because I love fruit. But they look at the numbers. However I think that's changed over the years as we've gotten used to celebrating fruit, with all the green markets and farmers' markets, and all the varieties and specimens to choose from.
I know from experience that I always buy way too much. When I see people buying two apricots or four figs at the market, I think, "Is that all??" By the time I get home, my shoulder is sore from lugging the hefty kilos of fresh fruit home.
People often ask me about reducing sugar in dessert recipes and if you're one of those people, this loaf cake is for you because it's not overly sweet. It's also quite dense, and moist, with a less-distinct crumb than a traditional pound cake, as it uses oil and yogurt, rather than butter.
If you like things on the tangy side, like I do, you might want to swap out raspberries, blueberries or use sour cherries, if you have them. Diced fresh apricots or plums would be lovely as well.
With its pebbly, crumbly topping, lemon-lovers could rev up this snack cake with a lemon glaze, like the one I used on this Blueberry Buckle with Lemon Syrup. Or take it in another direction with the thicker orange glaze that I used on this Polenta Cake. I'm also tempted to add a handful (about 3/4 cup/120g) of white chocolate chips or chopped white chocolate to the batter. But since I made the cake twice this week – yup, I ended up using my precious blueberries for a second loaf (below) – I've got cake up the wazoo to finish. And I'm not complaining.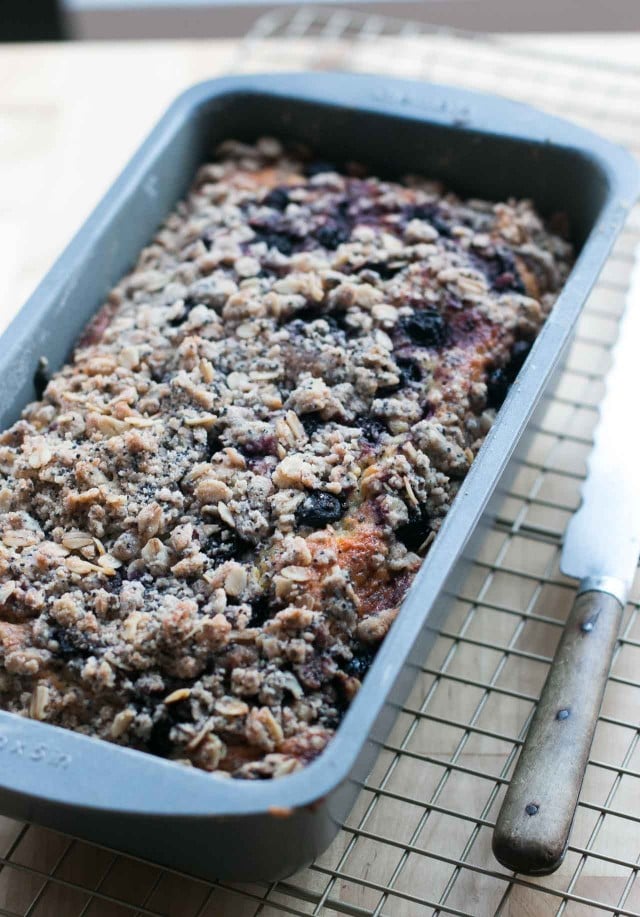 Cherry Poppy Seed Cake
Streusel
1/4

cup (35g)

flour

2

tablespoons

old-fashioned oats

,

rolled

2

tablespoons

light or dark brown sugar

2

teaspoons

poppy seeds

1/4

teaspoon

ground cinnamon or cardamom

pinch

of salt

2

tablespoons

butter

,

salted or unsalted, at room temperature
Cake
1 1/2

cups (210g)

flour

1 1/2

teaspoons

baking powder

,

preferably aluminum-free

2

tablespoons

poppy seeds

1/2

teaspoon

salt

3/4

cup (150g)

granulated sugar

grated zest of 2 large lemons

1/2

cup (125ml)

neutral vegetable oil

,

such as canola or grapeseed

3

large eggs

,

room temperature

1

cup (225g)

plain whole milk yogurt

2

tablespoons

freshly squeezed lemon juice

1 1/2

cups (210g)

pitted cherries

,

sweet or sour (fresh or frozen)
Preheat the oven to 350ºF (180ºC). Butter a 9-inch (23cm) loaf pan, dust with flour, and tap out any excess.

Make the streusel by mixing the 1/4 cup flour, oats, brown sugar, poppy seeds, cinnamon or cardamom and salt in a small bowl. Add the butter and use your fingers to break the butter into small pieces, until the streusel is in small bits. Set aside.

To make the cake, whisk the flour, baking powder, poppy seeds and salt together in a small bowl.

In a large bowl, rub the sugar and lemon zest together very well with your fingers, encouraging the lemon oil to saturate the sugar. Whisk in the oil, eggs, yogurt and lemon juice. Add the flour mixture all at once, stirring with a rubber spatula until it's almost completely incorporated. Fold in half of the cherries and scrape the batter into the prepared pan.

Dot the remaining cherries over the top and sprinkle with streusel. Bake the cake until golden brown on top and it feels set in the center, about 45 to 50 minutes. Mine took closer to the 50 minute mark, and several readers noted theirs took up to 70 minutes. (You can insert a toothpick in the center to check for doneness as well. When it comes out clean of crumbs, the cake is done.)

Let the cake cool on a wire rack. When cool, run a knife along the outside of the cake to help it release from the pan and tip the cake out of the pan.
Notes
Storage: The cake will keep for up to three days at room temperature, if well wrapped. You can freeze it for up to two months. *Frozen cherries are available at Whole Foods in the U.S., at Picard stores (as griottes, or sour cherries) in France.
Related Recipes and Links
How to Tell if Baking Powder is Still Good
Ingredients for American Baking in Paris
Blueberry Buckle with Lemon Syrup