RAP Italian Epicerie in Paris
Due to our closeness to Italy, it's fairly easy to find an Italian épicerie in almost any Parisian neighborhood. (Although locating an authentic Italian espresso is a little more elusive.) I'm fortunate because there are two excellent Italian épiceries (speciality food shops) close to where I live, but most of the places get their items from a distributor, which means the selection is somewhat narrow. Few places have farro, and I've never seen anyone selling farina polenta taragna, the mix of polenta and buckwheat that I first had in the mountains above Milan, and I'd never seen it anywhere outside of Italy. (So I've been making my own.)
That's not a complaint – it's great to be able to find Sicilian salumi and pasta from Tuscany. And Cooperative Latte Cisternino, an excellent Italian dairy cooperative, is a terrific place for Italian cheeses and other products. (Although they always seem to be closed when I go there.)
But artisanal products, items from small producers, are a little more challenging to find. So I was charmed when my friend Terresa and I took a field trip to discover RAP, which offers rarely seen Italian foods, imported directly by Alessandra Pierini, who curates the selection in her jammed-to-the-rafters shop in the 9th arrondissement.
I haven't seen such a varied and curious selection of products all together outside of Italy since, well – ever. (Eataly, eat your heart out.) Granted RAP is tiny; imagine if someone pushed eight phone booths together, and you'll get some idea of its size.
Yet I was incredibly excited to be surrounded by shelves and shelves holding many of the foods I love from Italy, including unusual chocolates, citron soda, and pure, unadulterated pistachio spreads, which were in danger of being eclipsed by things that I'd never seen or tasted.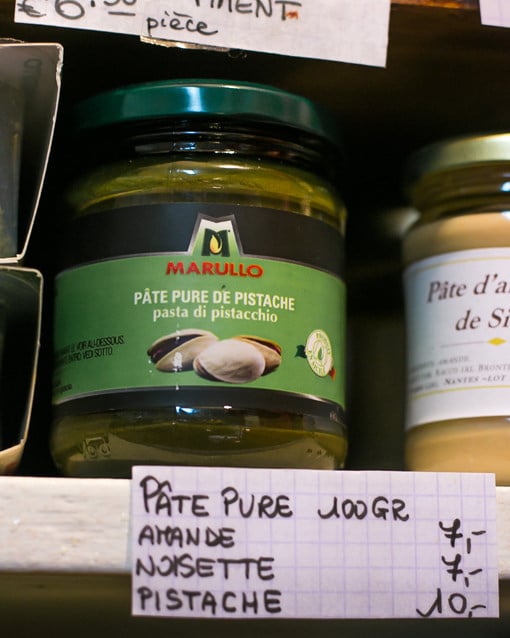 There were branches of "fresh" cherry tomatoes, that have been semi-dried on the branch. The heart-shaped tomatoes are still slightly pliable, but the flavor gets concentrates as they lose their moisture, and they're meant to be tossed with hot pasta, where they plump up again with the steamy heat.
And I'd also never seen fire-roasted pasta, or smoked ricotta, which I couldn't help buying a big wedge of, because I love anything smoked. Although it's currently competing with a round of Mont d'Or and a container of fermented Thai shrimp paste for olfactory domination in my refrigerator.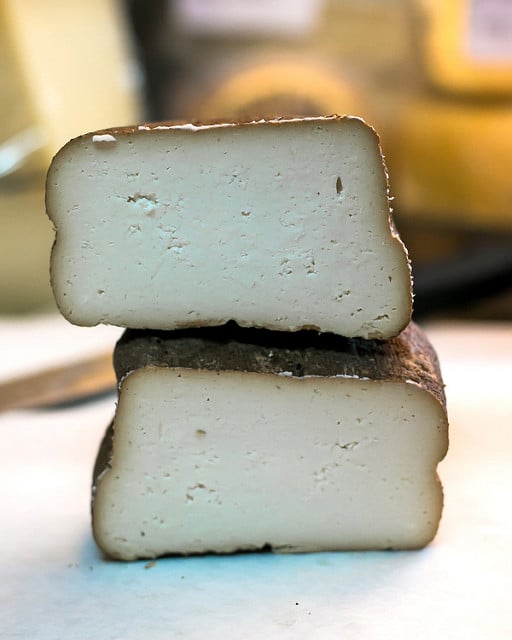 Italian cheeses are well represented and resting by the window was a castle-shaped round of cheese called Rocca d'Asolo, resembling a crenelated fortress.
Salumi such as guanciale, made from the fatty cheeks of pork, essential in authentic pasta alla carbonara – and if you don't use it, you risk getting busted by the authenticity police. (Ditto with bucatini all'amatriciana.) So you can rest easy because you can find it here, hanging in the cold storage area alongside San Daniele hams and massive cylinders of mortadella. If you're fortunate, she'll have Lardo di Colonnata, Tuscan pork fat cured in marble which, when cut into ultra-thin slices, is unquestionably one of the best things you will ever eat. The first time I had it, I was told to drape the slices over warm, grilled bread, brushed with olive oil and the tiniest bit of fresh rosemary, which ranks right up there with being told in third-grade that one day, that smart mouth of mine is going to get me into trouble, as the most spot-on advisement of my life.
One particularly spicy, oval-shaped salami, Alessandra told me, was popular with Americans because it reminded us of pepperoni, as it leaned toward the spicy/peppery side. And because many Italians eat senza glutine, there are plenty of gluten-free products, including a few shelves of pasta without a trace of wheat in them. If you want to make your own pasta, or pizza, the Italian way, there are the flours here to do it.
And if you want to learn how to make your own pasta, the Italian way, from an actual Italian, Alessandra holds ateliers offering hands-on lessons.
Still kicking myself for not buying a jar of the creamed honey with hazelnut paste…
There are lots of bottles of sparkly, dry prosecco, as well as my one of my favorite wines from Sicily, from Occhipinti. (Unfortunately I've been stockpiling wine for lord-knows-what, and have vowed not to buy any more until I've made a serious dent in my stock, which is currently jammed in every available cranny in my apartment. Note to self: Time for a party!)
Sweets are well represented as well, from tiny rum-soaked babas in a jar to knobbly fresh lemons from Sorrento, in case you want to make your own granita or an icy-cold sgroppino.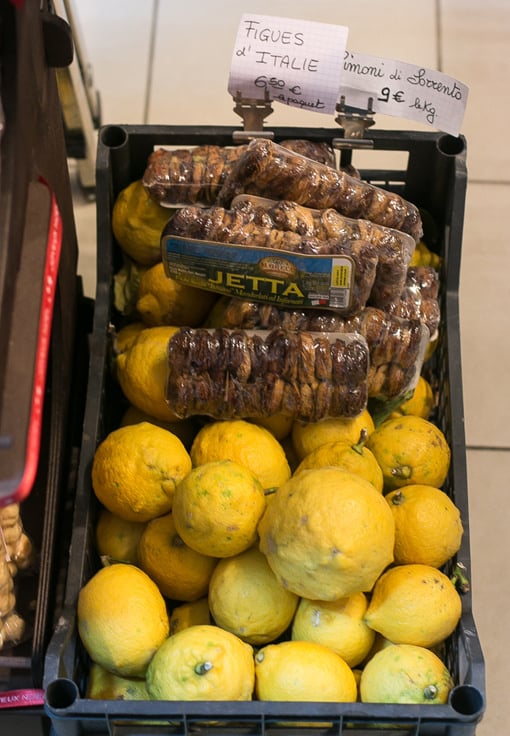 I can't do justice to the marvelous products on her shelves, but Alessandra is happy to explain if you stop in.
Even though my Italian larder was pretty well stocked from a recent trip to Sicily, I came home with the aforementioned chunk of smoked ricotta, and a supple, paper-wrapped rectangle of La Casatella, which has a shelf life of only two weeks. It was so gooey, when I took it out of the package, the whole thing threatened to spill all over the counter. Luckily I had spoon handy – to help "contain" it. In my mouth.
I also bought a container of fresh ricotta, something I learned to love for breakfast while in Sicily, spread on toast with a dribble of dark honey and a few crystals of sea salt scattered over on top.
After I had packed up all my cheeses, and a few other goodies, I noticed a curious – and beautiful – package, labeled Formaggio Al Radicchio Rossa, with leafy red radicchio sprouting from the paper wrapping, which contains bits of dried radicchio. I didn't bring that one home, but it's a good reason (as well as a shelf of Italian torrone – one of my biggest weaknesses, and that honey-hazelnut spread) to go back and do a little more shopping.
RAP Épicerie
4, rue Flechier (9th)
Tél: 01 42 80 09 91
Métro: Cadet
Hours: Tuesday through Saturday, 10:30am to 7:30pm, Sunday 10am to 1pm