Milan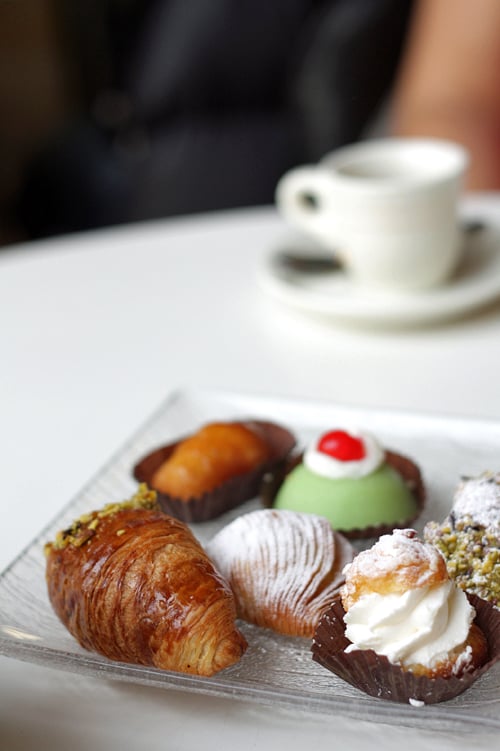 Even though it's just next door, every time I go to Italy, I wonder why I don't go more often. Before I moved to Europe, I used to wonder why Europeans didn't travel to other countries more often. And now I'm one of them. I think it's because just to go anywhere, whether it's a 45 minutes flight or a 4.5 hour flight, you still need to schlep to the airport, arrive in a new city, find your bearings, and by the time you've finally figured out most of the good places to go, it's time to head home.
It also doesn't help that when I returned from this trip, two airlines were striking at Charles de Gaulle airport, the RER train was closed for some unexpected (and unexplained) reason, prompting a few thousand of us to be bused to a deserted train station in the middle of nowhere, to wait in the cold pre-winter air until a train showed up nearly an hour-and-a-half later, well after midnight, making the trip from the Paris airport back to the city (which is a mere 23 km, or 14 miles), nearly four hours – or three times longer than the flight to Milan.
But the good news is that I learned a few new "choice" words in French from my fellow passengers, who were stranded along with me, whose demeanor was getting worse and worse as they realized they were in danger of burning through the last of their cigarettes. And thankfully the train arrived just as the station was turning off the electricity and shutting down, so none of us had to sleep on the train platform.
Because I needed to make a short trip somewhere to stay au courant due to a quirk in my always-quirky mileage account for the next year, I decided to hit Milan, a city I've never been to. And since Sara was going to be there, I took her up on her invitation to show me a bit of the city for the weekend. A perfect host, Sara has lived in Italy for nearly a decade and not only does she speak perfect Italian, she knows some of the best places in the city as well. So I put myself in her capable mani (hands).
Two things I always forget about Italy. One is the thirty-second breakfast, which is a shot of espresso at the bar – a tablespoon of coffee lining the bottom of a warm cup, downed quickly with at least one packet of sugar – and then it's out the door. And two, how great the food is. Restaurants are more free-form than elsewhere, and while things can get scattershot, generally speaking, if you're out of touristed areas and in neighborhoods, the patrons will take care of you. The check may be scratched on the back of a piece of paper, menus offer contorni, sides of vegetables, and at gelaterias and outdoor markets, they're happy to offer tastes. Which, of course, makes you buy. It's a win-win situation, if you ask me. (Unfortunately, no one in Paris is asking me.)
We began breakfast every morning with Sicilian pastries to accompany our coffee, just because – one, I need something to eat when I get up in the morning. And two, well…does one need an excuse to eat Sicilian pastries?
True, I needed to dial up my sweet tooth for some of the goodies, like the crispy ridged sfogliatelle overfilled with creamy gianduja (chocolate-hazelnut paste), tiny cork-sized babas soaked in rum, croissants stuffed with pistachio cream, and tiny bites of panna cotta.
We explored the city, including a few gelaterias. Although everyone in Italy has an opinion about who makes the best gelato in their city, we were pretty happy at Il Gelato Centogusti and Leonardo, which has an especially good chocolate gelato made without dairy, capturing the brusque taste of raw cacao. In case you go to Italy, you never get just one flavor of gelato – it's always two or three per cup or coppetta. And because I worked in restaurants for most of my life and probably ate just 2% of my meals during those years sitting down, I'm not a fan of eating while standing up anymore. (Not that I had a choice before.) Yet I tend to agree that gelato tastes best when consumed while upright and walking.
Milan isn't a city that's as picturesque as other cities in Italy. To me, it seemed a little less-homogenous and is more of a city of particular neighborhoods, like Berlin. And like Paris, once you know the vendors in your neighborhood, and at your market, you tend to patronize them because they become friends and they will take care of you.
Still, in the central area, there's Peck, which is one of the most famous food stores in the world. It's truly eye-popping and the meats and cheeses are lined up like jewels, and the cheese counter is stacked high with lots of cheese you won't likely come across elsewhere. The rare white truffles, which cost €8200 per kilo (about $5800/pound), surely would give a Bulgari jewelery shop a run for their money. Sara told me the gelato was quite good, but I was afraid to eat in the magnificent store lest I drip something on a truffle or something, although there's a caffè upstairs.
Yes, I live in France, where the cheese is pretty wonderful. But Italian cheese is a whole 'nother – and different – story. Even Parisians have discovered burrata, a fresh Italian cheese with an elastic exterior. When cut open with the side of a fork, a rush of creamy cheese curds comes spilling out, tasting of a pure milky whiteness so fresh, you can feel the tears spilling out of your eyes at the exact same flow rate.
But one night we had stracciatella di burrata, which is only the soft, squiggly insides of the fresh cheese, served on a bed of peppery arugula. Fortunately the rest of the table was Sicilians completely engrossed in the soccer match on the televisions, another feature of neighborhood places in Italy, and they didn't notice me and Sara not offering to pass it around the table.
There was more mozzarella action at the outdoor market where she scored some balls of mozzarella, sold under the table…so you had to be "in the know" to get them. And boy, was I glad to be in such wise company. Because when I cut into my first round of the cheese, slicing right through the springy exterior, inside was a barely-set custard of cheese, tasting (again) of the freshest possible milk. It's something that makes the whole world stop when you put a forkful on your mouth. And for a few minutes, we ate those dreamy mozzarella balls…until we worked out way over to the wisps of salumi.
Salumi (charcuterie, or cured meats) have become pretty popular in America and I always feels like a dip when I go elsewhere and people tell me that I have to try the salumi there. I know it's good and I really appreciate the fact that people are making it wherever they live. Yes, it's very good in France (and Spain and Portugal, and elsewhere), but I still think that the coppa, salami, and prosciutto in Italy are the game to beat. (Jambón Ibérico from Spain gets a pass because it's just plain unsurpassed.)
I also like the Italian markets. The ingredients are nearly always lively and fresh and from the region, and there's plenty of greens, such as kale, turnip greens, and broccolini to gather up and take home. Like the Italian shoppers, I sometimes bring some back home with me to France, to sauté in olive oil, garlic, and red pepper flakes, and toss with orecchietti (ear-shaped) pasta, whose little divots catch all the rivulets of spicy oil and greenery.
I don't have a grand list of restaurants to share. Because Milan isn't a heavily touristed city, you kind of need to rely on locals to tell you where to go. But close to the Duomo is Antica Focacceria, where a specialty of the house are the fried snacks, like cauliflower, square sheets of cheese, and breaded rice pellets. And the other specialty is spleen sandwich (not a typo) which we ordered as part of a trio of focaccine. I'm not a big innards kind of guy, but each little sandwich was piled with a juicy mound of what tasted like braised beef. Everyone else in the restaurants was eating a sandwich, and as they say, when in Milan, do as the Milanese do. It was quite good and although I'm not racing out to find a spleen to braise for lunch tomorrow, but I won't pass it up the next time I'm offered a try.
Another good address downtown is Princi, which has beautiful hearth-baked breads – some with raisins or walnuts – and others were integrale (whole wheat) or di campagna. I'd just had lunch and didn't have much of an appetite, but I couldn't resist trying a slab of the focaccia smeared with tomato paste, although the curt counterperson insisted I buy the last of the remaining corner, and if I finished it, I would not have had room for the chocolate and yogurt gelati I snuck in at OttimoMassimo.
I drank tons of Italian coffee at every possible opportunity, like a madman who was about to be sent to a caffeine-free purgatory at any minute. In fact, on my last day I had two double espressi for breakfast, then a single espresso. Now if that doesn't qualify me for Italian citizenship, I don't know what does. Then after lunch, I had another double espresso. I think I was tanking up for the plane home, but I also needed a bit of energy to recover from a long lunch up in the mountains to La Polenteria, above the grayish near-wintery waters of Lake Como.
Italians obviously love polenta, enough so that not only are there machines devoted to the constant stirring of the stuff, but as the name suggests, particular restaurants that specialize in polenta dishes, as well as those with taragna; polenta stirred together with dark bits of buckwheat.
But first – of course – we started with a generous cutting board heaped with salumi, a plug of goat cheese served with a heap of polenta and some candied lemon wedges, and a pile of coarse, housemade buckwheat pasta tossed with bits of potatoes and cabbage.
Then came the out plates heaped with polenta, mine topped with chunks of braised wild boar, Sara had spicy sausage ragù, and our third diner chose the star of the meal, a lighter polenta topped with strips of veal and incredibly flavorful porcini mushrooms.
When dessert time finally rolled around, we stopped clutching our stomachs for a moment to dive into a frozen coffee semifreddo, served in a somewhat reasonably portioned demitasse cup.
There was also a soft wedge of Torta alla nocciola, a light walnut cake, and my favorite, Torta di pere, mele, noci con farina di castagne (apple-pear cake with nuts and chestnut flour) served with marmellata di cotogna (quince jelly).
Each bite was better than the previous one, and before we knew it, we'd pretty much scraped the plates clean, leaving only a trail of translucent quince jelly in our wake. Which disappeared pretty quickly, courtesy of someone with a very fast fork, which I wielded quickly when the others were scoping out the location of the nearest espresso machine. Which fortunately, in Italy, is never very far.