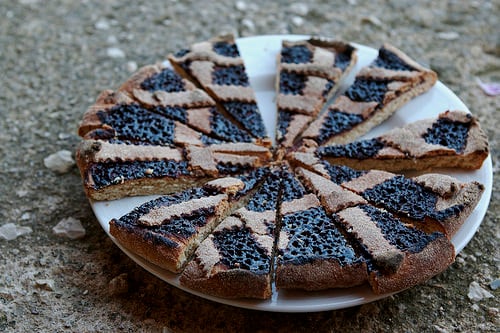 The tone was set when I let my airport pick-up in Palermo know that the entire French rail and transit system was going to be on strike the day I was set to fly to Sicily, and she replied with something along the lines of, "It's not a trip to Sicily without a little travel chaos." And boy, was she right. On top of the transit strike, the Paris taxis had decided…heck – why not go on strike, too?
But instead of taking a day off, the taxi drivers were planning to instigate "Opération Escargot," which essentially means driving en mass, as slow as possible, to cause as much disruption as possible. (Whatever happened to fraternité?) In addition to blocking highways and city streets, the taxis were planning to surround the airports, making access difficult, if not impossible.
So my perfect partner said he'd drive me to the airport, which required us to leave at 5 A.M. (for my 10 A.M. flight), because any later, and Opération Escargot would be in full-on move-like-a-snail mode. To make a long story short, I made my flight to Rome just fine, but my flight from Rome to Sicily was inexplicably cancelled. And inexplicably, the airline didn't have a ticket or customer service office inside the airport.
So, I had to exit the airport completely (and finding the exit was no easy feat, either…), then go back into it, where I used my well-earned skills at making sure people don't jump the line in front of me – which I perfected in Paris – so that I could ensure that I was booked on a later flight. But for some reason, the airline couldn't give me my boarding pass for four hours, so I had to pass my hours hovering near the ticket counter, waiting for the clock to strike the magic number. (And yes, this is the short version of the story.)
I finally arrived at Case Vecchio, after 16 hours of travel (only 2 ½ hours of that was actually spent going somewhere), where we ate in the darkness of the Sicilian night, drinking sparkling wine, before my head slammed down on the pillow. And I was out of it.
Waking up the next morning and poking my head outside the house, I saw Fabrizia Lanza of Case Vecchie, where she runs the Anna Tasca Lanza cooking school, sitting in the courtyard, offering me coffee. After breathing in the fresh air, with the warm sunshine hitting my skin, and realizing that I had escaped the stress of airport (and a whole bunch of other things, too) I almost wanted to cry because I was so happy to be in Sicily, which I sometimes think of as just a whole 'nother planet.
I don't know what it is about Sicily that I'm so attracted to. There's a certain savage, forgotten beauty there. It's Italian, but so different from anywhere else in Italy. And old traditions are still very much alive here, many unaffected by modern times. After downing three well-merited cups of excellent, strong Italian coffee, Fabrizia took us to visit some producers near her house.
Francesco Di Gèsu took us on a walk through fields of wheat, lentils, and chickpeas. It had just rained, which was probably the last rain for four months, which we slogged through, our shoes encrusted with a remarkably tenacious mixture of damp earth, grass, and hay.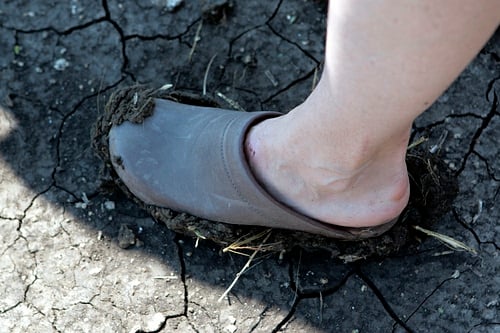 Francesco grows ancient varieties of wheat, which local bread bakers use. So much of what still exists in Sicily are oldways of growing and producing, creating things, bringing products to the local bakery, or salumeria (for meats), for customers. Or locals coming by to pick up orders on their own, the connections going back for generations.
I've never seen lentils growing, each little pod yielded just one or two little pulses. Fabrizia told me that they used to dry the branches, hit them with sticks, toss the bundles of dried lentil sticks high in the air with pitchforks, then collect the lentils that fell off. So even though they've modernized the techniques a little bit since then, next time you eat lentil soup, or green lentil salad, make sure you eat each and every lentil!
And curiously, I'd only seen green chickpeas (growing, above) on food blogs, whose flavor is a bit reminiscent of peas, and they're great eaten raw.
I would love to bring a bag of these little beauties home to make a summer salad, with tomatoes, fresh oregano, olives, and pecorino cheese.
But to be honest, my bag is already full of tomato paste, whole-wheat pasta, Sicilian pottery, chestnut honey, and saffron.
Speaking of pecorino, not far from Francesco's place, where we finished our visit with a jam crostata, fresh almond milk sweetened with grape sugar – and a trip to the shop, to pick up some pasta, made from two kinds of wheat he grows, we pulled up to a sheep farm, to get a closer look at how pecorino and ricotta cheeses are made.
Filippo Privitera of Caseificio Privitera works every day, seven days a week. He gets up at 5 A.M. (Which made me feel bad about complaining about having to wake up that early, just for one day) and milks by hand(!) 500 sheep, twice, which produce 800 liters of milk. When I asked Fabrizia if he ever takes a vacation, she replied, "Davido, he doesn't even know what that word means."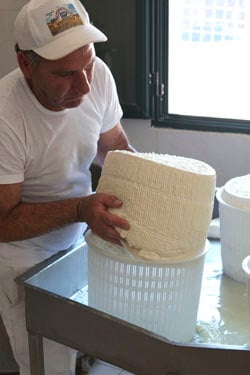 When we came in, he was unmolding and turning big plugs of freshly curdled sheeps' milk, for pecorino, one of the great cheeses of the world. It's salty and a bit pungent, the sheeps' milk giving it a slightly tangy flavor, and I often buy it to use as a substitute for Parmesan cheese. It's also good crumbled into large shards, with a dribble of Italian honey or some fruit.
(One of the best things I ever tasted was a dish I learned in Italy; bite-sized cubes of pecorino mixed with fresh fava beans, that you shuck while sitting at the table, tossed with fruity olive oil and sea salt. Although the saffron-infused pecorino we also had, from another producer, was up there on that list, too.)
Ricotta is a cheese that gets its name from the Italian word meaning "re-cooked." It's made by taking the whey that runs off when making the large wheels of pecorino, in Filippo's case, to make fresh ricotta cheese. (Purists get irked when people make homemade ricotta by curdling whole milk, but unless you can get your hands on a whole lotta whey, that's the only way to do it. I guess you could call it something else – perhaps cotta una volta sola?)
Because nothing is wasted in the Italian countryside, Filippo – who occasionally gets help from his son – cooks the milk over a fire, fueled by leftover olive pits from pressing the olives for oil.
I love being in cheese-making facilities; the sweet-smelling warmth of the steam rising off simmering milk, the pristine tile floors, and most of all, watching people practicing one of the most fundamental activities that people do in almost every country around the world, always makes me feel like all is right in the world. And these people are far, far away from things like taxi strikes, airport delays, and social media – they're just doing all they know how to do, in the best way possible.
So every time you break into a piece of non-industrial cheese (like the lentils that grow one or two to a pod), it's good to remember that someone milked the animals, and spent the time going through the lengthy process of turning it into a wedge of delicious cheese.
Filippo took us to see the sheep, but me, and his bambino, were more interested in the donkey, who just had a baby the day before. He chuckled and said that he didn't even know she was pregnant. He walked in, in the morning, and saw a spindly baby donkey, standing next to his (or her) mommy.
Getting back to the ricotta, while he waited for the collected whey to reach 75ºC (167ºF), he showed some of his old cheese-making tools, including one particular rod he kept on the wall just above the cauldron.
Unfortunately it was made of wood, which European rules now prohibit using. So he had to switch to a less-picturesque stainless-steel model. (And no, that wooden one wouldn't fit in my carry-on.)
People's hackles were raised when the FDA in the United States recently announced they were declaring wood unsuitable for cheese-making, and protesters who raised their voices noted that Europeans were much better, and more reasonable, when understanding that time-tested ways of making cheese were better, and safe.
But Fabrizia told me a good number of cheese-makers in Sicily had closed down because it was too expensive for them to conform to the EU rules. (Sicily is not a wealthy part of Italy and a massive mound of fresh ricotta wholesales for around €2,50 a kilo.) So it's not just a U.S. issue, but one that is affecting Europe as well, unfortunately.
After a lot of stirring, the whey had formed lovely curds, which Filippo ladled into containers. Fabrizia packed up a few massive wheels of pecorino and a couple of tubs of ricotta, to bring home for lunch. And just in case you want to know what cheese-makers and their families eat, cheese seems to make them happy, just as much as it does us.