Well, what can I say? After everyone telling me so much about Pantelleria. I didn't quite get it when I arrived. But when it was time to leave, it was hard to go.
On the day after I landed, by the time afternoon rolled around, I had curled myself up on a cushioned chair with a book I'd been looking forward to delving into. Then suddenly, I found myself waking up a few hours later, realizing that I had collapsed into a deep, profound sleep.
It was the combination of silence that's nearly impossible to find nowadays, and soft sunshine with a lazy breeze, which were no match for my hyperactive nature. It was one of the soundest slumbers I've had in the last few years.
Either that, or the airline drugged me. But man — that felt good! And it was worth the several hour delay (for some ambiguous reason, that no one at the Palermo airport could quite explain), that it took to fly to Pantelleria from Palermo, a short flight lasting only about 45 minutes.
But once you step off the plane in Pantelleria, you find yourself in a tiny airport, and you can just dial down the world. Pantelleria is that kind of place. It's not full of designer shops, upscale restaurants, and sandy beaches.
The beauty is the rugged terrain, and the serenity. You can choose to explore the island by car, or just stay in and do nothing. Me and my friends did a little bit of both.
We are taken care of by our friend Giovanni Matta who operates In Sicily, and knows Pantelleria better than anybody. And who made sure we saw the best of the island. He also runs the Pantelleria Collection, an assortment of rental homes, and he was kind enough to let us stay in one for the week. I can honestly say, if you're coming to Pantelleria – or anywhere else in Sicily – you can't be in better hands than those of Giovanni.
While I wasn't able to repeat that restful snooze, as the week passed, I felt myself being lulled into the rhythm of island life. But it was explained to me that residents of the island were less-interested in the sea that surrounds them, because they've been invaded during their history, by people arriving on their shores. That, and a lot of massive volcanic rocks that line the coastline, means that if you want to come and swim, you should find a place with a pool. Which we had.
Because Pantelleria is closer to Tunisia than Italy, (it's about 40 miles to Tunisia, and 80 mile to Italy), there are heavy North African influences on the island, from the flat houses with white-domes that blend into the landscape, to the cuisine, which often features North African ingredients, including couscous, pine nuts, honey, dried fruits, and spices. One of the best dishes we had that week was a lovely seafood couscous at Altamarea restaurant.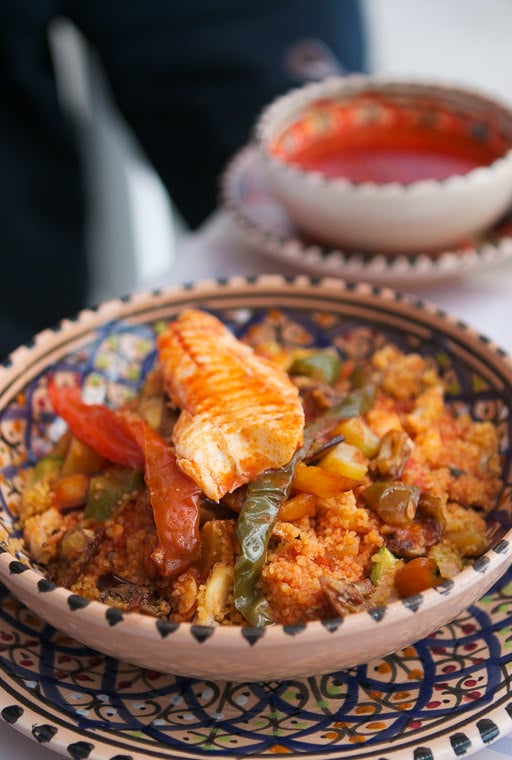 Although Pantelleria is an island, it's not especially known for its seafood. And I only saw one fish market on the island, which is kind of unusual. But most of the seafood I was told, comes from mainland Sicily.
We had high hopes for our dinner the first evening after we'd arrived, when we saw the chef/owner out in the field, picking wild fennel fronds. But none were in evidence on our pastas, and the rest of the meal was forgettable. (Except for the bill.)
After that disappointing first night dinner (because the island has high turnover, restaurants can vary and change, from day-to-day – you might have a great meal one day, and return the next, to find it mediocre, or crummy – which we learned was true), we found ourselves at the aforementionedAltamarea.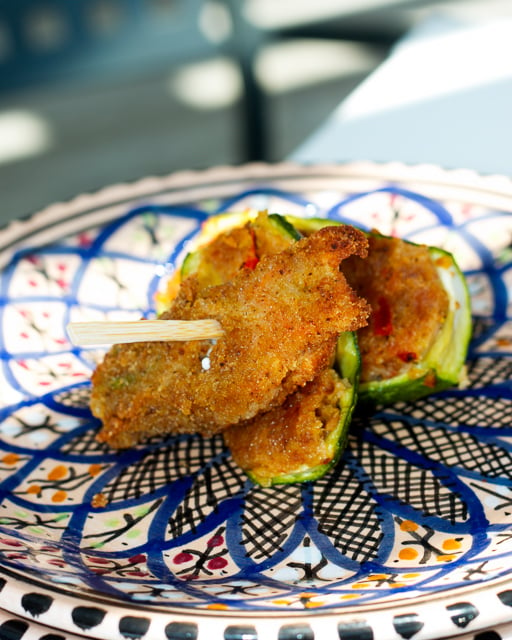 We started with some fried zucchini and cheese, and an outstanding Caponata di pescespada, a dish which captured all of Sicily, and Pantelleria, and my dreams, in one bowl. Chunks of fried eggplant, celery, capers, green olives, and cubes of swordfish in a tomato sauce, was just the right balance of sweet and acid.
I'm generally not a fan of mushy bowls of vegetables cooked together. But like a good version of ratatouille, when everything is combined, yet each ingredient maintains its integrity in the bowl, well…life is good.
Although I don't eat tuna, due to sustainability issues, since the tuna was local and line-caught, I didn't feel guilty ordering it. One of my friends said it was the best piece of tuna he'd ever had.
The island is known for pasta with Pesto di Pantelleria, a mixture of tomatoes, herbs, and garlic (although I've seen recipes with almonds added, too), topped with toasted breadcrumbs, which are used more liberally on pasta here, than grated cheese. I use them at home, too, keeping a jar of seasoned breadcrumbs on hand to scatter over pasta, which provides a nice textural contrast. Try it!
Because we had such a good meal, few days later we returned, and we started with Tartare di tonno, with more of that delicious Sicilian olive oil spooned over the top.
…and some marinated mackerel.
Then out came my Chitarra con le sarde e finocchietto. Chitarra is a thin pasta, meant to be cut on a special cutter or chitarra (guitar), with guitar-like wires to cut the pasta. It had mashed sardines in it, as well as fennel fronds, pistachios, and – yes – bread crumbs.
Since we didn't want to seem like we were stalking the restaurant (although we did leave a half-bottle of wine with our name on it there, in anticipation of a third visit), another day we ate at the seaside La Vela (in Scauri), where my friends had eaten quite well the afternoon, before I arrived. However our meal bore no resemblance to their previous one.
The Panelle (deep-fried chickpea fritters, below) were fine to start with, although they were not especially crispy. But I was so hungry from waiting (and waiting), that I would have eaten a stave off the boat in front of us. And even though Sicily is known for its stellar tomatoes, we were didn't find ourselves fighting over the salad they'd brought us, either.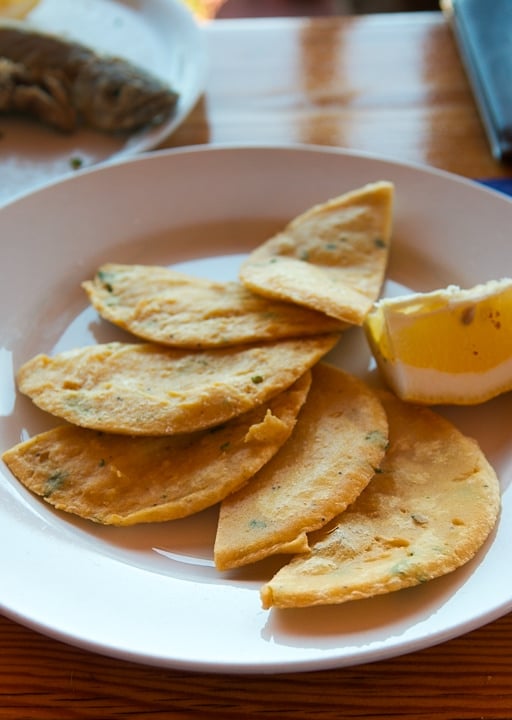 C'est comme ça, I suppose. Or however you say it in Italian.
As scenic as the view from the restaurant was, driving around the island, it's easy to come across things like elephante, which I don't think requires a translation, nor an explanation as to where the name came from.
But my idea of nice scenery usually involves fruit trees, growing everywhere imaginable, and bearing fruit just ripe for the picking. Of course, there are tons of lemon trees, and one fellow told me that on the island, they were so abundant that you were lucky if you could sell your lemons for 10 cents each. (Hmm, wonder if they mail order?) Since we were here in early June, we were fortunate that many of the trees were bearing huge, green figs.
It's a variety of fig that ripens early in the summer, then more on the tree ripen again later. (Giovanni told me they also have black figs, which also have two ripenings, that come later in the summer.) Each was enormous, juicy, and lusciously sweet when ripped into.
Grapes are also all over the island, and the most famous wine from Pantelleria is passito, made from concentrated Muscat (Zibibbo) grape juices from fruits that have a higher sugar content, as a result of being allowed to dry out under the sun to reduce moisture, and concentrate their flavor.
It's a rather delicious dessert wine, although it can make a nice apéritif before dinner, or with a plate of salumi (charcuterie). But it particularly shines after dinner (or lunch, overlooking the ocean), for dipping biscotti into.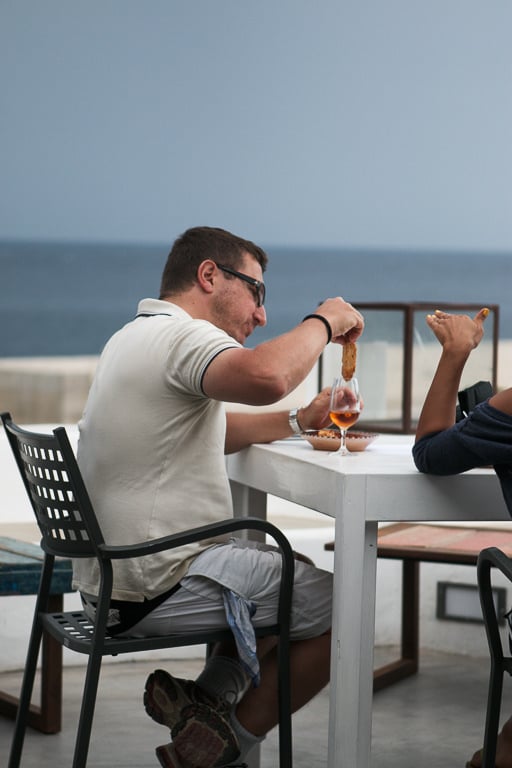 Although wine isn't susceptible to attack by four-legged scavengers – just the two-legged kind – under the domed ceilings in the home kitchens, there are branches called ninfa, affixed to the ceilings, to hang things out of reach of critters.
The only critters we saw were lots of small lizards, some cats lounging around, and a dog that liked to hide behind the road leading up to our house, which would spring out, barking wildly while baring its teeth. He was harmless (and likely bored), but the first time I happened to us, my friend Anissa (who was the courageous driver) and I almost lept out of our skin. And almost caused Anissa to drive into the stone wall on the very narrow street. As we beat a hasty retreat, she called the dog an *sshole. Because English not her first language, I noted to her that animals couldn't be *ssholes, only people, as we sped away.
For the rest of the week, it become our running joke, as we rounded the bend toward our house, trying to predict at what exact moment the dog was going to come barreling around the corner, and scare the life out of us while we raced up the hill. But the first time, I was laughing so hard, I almost had to get out of the car once we safely got away, to get some extra oxygen because I couldn't breathe.
Pantelleria may, or may not, be famous for it's *sshole animals, but it is famous for its capers, and caper berries, which are more elongated than little round capers (which are sold in two sizes, the smaller ones being the more choice.) The caper berry resembled a tiny, army-green pea pod.
And when Giovanni recommended putting the larger caper berry in a gin Martini, I realized that I should have gone back and gotten another package. Fortunately when I got home, I realize that I did, indeed, buy an extra bag. So my friends can expect a lot of Martini nights in the future.
Sicily is also known for colorful pottery, including pieces by De Simone, and two shops in Pantelleria sell it: Emporio del Gusto (which also sells specialty foods from the island), and Ceramiche De Simone (Piazza Cavour, 26). My apartment may be packed to the rafters, but I couldn't resist buying three plates and a bowl, which effectively used up all the extra space in my small carry-on.
When I was extolling the virtues of the terrific new carry-on suitcase that I bought (on an online flash shopping site, for nearly half price), which fits neatly into the recently reduced overhead bins on European discount airlines, someone chastised me for taking a carry-on on airplanes. But as someone online recently said, "Rome airport exists to lose luggage." And it would have been a tough trip if I only had what I had worn on the plane as clothing for ten days. Plus I wouldn't have had anything to bring my capers and pottery home in. Which would have been worse.
One thing that doesn't take up any room, though, is gelato, which I loved at Katia Pasticceria (via P. Borsellino), in the center of the main town close to the pottery shops.
The owner and gelato-maker let me try all of the flavors. So let's here it for camaraderie amongst ice cream-makers. (And carry-on suitcases that you don't get separated from.) His chocolate gelato had no cream or milk, just water and bittersweet chocolate, which is characteristic of the lighter style of gelato that's eaten in the south of Italy, where hotter temperatures make egg-based, or cream-enriched, gelati a little too rich for comfort.
Every flavor was a winner. And while the Madagascar chocolate was my tip-top favorite, gelsi (mulberry), lemon and fig, and Oro Pantesco, raisins marinated in the local Passito wine, were the best of the lot.
Because man (and woman), can't live by gelato alone, we were delighted to find a nice bakery, Panifico Marrone, not-so-well hidden down a set of steps in the village of Scauri. The bakery had wonderful semolina-sesame bread, that staple of the island.
Breads in Italy are often fine when used for soaking up food. But they don't always stand out on their own. The semolina bread did, and I found myself lopping off slices from the loaves I picked up, along with pretty good squares of potato pizza. Before going to the island, Elizabeth Minchilli tipped us off to the potatoes, which she raved about as being really good. I like potatoes, and France has some pretty great ones. But she was right; the spuds on Pantelleria were stellar.
Way on the other side of the island, I was looking forward to the lemon tart that people were raving about so much, at Panificio Terremoto (c/da Kamma 112). So much so, that I would have walked over there if Giovanni didn't drive me.
I declined to taste the raw pasta ravioli another patron hoisted on my friends (from the look on their faces, I figured it was something I could skip), and we went for the softball-size cheese and ham-filled deep-fried fritters. Sicilians do deep-fried right.
The Torta di limone was okay, although I wasn't losing my mind over it. If you want to try it at home, there's a similar recipe here, in Italian. But I haven't found a source for mail ordering those amazing lemons at 10 cents a pop, so you're going to have to make due with what you can find. (I did bring home two lemons, which are in the "too good to use" drawer, in my refrigerator.)
Our final meal was a winner, at Il Principe e Il Pirata.
With a spectacular view, friendly service, we were delighted that each dish was better than the next. Our first course was gambero rosso, red shrimp crudo (raw), which were so utterly fresh, I think they had just been pulled from the water as we pulled into the restaurant's driveway.
Breaded, fried sardines were excellent. And for my main course, I had the Spaghetti alla bottarga con limone e pistacchi di Bronte, pasta with salted fish roe, local lemons, and Sicilian pistachios.
It was good, but the star was the Frittura di pananza, a tumble of deep-fried seafood, along with zucchini and onion rings, that was brought to the table, spilling out of a large paper bag.
Being American, and missing them a lot, I fended off my non-American dining companions for the onion rings. Which wasn't really a problem, as they were busy attacking the fried sardines, squid, and other tasty creatures from the sea.
We finished up with an ethereal Baci di Pantelleria, a thin crispy shell, encasing an absolutely divine ricotta cream. (Recipe here, in Italian, and here, in English.) It was one of the best things I've eaten in the last decade.
As we left the restaurant, the staff was just sitting down to eat — and drink. And the next day, back home after three flights, I had post-Pantelleria depression.
I don't quite know how such a simple place could have such an effect on me, and I want to go back. I would have to say, though, that Pantelleria probably isn't for everyone. The island is gorgeous, and in spite of an *sshole dog, the whole effect is very relaxing. For those looking for excitement, nightlife, and predictably excellent seaside restaurants, it's hit-or-miss.
The most "happening" time of the year is August, when lots of people flock to the island. I would skip it then, and come during other summer months, or in the fall.
Now that I'm back home, I miss my morning toasted semolina bread with fresh ricotta and brusque, dark eucalyptus honey. But I have three unbroken plates and a small bowl (thanks to a carry-on suitcase), plenty of capers and caper berries, and a few lemons that I should really use as soon as possible, to hold me over, until my next visit to Sicily.