Vietnamese Rice Noodle Salad Bowl
One thing I love about traveling is that I get to read. As much as we all love to be connected, it's nice to be somewhere – like 5000 feet up in the air, where your biggest concern is who gets the armrest – where that isn't usually a possibility. (Although I also spend a considerable amount of time up there wondering if whoever designed those airplane seats ever had to spend twelve hours in one.) After plowing through a formidable stack of New Yorkers (my goodness, those writers are prolific!) that I've amassed over the last few months, during some recent travels, I attacked a few of the books that I had stacked up on my nightstand.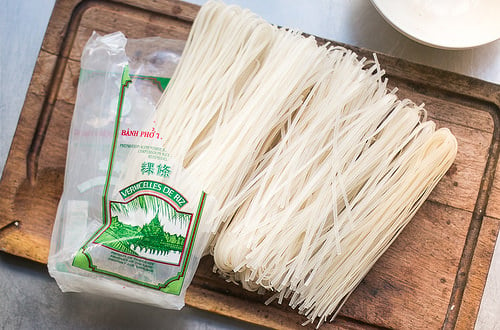 I had gotten a preview copy of Delancy: A man, a woman, a restaurant, a marriage, and had read the nearly finished book in galley form, to provide a quote. But it was a different – and more pleasurable experience – to curl up (as best I could, in a plane seat) with the actual book, and relive the story of how Molly Wizenberg, and her husband Brandon, opened a pizza restaurant in Seattle, and lived to tell the story. Which was not without lots of angst, and a bit of anger.
At one point, Molly breaks down, which I can also attest to, is inevitable during the emotionally and physically draining process of opening a restaurant. Having opened two places myself (for other people), they were the most exhausting thing I've ever done. Although it's been a few decades, I can still remember having an emotional breakdown when a sauce I was trying to perfect, over the course of two angst-filled weeks, didn't work.
When the owner tasted it, and said (yet once again…), "No, this isn't right", I hid in the bathroom until I could pull myself together. If I remember correctly, the chef had to talk me out of there. It was the equivalent of what the police call a "jumper", which requires a call to an expert, to intervene, and oh-so-delicately talk them back to reality
But even if you've not had the pleasure of being curled up in the fetal position, in a corner, reduced to a quivering heap over a sauce, Delancey is a great read, as Molly recounts her life just as she met her husband. Then continuing, through their subsequent decision to open a restaurant, not glossing over the renovations they took on by themselves, with plenty of other challenges along the way. It's hard to capture the craziness of it all, but the book has some pretty spot-on observations and I found myself laughing out loud at how spot-on they were.
Rather than being a downer, though, it's an inspiring story and memoir. In her occasionally self-effacing manner, Molly recounts her neuroses about keeping the wine glasses sparkling, to changing her mentality from "home cook" to "restaurant cook", which requires some shifting of perception. And more importantly, a dialing up of what's needed to prepare for a night of feeding others, which she learned the hardest way possible.
When I was recently in Seattle, I got to spend some time at Delancey. Unfortunately for me, they're not open for lunch. But for them, it's the key to remaining sane – and staying together. Still, when your book arrives and (I'm sorry to do this to you…) a picture like this is tucked inside, you kind of want to plan a trip to Seattle, just for a slice of that perfectly blistered pie. Don't you?
Recipes, to food writers, help tell the story. So instead of pizza recipes, Molly shares dishes they sustained themselves on while creating their restaurant, and a few that she served guests once they opened, while Brandon made the pizzas. And if you read the book, you'll understand why it's hard to replicate his pizza anywhere else. But everything else is the book is do-able at home.
Not to mention a spoiler, but in addition to surviving the opening a restaurant, I share Molly's love of Vietnamese rice noodle salads. They're called bò bún, in France, and Bún bò elsewhere, when made with beef. I tried to find out why it gets reversed in French (mostly so that people will stop correcting me on social media when I post pictures of the bò bún I'm eating at Vietnamese restaurants in Paris), but so far, I've had no luck.
But no matter what you call it, it's one of our favorite meals, one-bowl, or otherwise. And it's very easy to make; just cook some rice noodles, chop up some vegetables, add a favorite meat or tofu, and some sauce, and stir.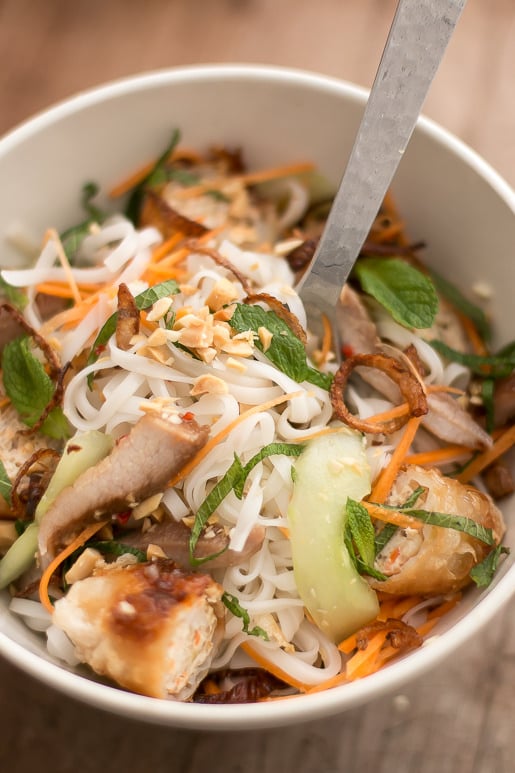 Vietnamese Rice Noodle Salad
Adapted from
Delancey
by
Molly Wizenberg
I added Chinese roast pork (char siu) to mine. You can do the same by marinating boneless pork loin in jarred char siu sauce, or make your own) Boneless chicken,
crispy tofu
, or cooked shrimp, would work well, too. Often nems (spring rolls) are added to salads like this. Most Asian shops sell them, or you can make your own (I linked to some recipes, below) if you want to use them. Molly adds fried shallots to hers, which you can also get already made in Asian stores, although she slyly admits the canned onions sold in supermarkets are fine, too. But like the fried spring rolls, those can be optional as well. I took it upon myself to fry up both because I was feeling adventurous. To do so, heat an inch (3-4cm) or so of vegetable oil in a saucepan to between 275ºF to 325ºF (135ºC to 160ºC), then drop in the spring rolls, turning them as they cook. When well-browned, remove from the oil and drain on paper towels. (You can instead bake the spring rolls by rubbing or brushing them with vegetable oil, and baking them in a 375ºF/190ºC oven on a baking sheet, turning them a couple of times, until crisp – about 10 minutes or so.) Fry the shallots by peeling 4 to 6 shallots, and slicing them thin. Drop them in hot oil, stirring them frequently, until browned and crisp. Drain on paper towels. (The shallots can be made a few days in advance. Once cool, store them in an airtight container at room temperature.) Authenticity probably dictates using a Thai bird's eye chile, but I used the red one shown in the post since that was what was available, which was quite hot. So adjust accordingly to what's available and your desired level of heat. The sauce is called Nuoc cham and various recipes abound, with different amounts of fish sauce, lime juice, and sweetness. Some have garlic, while others don't. I tried it both ways and decided that the garlic took the sauce in another direction. So I'll leave that up to you.
The sauce
3

tablespoons

fresh lime juice

2 to 3

tablespoons

fish sauce

2 1/2

tablespoons

light brown sugar

1/2

cup (125ml)

water

1

Thai bird's eye chile

,

minced, or 1 teaspoon minced red chiles (or to taste)

optional: 1

small clove of

garlic

,

peeled and minced
The salad
6

ounces (170g)

thin rice noodles

,

(see Note)

1

large carrot

,

peeled and cut into matchsticks

Half a

cucumber

,

peeled, seeded, and thinly sliced

8 to 12

ounces (225g to 340g)

cooked meat or tofu

A handful of fresh mint

,

cilantro, or Thai basil, or a combination

1/3

cup (50g)

roasted peanuts

,

coarsely chopped

8 to 12

ounces (225g to 340g)

cooked meat

,

shrimp, or tofu

optional:

4-5

fried spring rolls

optional:

fried shallots
To make the sauce, in a small bowl or jar, mix the lime juice with 2 tablespoons fish sauce, brown sugar, water, minced chiles, and garlic, if using. Mix well, then taste, adding more fish sauce, if desired. (The sauce can be made up to one day ahead, and left at room temperature. If using garlic, add that shortly before serving.)

To make the salads, bring a large pot of water to a boil. Add the rice noodles, reduce the heat to a simmer and cook until just tender, 3 to 4 minutes. Drain in a colander and immediately rinse the noodles very well with cold water. Shake the colander to remove excess water, then spread the noodles out on a clean kitchen towel to cool.

Divide the noodles into two or three serving bowls. Top each with carrots, cucumbers, and meat or tofu. Coarsely chop, or tear, the mint, coriander, or basil into pieces and strew the herbs over the tops of the salads.

If serving with spring rolls, fry the rolls, then slice the warm rolls into bite-size pieces and arrange them around the noodles. Add fried shallots, if using, then serve with sauce on the side, letting people help themselves.
Notes
Note: It's traditional to use thin vermicelli rice noodles for this dish but they weren't available at the Asian market I went to, so I went with slightly larger ones.
Related Links and Recipes
Nuoc cham (Viet World Kitchen)
Pork Char Siu (No Recipes)
Vietnamese Spring Rolls (Wandering Chopsticks)
Vietnamese Noodles 101 (Viet World Kitchen)
Le meilleurs bo bun de Paris (The best bo bun in Paris) (Le Figaro, in French)
Vietnamese Noodle Salad Bowl (Heather Christo)