Someday, someone is going set up a camera in my place. At least I hope so. Because over the last three years, I can safely say that the craziest things have happened to me. I've often toyed with writing a book about it, but no one would believe me, and it would quickly get tossed into the fiction bin, dismissed as folly. Oddly, I've been finding comfort in the easy-listening music of James Taylor, who seems to understand what I am going through, as he gently reassures me that, indeed, all is okay – because I've got a friend.
In addition to JT, as I've taken to calling him, I also find security in Asian food. I'm not entirely comfortable with the term "comfort food," but I have to admit that whenever something isn't going the way I hope (or the way any sane person would hope), I am rejuvenated eating a bowl of bò bún (Vietnamese cold noodle bowls, as they're called in France), or gai lan (Chinese broccoli). Perhaps because I come from San Francisco, where Asian food is seamlessly integrated into our culinary consciousness, a bowl of noodles or Asian greens makes me happy. (Although a well-timed pain au chocolat has a similar effect.)
Recently, I found out that I'll be doing an event with Joe Yonan, a really super fellow. And if he didn't live three thousand miles away, I'd be able to rely on his cheery presence more often than I do (and more often than Mr. Taylor), to make me feel better. Fortunately, I have his latest book in my kitchen, which is the next best thing.
Eat Your Vegetables is a compendium of vegetarian-based recipes for solo cooks and diners. While the recipes entice (I'll get to those in a minute), I love the way he has scattered lots of quick tips and pointers for being more efficient in the kitchen throughout the book.
For example, there is a soup recipe that is garnished with pickled beets. To save time – and dishes – Joe has you cook the beet in the soup liquid. When it's done, you peel the beet and pickle it. Then you serve it with the finished soup. Nifty, huh? And since I can never get enough of anything pickled, I quickly made a batch of his pickled raisins to go along with a pot of carnitas that I served this weekend. (Along with some pickled red onions…)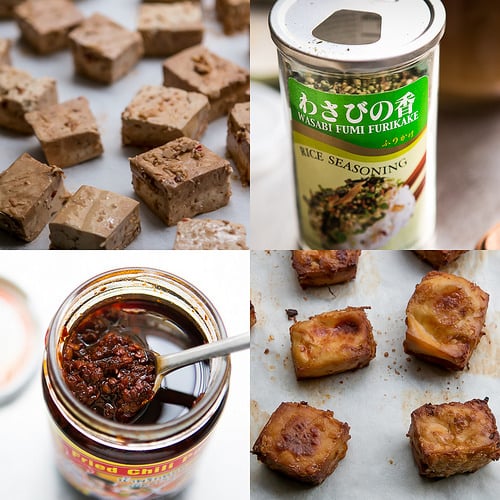 There's a whole chapter called Storing and Using Up Extra Ingredients with spot-on tips about what to do with a leftover half can of beans, a trick for preserving a sliced avocado so it doesn't brown, and how to deal with the bane of every solo cook: leftover celery. And his six-page essay about relying on your senses should be required reading for any cook who needs prodding to trust her instincts. Joe put into words exactly how I feel about cooking and baking.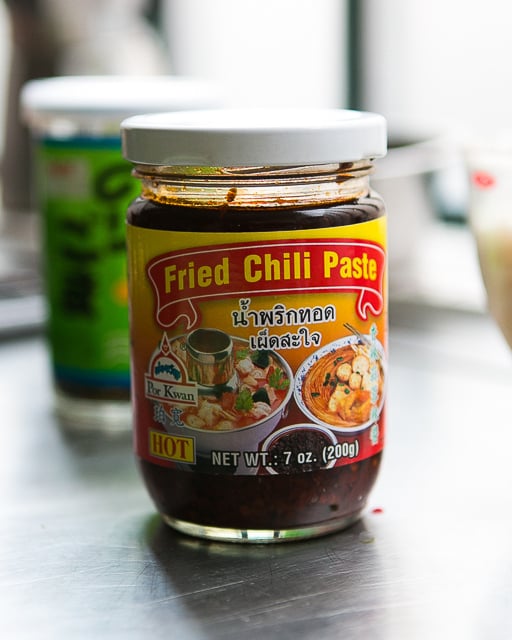 I'm eager to try his Quick Pot of Brown Rice (page 177), which has become my nemesis since I picked up a bag at the Asian store and brought it home, drawing scowls from my Frenchman. Determined to prove him wrong, I bookmarked a fail-proof recipe floating around online. However, when I made it, it confirmed my Frenchman's fears about le riz complèt (brown rice). But I trust Joe, so his version is next on my docket.
What fixated me most was Joe's recipe for Marinated and Baked Tofu, which promised tofu that was crisp on the outside, and soft on the inside. Which just happens to be the way I like it. Not to get on a soapbox, but who doesn't like crispy food? Even if tofu isn't on your list of likes, this recipe will put it there.
I pan-fry tofu because I've found oven-baking yields uneven results. But I just happened to have a block of firm tofu waiting to be used and gathered all the ingredients from my pantry to give it a go. Some may sound obscure to you, but never fear, Joe is there to give you alternatives that'll work just as well.
To be honest, I was a little apprehensive that the tofu wouldn't be crispy, since the marinade has so much liquid. But call me convinced (which is more than I can say about Romain; I've hidden that bag of brown rice to spring on him on a future date…), because each little nugget came out with a marvelously well-browned, crisp coating. I used the tofu to make a Korean-style meal-in-a-bowl, piling up kimchi, hard-cooked eggs with furikake (a seaweed-based Japanese seasoning that should be a required in every pantry), shredded beets and carrots tossed in rice vinegar, and roasted peanuts over the top. I served it over white rice. But since the crispy baked tofu was such a success, I'm counting on Joe to get me over my next hurdle, that riz complèt.
Crisp Baked Tofu
Adapted from
Eat Your Vegetables
by
Joe Yonan
I've marinated tofu before, but it seemed unusual to press the water out of the tofu before adding the marinade which, interestingly, also has water added. But it was explained in the book that pressing the tofu to extract the water, and wiping it dry, helps the tofu absorb the marinade. I made half the recipe that is in the book (which are the quantities that I give here), so you can certainly double it. The only thing I did differently was to dial up the chili paste, because I don't mind a little extra zing. You could use more, and I may do so the next time I make it. Joe recommends making a big batch of these tofu cubes and keeping them in the refrigerator for other uses, scattering them in a stir-fry, tossing them with ramen noodles, or tucking them into an Indonesian wrap. Mine got eaten almost immediately.
1

pound

firm tofu

1

tablespoon

toasted sesame oil

1

tablespoon

soy sauce or tamari

1

tablespoon

rice wine or sherry

1

tablespoon

rice vinegar or cider vinegar

1

garlic clove

,

peeled and finely chopped

2

teaspoons

peeled minced fresh ginger

2

tablespoons

water

1

teaspoon

Sriracha or another favorite Asian chili sauce or paste

optional: 1

teaspoon

sea salt or kosher salt

1

tablespoon

corn starch
Drain the tofu, wrap it in a paper towel, then place it on a plate. Put another plate on top of the tofu and place a heavy can of beans or tomatoes on top of it. Let stand 30 minutes.

Unwrap the tofu, wipe it dry, and cut it into 1-inch (3cm) cubes.

In a large, zip-top freezer bag, mix the sesame oil, soy sauce, rice wine, rice vinegar, garlic, ginger, water, Sriracha, and salt, if using. (See Note at end of recipe.) Add the tofu and toss the cubes in the marinade. Lay the bag on a plate and refrigerate for a minimum of 2 hours, or up to 8 hours, turning the bag a few times while marinating.

(You can marinate the tofu in a glass, ceramic, or stainless steel bowl instead, covering it for storage.)

Preheat the oven to 350ºF (180ºC.)

Line a baking sheet with parchment paper. Drain the tofu (the marinade can be reserved, refrigerated, and used for a dipping sauce or dressing for another dish), then put the tofu cubes in a large bowl. Using a mesh sieve or strainer, sift the corn starch over the tofu pieces, working in batches as you sprinkle them with the corn starch.

Transfer the tofu cubes to the prepared baking sheet and bake, turning the cubes several times during baking, until they are crisp and browned, about 45 minutes.
Notes
Serving and storage: The tofu can be served warm or at room temperature. Leftover tofu can be stored in the refrigerator for three to four days. Note: I didn't add the salt because I figured the soy sauce would provide enough for my taste, which it did. However the original recipe and some readers did like the salt added. So you can add it if you'd like.
Related Recipes
Caramelized Tofu (101 Cookbooks)
Homemade Firm Tofu (Food+Wine)
Fried Tofu and Egg Pancakes (Vietnamese World Kitchen)