I don't regularly watch American cooking programs and competitions, although occasionally I come across them on TV here in France, dubbed (Version Française, or VF), which makes them less interesting to watch. And I don't go to those cooking vacations where chefs come and cook for guests on tropical islands because, frankly, I'm never asked. (Although unbelievably, I did just get an email from a public relations person, which contained links and photos to one of those food festivals, asking me to write a post on my blog about it…even though I wasn't there.)
So I decided to spare you a post with someone else's photos about an event that I didn't even go to. But while everyone else was frolicking on the beach sipping tiki cocktails with their favorite chefs, I was at home, reading. One thing that caught my eye in the newspaper was an article about Bobby Flay – who often appears on television and probably gets to go to those food festivals – regarding a new restaurant he is opening in New York after a hiatus from restaurant cooking.
Unlike writing about faux vacations, I was much more intrigued by a recipe for Chicken with Roquefort cheese that accompanied the article. So I went to the market and came home with a big hunk (unfortunately, not the guy from the Auvergne who sells sausages and terrines, with the dreamy smile..) of the blue-green veined cheese that happens to be the first AOC designated food in France.
(The AOC designation was enacted in 1925, and was meant to control and protect production and quality standards. See how much more important reading and researching is, rather than sitting at a bar by the ocean, drinking rum cocktails with warm sand under your feet?)
It remains one of my favorite cheeses and it's hard to find a bad example of it in France. One thing, though, that is hard to find are bone-in chicken breasts. There are whole chickens, plenty of thighs and legs, and boneless breasts aplenty. But I've never seen a bone-in chicken breast in Paris, so decided to go with their more flavorful counterparts; the leg and thigh portions.
You could tell the recipe was a "restaurant recipe" because it called for a lot of butter. I don't have a problem with butter, but a whole stick (115g) mashed together with a generous chunk of Roquefort, created pretty unappetizing leftovers: the butter had firmed up in the container into a deep, waxy, yellow pool. It reminded me of the time I bought beef bones to roast for making stock. I pulled out the marrow midway during the roasting and let it sit in a bowl, thinking I would go back and eat it later. But it had solidified into a rather uninviting mass, and I've only been able to eat marrow once since then. I don't want to give up on butter entirely, so I became one of those "swap it out" folks, and decided to rework the recipe from the ground up.
Romain was skeptical about the combination of blue cheese and chicken, but stubbornly, I felt it had merit. And no, it was not just for the sake of an argument. Neither of us is that French, although he used to be (before I got my hands on him). Like us, in spite of different origins, fruit and blue cheese have a particular affinity for each other, I was convinced. So I took a page from what is often called Wine Harvester's Chicken, a dish that is made with sautéed grapes stewed with the chicken, to make a sauce for the my variation of Chicken with Roquefort.
A good lesson why you should cook seasonally, and not necessarily start with an idea in your head – then try to find the right ingredients – was that there were no luscious, juicy-ripe wine grapes available anywhere, so I bought what they had at the grocery store. (The other lesson, as I later found out, was not to be so stubborn.) I dutifully seeded them all, figuring that I would reason with you that even though seeding grapes is a pain, at least I wasn't going to ask you to peel grapes. (You're welcome.) And that the results would be worth it.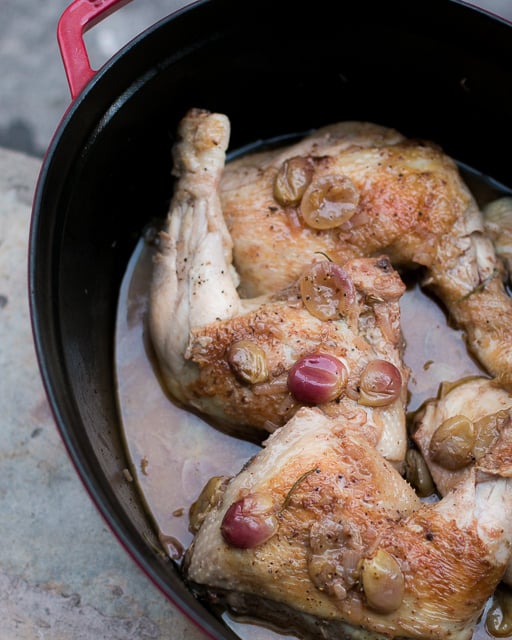 In the end, the results weren't worth it and the dish was so-so and not an improvement on the original recipe. My variation just wasn't doing it for me. I wanted that rich, juicy grape syrup mingling with Roquefort cheese which, like my imaginary vacation on the beach, didn't quite happen.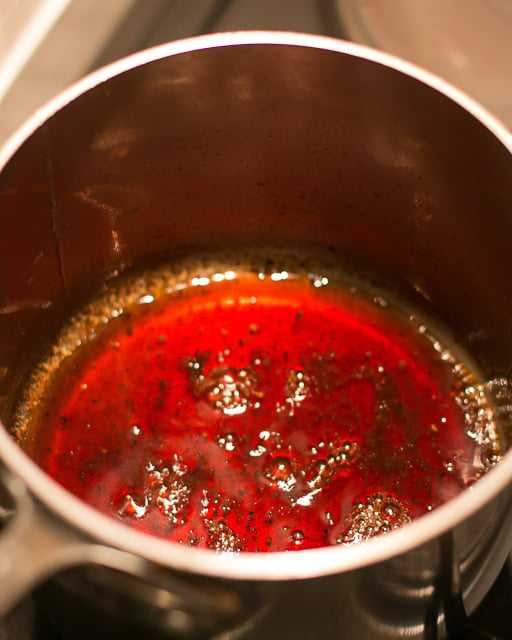 However…
There was that delicious, tart-sweet gastrique that was part of Chef Flay's original recipe, meant to be spooned over the finished dish. It was so good it made me swoon. So when I simmered up a pot of heirloom beans and jambonneau (both gifts from my friend Kate, the beans grown by her neighbors), a little aigre-doux, or sweet-sour sauce, proved just the right thing to spoon over it.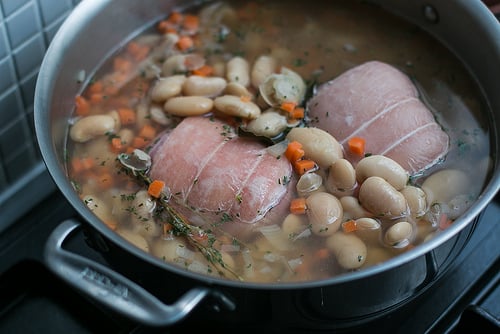 The base of gastrique is sugar or honey with vinegar, but you can find versions with a handful of berries, or a spoonful or two of fruit puree, added at the end of cooking. I kept it simple because it was so good just as is. (I learned my lesson with the chicken dish. And perhaps listening to my Frenchman.) But you can certainly test your own creativity (and relationship) and add a dash of whatever you wish. If meat isn't your thing, I imagine it would be equally outstanding spooned over roast winter squash for a vegetarian main dish. Or to finish off a meal, it can be spooned over cheese, such as a pungent blue or Roquefort, which I found was a great way to use up the rest of the cheese, as well as the delectable gastrique.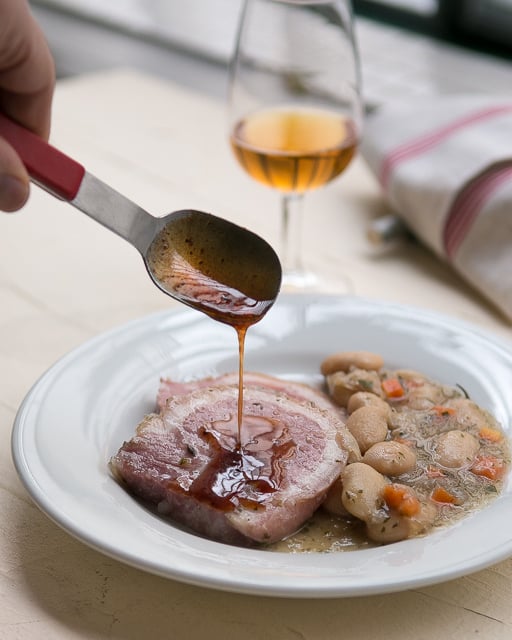 Gastrique
Adapted from
Bobby Flay
, from a recipe in
The New York Times
. I'm not sure where the name gastrique comes from, but since gastrique is a term that refers to stomach troubles, it's possible that the tartness of the syrup was thought to aid in digestion of a rich dish. You can use any fruit-flavored vinegar in place of the cider or sherry vinegar. Because you are reducing it, I would stick to a somewhat neutral-flavored honey, such as clover or multifleur (multi flower.)
1/4

cup (80g)

honey

1/2

cup (125ml)

apple cider vinegar or sherry vinegar

sea salt

freshly ground black pepper
Heat the honey in a small saucepan over medium-low heat for 5 minutes, until it becomes a noticeably deeper shade of brown.

Add the vinegar and continue to cook, swirling the pan a few times, for about 15 minutes, until the sauce has thickened to the consistency of thin maple syrup.

Remove from heat and add a good pinch of both salt and pepper. Serve warm over roasted or simmered meats, or vegetables. Or let cool to room temperature, if serving with cheese.
Notes
Storage: The gastrique will keep for up to two weeks in the refrigerator. Let come to room temperature, or gently reheat, before serving.
Related Links
Pomegranate Gastrique (Martha Stewart)
What the Hell is a gastrique? (Food Republic)
How to make a gastrique (Serious Eats)
Blood Orange-Coriander Gastrique (Imbibe)
Pork Tourendos with Blackberry Gastrique (Epicurious)