I don't know what possessed me the other day, but there I was, and there it was—I was faced with a big mound of Iceberg lettuce heads at the market, two for one euro, so I bought two of them. Although I don't eat it very often, I love Iceberg lettuce salad and anyone who says they don't is probably fibbing.
People will often justify their disdain of Iceberg lettuce on nutritional claims, but in reality, leafy green salads in general doesn't carry that many nutrients. Think about it; if you steam a plate of those fancy mixed greens, after you get rid of the water and they're cooked down, it equals about one tablespoon of vegetables. So if you're looking to get healthy, eat green vegetables like broccoli and asparagus. And since you're being so prudent, you can allow yourself to bring on the blue cheese and bacon!
I've not seen a French person get all frothy at the mouth over bacon, which is partially because they just eat it and don't make a big deal over it. But another is that they don't cook bacon until it's crisp. I bought this beautiful poitrine fumé (smoked bacon) when I was in the Jura and was happy to slice it into lardons and fry the rectangles in a skillet until they were very well done, just on the edge of burnt.
So I had a little explaining to do when I make this salad for Romain. First up was explaining l'Iceberg to him. Then I had to continue with a difficult translation on why I was pouring cheese sauce on salad. The bacon, however, he had no trouble understanding since he discovered unlimited crisp bacon at a breakfast buffet in the Bahamas. I had to give him a lesson in rummaging around in a chafing dish and fishing out the best pieces, but he was a quick study and before I knew it, the pupil had outdone the master and I realized I had to get there quickly before he did on subsequent mornings.
I'm not sure blue cheese dressing, or bleu cheese dressing, is going to take hold in France. But there's no shortage of excellent fromage bleu around here, and Iceberg lettuce is obviously rather available. Plus what's not to like about lardons of extra-crispy bacon? So I don't see any reason why not.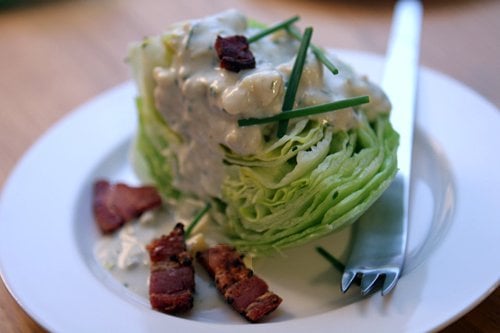 Blue Cheese Dressing
If you can't get buttermilk, mix one part milk (whole or lowfat) with one part plain yogurt (regular or lowfat) to approximate the taste. Any kind of blue cheese, domestic or imported, should work well. The touch of red wine vinegar gives the dressing a little extra acidity, and if you don't mind the faint pink color, you can use that in place of the lemon juice or white wine vinegar. I like chunks of cheese in the dressing but if you want it smooth, feel free to run it through the blender or food processor. Another excellent use for blue cheese dressing is to mix a salad of grated raw vegetables; carrots, radishes, avocados, cabbage, and kohlrabi, and with perhaps additional fresh herbs like chervil and tarragon tossed in as well.
4

ounces (115g)

blue cheese

,

crumbled

1/2

teaspoon

sea salt

a few turns freshly ground black pepper

1

tablespoon

finely chopped chives

1/4

cup (60g)

sour cream

,

regular or lowfat

1/4

cup (60ml)

buttermilk

1

tablespoon

fresh lemon juice or white wine vinegar

a few drops of red wine vinegar
In a medium bowl, mash the blue cheese with the salt and pepper with the back of a fork until the pieces of cheese are finely broken up.

Stir in the chives, sour cream, buttermilk, and lemon juice or wine vinegar until well mixed.

Add a few drops of red wine vinegar. Taste, and adjust any of the seasonings to your liking and if the dressing too thick, add a bit more buttermilk.
Notes
Notes: For those in France, I used lait ribot (buttermilk) and fromage blanc for the sour cream. Serving: Spoon over wedges of very cold Iceberg lettuce or use as a dip. Garnish with additional chives, crumbled or sliced bacon, and some freshly ground black pepper. Storage: Blue cheese dressing can be made up to three days ahead and refrigerated.
Related Posts and Recipes
American Baking Ingredients in France
Creamy Feta-Red Wine Vinegar Dressing
How to Make French Vinaigrette
Buffalo Wings (Simply Recipes)
Blue Cheese Scallion Drop Biscuits (Smitten Kitchen)
Blue Cheese Burger (Pinch My Salt)
Grilled Ribeye Steak with Onion-Blue Cheese Sauce (The Pioneer Woman)
Producers of Blue Cheese in the United States
Point Reyes Farmstead Cheese Company