Chopped Vegetable Salad with Lemon-Garlic Dressing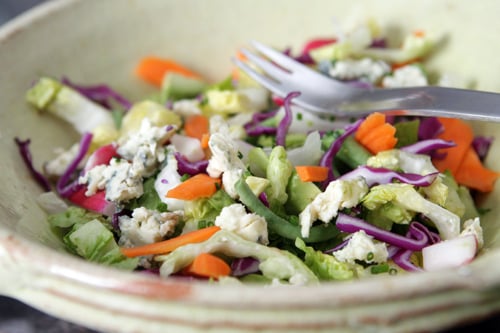 Americans have a reputation for not eating very well which is disputed by the fact that whenever I have a group of guests come to Paris, everyone is always craving fresh vegetables. Another interesting paradox is that portions in America are huge, yet Americans who come to France (where the portions are more reasonable) find themselves quickly full when dining out. And after a couple of days, they start begging away from heartier fare in search of a big bowl or plate of vegetables or a large salad, one with lots of vegetables in it.
People and restaurants in Paris don't eat or serve raw vegetables much, except in les crudités – usually a trio of simple salads of grated carrots, celery remoulade, wedges of tomatoes, cucumbers, or sometimes even some beets tossed in dressing. Which aren't technically raw (unless they're grated), but sticklers are welcome to raise a fuss with the locals if they so desire. But with everyone on le régime (a diet) around here, you'd think vegetables would be more popular.
All summer long, I eat raw vegetable salads to counteract the rich foods I've been eating all winter, which previously could be hidden underneath bulky wool coats and scarves tied securely around my neck. But when it's warmer out, I stock up on vegetables as best I can, changing what I buy according to what I find at the market. And I always pick up a few heads of fresh garlic as well, which has a season, too.
You never see raw garlic being served in Paris restaurants, or anything too garlic-heavy, most likely because of the smell. Humorously, when I ate at a Korean restaurant on the rue Saint-Anne with some friends recently, on the way out, the hostess offers each of us a piece of minty chewing gum. (I noticed quite a few declined and simply lit up a cigarette, which something tells me doesn't have quite the same effect.)
I've noticed folks here often makes salad with canola oil, rather than olive oil, too. A friend who is a good cook said that ten years ago she never would have dreamed of using olive oil in her cooking. And in fact, if you look at a lot of classic aïoli recipes, many use a combination of olive and neutral-tasting oils, because the flavor of olive oil is so strong. (Remember "Trop de goût"?) Having used olive oil all my life in salad dressings, I've taken a cue from them and will now sometimes play around with grape seed oil, or another interesting variety.
When summer comes, or when I've eaten too many meals in restaurants, I pull out my big salad bowl daily. And I'll keep the oven off and get out my cutting board to make a variation of this chopped vegetable salad. And whenever I grate some fresh garlic into the dressing, I realized how much I like it. It's especially good with romaine lettuce, and I've decided I'm going to start eating a lot more garlic..because I like it!
One of my favorite tricks is to use a rasp-style grater to prepare the garlic, so I don't need to worry about getting my cutting boards all garlicky. It's my small effort to keep everything in the city less-fragrant. Well, just a little.
Chopped Vegetable Salad with Lemon-Garlic Dressing
I guess I'm more French than I thought because I'm not a fan of very hard vegetables raw, like broccoli, cauliflower, or green beans. So if I use them, I blanch or steam the vegetables lightly, to make them a bit more palatable.
For the dressing:
2

cloves

garlic

,

peeled and grated or minced

2

tablespoons

fresh lemon juice

1

teaspoon

kosher or sea salt

1/2

teaspoon

Dijon mustard

1/4

cup (60ml)

olive or grape seed oil

,

or another favorite oil
For the salad - 6 cups (700g) mixed chopped vegetables and other additions such as:
Crumbled bacon

Diced avocado

Cubed grilled chicken

Batons of baked tofu

Crumbled feta

,

goat, or blue cheese

Shredded romaine

,

radicchio, or gem lettuce

Sliced or quartered radishes

Grated or julienne-cut carrots

Shredded red cabbage

Minced parsley or chives

Lightly steamed or blanched broccoli

,

cauliflower, green beans, or asparagus

Diced hard-cooked eggs

Pumpkin seeds

Quartered cherry tomatoes
In a large salad bowl, mix together the garlic, lemon juice, salt, and mustard with a fork

Add the olive oil and stir with the fork until the dressing is well mixed. (I don't emulsify the dressing as I feel it gets too heavy and thick.)

Add the salad ingredients and toss well.
Related Recipes
Creamy Feta-Red Wine Salad Dressing
Joanne Weir's Cucumber-Feta Salad