I've been leafing my way through a local culinary magazine whose subject for this particular issue is "Street Food." And I'm a little confused because every place mentioned is either a storefront or restaurant, not a place where eat food on the street. I kept digging and digging, turning the pages, looking for some stories about people actually serving street food—on an actual street.
The French are good at inventing quirky things, like the Minitel, fast trains, and a machine that spews out a hot-baked baguette in less than a minute, and the magazine quotes French photographer Jean-François Mallet (who documented take-away food in a book of the same name) as saying "The pizza truck is a French invention."
But there's no food camionnettes driving around, dispensing goodies in Paris, and I get a little dewy-eyed when I read about all the interesting food trucks elsewhere doing everything from frying up oyster sandwiches to dipping swirls of ice cream in crazy toppings, and wish one would pull up to my front door and make me a fancy grilled cheese sandwich with Comté or croque monsieur in a pain Poilâne wrap.
And I'm not the only one. French chef Thierry Marx is quoted as saying, "Set up the best gnocchi à la Parisienne next to a Quick and a McDonald's and you'll drag all their surplus." Am not sure if he meant that if you open a food fast-food alternative in front of a fast-food spot you'll cut into their business, or just take up the surplus of people waiting in the disconcertingly long lines at McDonald's in Paris. Okay, it's not a croque monsieur, but it's a pretty neat idea.
(One vendor here that I spoke with who had opened a small cart on a public square in Paris told me about the two years of onerous paperwork they had to file just to occupy a two-and-a-half square-foot space on a sidewalk, I realized that I shouldn't expect anyone to be pulling up to my curb selling cassoulet burritos or duck confit tacos in the near future. Well, at least not for at least two more years from now.)
Getting out of Paris, if you drive through the French countryside, though, you'll often pass trucks parked on the side of the road selling food like bread, pizza, or some version of le snack. And if you ever see a camionnette blanche parked alongside of the road, with candles on the dashboard and either a battered little Renault or Citroën parked just beside it, you'll find women also selling something else, as well.
But although food trucks aren't exactly clogging the boulevards of Paris, there is a version of a food truck in France that's pretty great (and no, I'm not talking about les camionnettes blanches) … and that's the rôtisserie. Go to any outdoor market and there will invariably be someone spit-roasting meats of some sort. And I seem to always dial in on the poulet rôti, the roast chicken. I actually stopped buying fresh chicken to roast at home because they do a better job with their glowing-hot ovens than my puny little four à maison can do.
The one problem I found, though, is that if I buy a roast chicken at my market, the moment I get home I rip open the waxy paper sack and just start picking away at the meat and skin. At the market in the Bastille, Catherine makes poulet crapaudine, a spatchcocked chicken that's been marinated for a couple of days, then spiced and salted and roasted until the skin is extra, extra-crispy.
It's so crispy that the skin stands up to the extended period between when she slides the chicken in the bag, seals the top shut, and I open it up in my apartment fifteen minutes later. For a while, I stopped buying them because I would eat the whole thing by myself, in one sitting. It was awful. Actually I should say "In one standing" because come Sunday afternoon, there I would be, standing at my kitchen counter over a cutting board, attacking the roast chicken, picking out all the juicy morsels of warm, salty meat with my fingers and shoving them in my mouth.
And then there's the skin.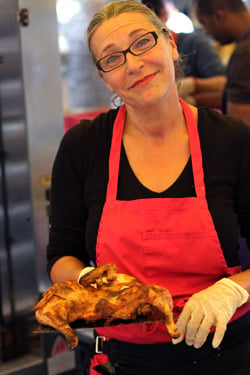 Chicken skin is one of those things that isn't very good for you. Like pork belly or white chocolate, there's not a lot of nutritional value in there. Just a lot of fat – and a pretty good amount of salt. But that's me, digging my greasy fingers in like a drug addict, ripping off every bit of skin, saying that I'll stop after one more piece but hopelessly unable to quit until I've picked the meat, skin, and bones of the poor bird clean.
This weekend was a very big event for me. We got to the market late and many of the vendors were in the process of cleaning up. Most were tired from working since 4am (which goes against the common perception that the French don't work hard), and we stopped to watch the last of the chickens being slid off the spit. She dropped one of the hot chickens in a bag, handed it over to us, and said it was a cadeau because, "Vous êtes a-dor-able." I think she meant that compliment for Romain, but if it meant poulet crapaudine (which roughly translates to "bullfrog"-ugly chicken) for me, I was willing to take one for the team and be the ugly duckling.
One day I'm going to move to a new neighborhood, and have to go through what's called the bizutage, or "hazing" one has to go through until everyone gets to know you. Am not sure where I'll end up in Paris next. I'm sure there will be a market of some sorts, as there is in every neighborhood. But I doubt I'll find roast chicken as good as this. Unless she decides to go mobile.