Wild Rice Salad with Roasted Vegetables and Lemon-Tahini Dressing
Over the past few weeks, I've been trying to use up things I already have in the cupboard, plus eat seasonally, plus make things that are relatively easy to make – and this salad fit the bill on all counts. It combines tahini with wild rice and used up some of the marvelous root vegetables that I can't help buying at the market, even though I should be using up what I've already got on hand. It's not the prettiest salad in the world, but compared to what I didn't show you of my refrigerator, that bowl should be hanging in the Louvre.
Speaking of which, I'm only going to give you a glimpse of my jam-packed refrigerator (and I mean literally, there are over a dozen jars of assorted jams in there) because I don't want my refrigerator scrutinized. Not that I'm ashamed of having a bottle of bbq sauce and some store-bought feta, but, well, my refrigerator is sort of a disaster at the moment, and I'm hoping to take care of that shortly. (Although I've been saying that since November…of 2007.)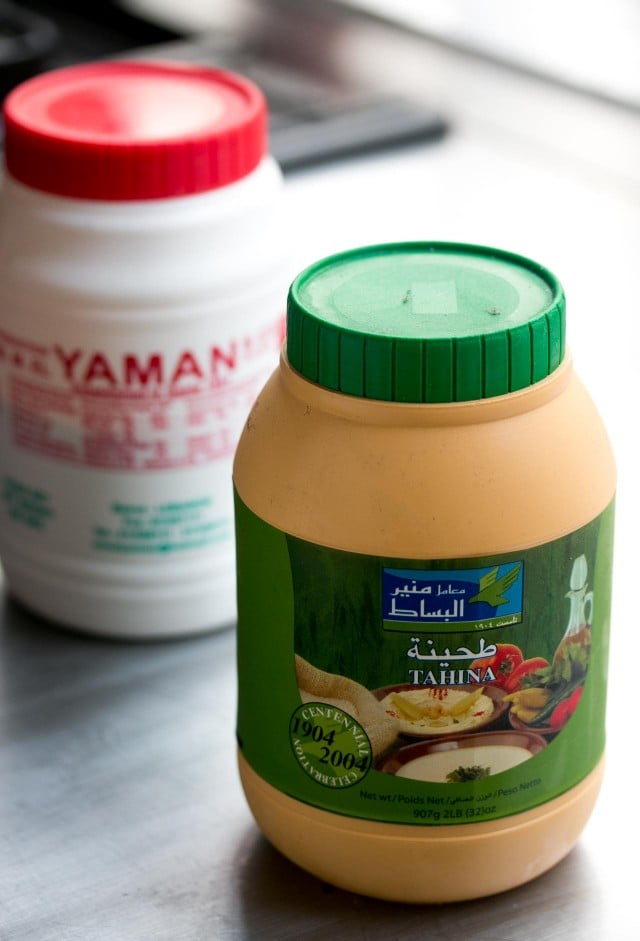 I've also taken on the task of using up the contents of my freezer. In spite of my best efforts to be efficient and label things as I go, over time the labels invariably fall off and get frozen onto something else. Which is why I always scratch my head when people want to know if things can be frozen because who the heck has room in their freezer for a cake or something like that? I'm learning that hard way that it's best to just eat it all up when you can. But on the other hand, I was happy to find some lasagna I had made – without a recipe – when I put together some homemade pasta a little while back, that I kept up front because it was too good to get lost back there.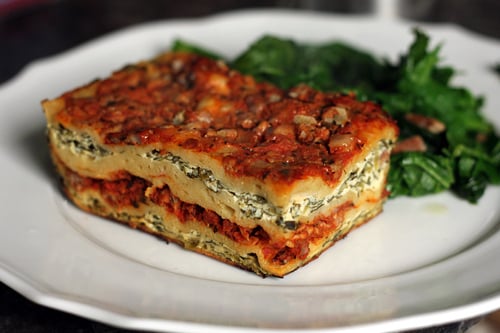 I'm also starting to go through my kitchen cabinets. I love wild rice, but discovered that I have a huge stockpile of it that, for some reason, had gone completely ignored. Honestly, I have enough packages of it in case of nuclear war and all shipments from America get cut off, along with a sizable stash of dried sour cherries and dried Mexican chiles.
(So in case the worst happens, I'm going to make a killing being the exclusive vendor for wild rice, sour cherries, and ancho chiles in Paris.)
Since it's something more readily found in North America than in France, I bring wild rice back to serve to friends who always love it – and are surprised when I tell them that wild rice, or riz sauvage, isn't really rice at all, but grass.
Whatever you call it, it's been my go-to meal for the last few days. And no, it can't be frozen. Which, considering the state of my freezer, it probably a good thing.
Wild Rice Salad with Roasted Vegetables and Lemon-Tahini Dressing
Feel free to use any root vegetables you like, or add a few other herbs into the mix; fresh dill or something else vaguely Mediterranean or Middle Eastern would be pretty tasty.
For the Salad
3/4

cup (125g)

wild rice

6

cups (750g)

peeled and cubed root vegetables; any mix of carrots

,

parsnip, celery root, beets, and butternut squash, or other favorites

Olive oil

Sea salt and black pepper

2

spring onions or green onions

,

minced

1/2

cup (15g)

chopped fresh parsley and chives

,

(or other favourite herbs)
For the Lemon-Tahini Dressing
1/4

cup (80g)

tahini

1

tablespoon

fresh squeezed lemon juice

3

tablespoons

water

1

clove

garlic

,

peeled and minced

1

teaspoon

soy sauce
Put the wild rice in a saucepan and cover with plenty of salted water. Bring to a boil, then reduce the heat to a gentle boil and cook the rice until it's tender, about 45 minutes.

While the rice is cooking, preheat the oven to 375ºF (190ºC). Drizzle a few spoonfuls of olive oil on a rimmed baking sheet. Spread the cubed vegetables over the pan and season well with salt and freshly ground pepper.

Toss the vegetables with the olive and spread them on the baking sheet in an even layer. Bake for 30 to 45 minutes, stirring once or twice during cooking, until the vegetables are fully cooked.

When the rice is done, drain it well and toss it in a large bowl with the cooked vegetables and let cool to room temperature. Once cool, stir in the onions and herbs.

Make the lemon-tahini dressing by stirring together the tahini, lemon juice, water, garlic, and soy sauce, then pour it over the salad and stir it in well. Taste, and add a bit more salt and lemon juice, if desired.
Notes
Serving and Storage: This salad is best enjoyed at room temperature; when chilled, it tends to dry out a bit because of the tahini. If you wish to make it in advance, best to make the dressing and the vegetable & rice mixture separately, then stir them together before you serve it.
Note: Tahini is a paste made of ground sesame seeds and can be found in well-stocked grocery stores, natural food shops, and Middle Eastern markets. It's also available online at places such as Amazon
and Kalustyan's.
Related Recipes
Chopped Vegetable Salad with Lemon-Garlic Dressing
Roasted Root Vegetable and Wheat Berry Salad
Cold Noodles with Peanut Sauce