I began my cooking career at a vegetarian restaurant in Ithaca, New York. Although you've probably heard of the other vegetarian restaurant in town, I worked up the hill at the Cabbagetown Café. While we weren't as famous, the food was really good.
Farmers would come in lugging crates of dirty root vegetables, crispy radishes, and slender green pea pods, and we'd make what we wanted with them. The food wasn't especially fancy, but we did do some creative things and almost everything was delicious that we whipped up. This was years before the farm-to-table movement because so widespread, but it was the same concept.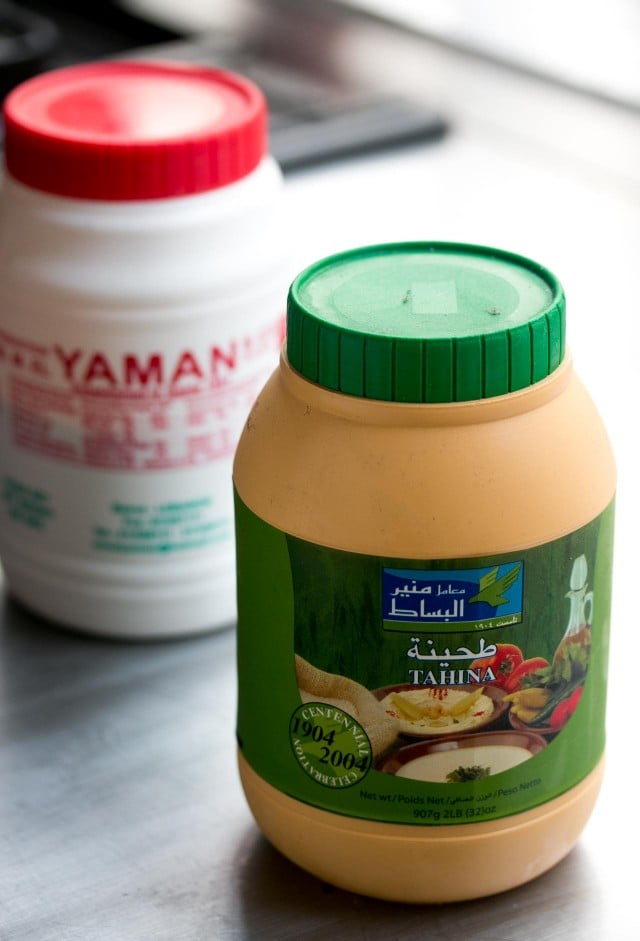 Because it was a vegetarian restaurant, and with the rather harsh climate in the winter, some of the food had to be hardy to sustain our customers through the tough winters. Hummus was really popular there, as it is in the Middle East, where I had it later in life and discovered just how wonderful this dip can truly be. So nowadays I stockpile tahini when I go places like Lebanon and Israel, and use it frequently. (I even went to a hummus factory!) In the U.S., an excellent brand is Soom.
I usually use dried chickpeas for my hummus recipe, but for ease, the jarred or canned ones mean that you can make a batch in minutes.
Traditionally hummus in the Middle East isn't flavored. A glug of olive oil in the traditional, but there are lots of other possibilities. I've mentioned at the end of the recipe, but whatever strikes your fancy will do. I try to keep hummus around for a quick snack with crackers but it's also nice as part of an assortment of Middle Eastern and North African appetizers, such as Eggplant Jam, Baba Ganoush, Roasted Peppers, and Cucumber-Feta Salad.
Hummus
Adapted from the
Cabbagetown Café Cookbook
(Crossing Press) by Julie Jordan Hummus makes a great tartine – an open-faced sandwich, although it's also a great dip. Try to find good-quality tahini for hummus, such as
Soom
. Check local natural food stores and markets specializing in Middle Eastern ingredients. If cooking your own dried chick peas, it takes about 1 cup (140g) of dried chickpeas to make 2 cups (350g) of cooked ones. Rinse them well and sort them to make sure there is no debris in them. Cook them in plenty of water, replenishing it if necessary, with 2 teaspoons of baking soda, which helps soften them. For very smooth hummus, removing the skins after they are cooked will yield a smoother dip.
3

large cloves

of garlic

,

coarsely chopped

1

teaspoon

coarse salt

3/4

cup (180g)

tahini

, (sesame paste)

2

tablespoons

olive oil

1/3

cup (80ml)

freshly-squeezed lemon juice

2

cups (350g)

drained canned chickpeas

,

(reserve the liquid)

1/8

teaspoon

chile powder

6

tablespoons

of chickpea liquid

,

or more
In a blender or food processor, whiz together the garlic, salt, tahini, olive oil, and lemon juice until the garlic is finely-chopped.

Add the chick peas, chile powder, and 6 tablespoons of chick pea liquid, and pulse until smooth. Stop the machine a couple of times during blending to scrape down the sides to make sure everything gets well-incorporated.

Taste, and add more lemon juice or salt if desired, and more of the chick pea liquid until it reaches a thick, but spreadable consistency. You can make it as smooth, or as coarse, as you want. I like mine mid-way between the two.
Notes
Serving: I make a well in the center and drip in some good olive oil and add whatever strikes my mood, from red pepper flakes to za'atar. Chopped toasted nuts are nice, such as hazelnuts, as are seeds or fresh herbs. Serve with toasted pita chips, baguette slices, raw vegetables or whole wheat crackers. Storage: Hummus will keep in the refrigerator for up to four days. You can also freeze hummus, well-wrapped, for up to two months.