I Found the Pascal Beillevaire Butter!
I finally got a chance to track down that butter I found worthy of rapture from Le Jules Verne. Oddly, when I searched the name, I found out that I actually commented on way back in 2006. How I forgot about it, I'll never, ever know.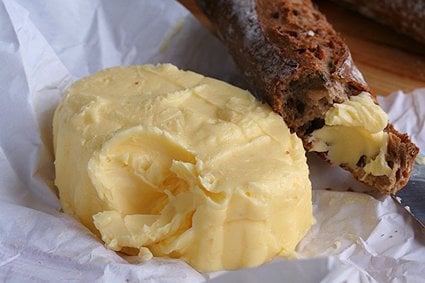 It's from Pascal Beillevaire, a chain of cheese shops in France. While their cheeses are very good, I have a little bit of difficulty getting past the beret-wearing salesclerks, theatrical straw mats, and hyper-bright lighting.
But after the maître d'hôtel at the Jules Verne kindly wrote detailed instructions on where to find the butter, and what it's called, I made it a point to go there and track it down.
The official name of the butter is beurre cru baratté à l'ancienne and it's riddled with lots of little flecks of salt from Noirmoutier.
One swipe from my knife, smeared on bread, and this butter is like eating creamy-salty candy, so sweet was the cream that it was churned from, I was afraid of what would happen if I didn't re-wrap it and stow it away in the kitchen. I don't think I'll be able to sleep tonight just knowing that butter is in my kitchen, waiting for me tomorrow morning.
The beret-wearing young salesclerk was very nice, who smiled and nodded agreeably when I told him that I'd had the butter at the Jules Verne. And at around 1.50€ it was a huge bargain. Especially if you don't want to shell out the bucks for a fancy meal on the Eiffel Tower.
He told me not the refrigerate it—at all, since it'll lose its marvelous aroma. So now that I have this big pat of butter, I'm going to have to eat it pretty quickly. Better get more bread!
Pascal Beillevaire
77, rue St. Antoine
Tél: 01 42 78 48 78
UPDATE: The packaging has changed on their butter,  and you can get Beillevaire butter at their many fromageries across Paris as well as stores like La Grande Épicerie.
More Reading on Pascal Beillevaire
Related Posts and Links
Getting Some Culture (Traveler's Lunchbox)
Cultured Butter at Home (Michael Ruhlman)
Homemade Butter (Wednesday Chef)
Salted Butter Caramel Ice Cream
Salted Butter Chocolate Chip Cookies