Alain Ducasse recently took over la direction of Le Jules Verne*, the high-end restaurant in the Eiffel Tower that had lost its reputation and luster as a fine dining destination during the past several years. I hadn't ever eaten there, since its reputation had preceded it. But this week, I finally got my chance to dine there.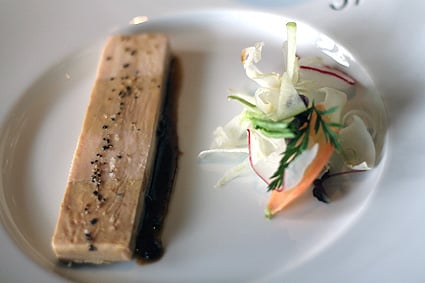 We waited patiently for the private elevator of the Tour Eiffel to lift us up to mid-tower, over four hundred feet in the air, above Paris.

Once you embark from the elevator, it's a short walk through a dark alcove and into the bright, updated dining room.
My lunch menu degustation started with a mosaic of foie gras and chicken, which was served with a choice of bread from a copious basket. A little poofy brioche was also brought to spread with foie gras and since we opted for the wine pairing, the sommelier poured a silky, rich Viogner from the Loire-sur-Rhône served alongside, which was perfect.
For my main course, I chose the bar, a delicate, yet meaty fish that was gently cooked and served on a bed of leeks with clams and tiny shrimp tails tossed around. But everyone at the table who'd ordered the blanquette de veau, reinterpreted here in a very light cream sauce with roasted morsels of veal and accents of fresh herbs, raved. The partnered wine was a pinot noir from Burgundy that was young and serviceable but without much flair.
The new Jules Verne kept the original Pininfarina chairs, the same company which designed the seating in some Ferrari automobiles, which were quite comfortable for dining and looking at the views of Paris. I was smitten and think they should sell them in the gift shop. When they do, I'll take four.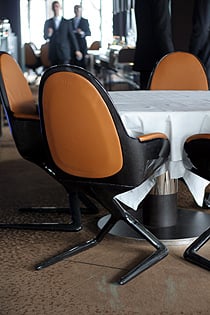 For dessert, I chose the Savarin; a yeasted dome of cake soaked tableside with a choice of Armagnac and a cascade of very softly-whipped cream. It needed perhaps a spoonful of honey to accent the flavor. But the plate of mingnardese—little pastries to go along with coffee, featured clotted cream and jam-filled macarons and delicious little chocolate praline rectangles sitting on a piece of nutty meringue.
A cool, slender glass of Sauternes was poured, which was exquisite. Enough to seal the sweet end of the meal off in highly-polished form. The café express, usually the bane of Paris dining, was terrific.
The only off-kilter part of the experience was the service, which was curiously awkward. I think they're still trying to find a balance between friendly and formal, which is especially challenging when waiting on Americans, who tend to be looser and generally like to be on friendlier terms with waiters.
One of my dining companions ordered a cappuccino after dessert and the waiter jokingly replied, "Sorry, the coffee machine is closed." When he came back with her coffee, I asked why it wasn't in a paper cup, like a cappuccino is supposed to be served in. My joke was met with a frosty silence. It wasn't until I turned around and realized it was a different waiter, who from the expression on his face, made it obvious he didn't get, or appreciate, my humor. Gulp.
But when I told the Maître d'hôtel that the butter was astoundingly good, he came back with a handwritten note with the name of the person who made it along with describing to us how the butter was made.
There's a fixed price lunch menu for 70€, with which you can add a wine pairing. A dinner menu is available as well, or you can order à la carte. I think it was a step in the right direction to get the restaurant in shape and would like to return in the evening when the lights of Paris are twinkling. Once they hit their stride, and hopefully they will, I hope they combine the well-prepared food with perfectly-polished service, worthy of such a dramatic setting. And I'm looking forward to having some more of that superlative butter, which is my new obsession. But in case I don't make it back, I'm definitely working on tracking down the source.
Le Jules Verne
The Eiffel Tower
Tél: 01 45 55 61 44
(The Eiffel Tower Restaurants)
*As of June 2018, Alain Ducasse is no longer running Le Jules Verne.