Red Wine-Poached Rhubarb Recipe
A couple of years ago, I was invited to do a demonstration at the Greenmarket in New York City. I jumped on the chance since I love any and all farmers' markets, but as the date closed in, I got a message informing me that they didn't have a kitchen. But they did have a single-burner hot plate. Could I make a dessert on that with something from the market? Challenge accepted!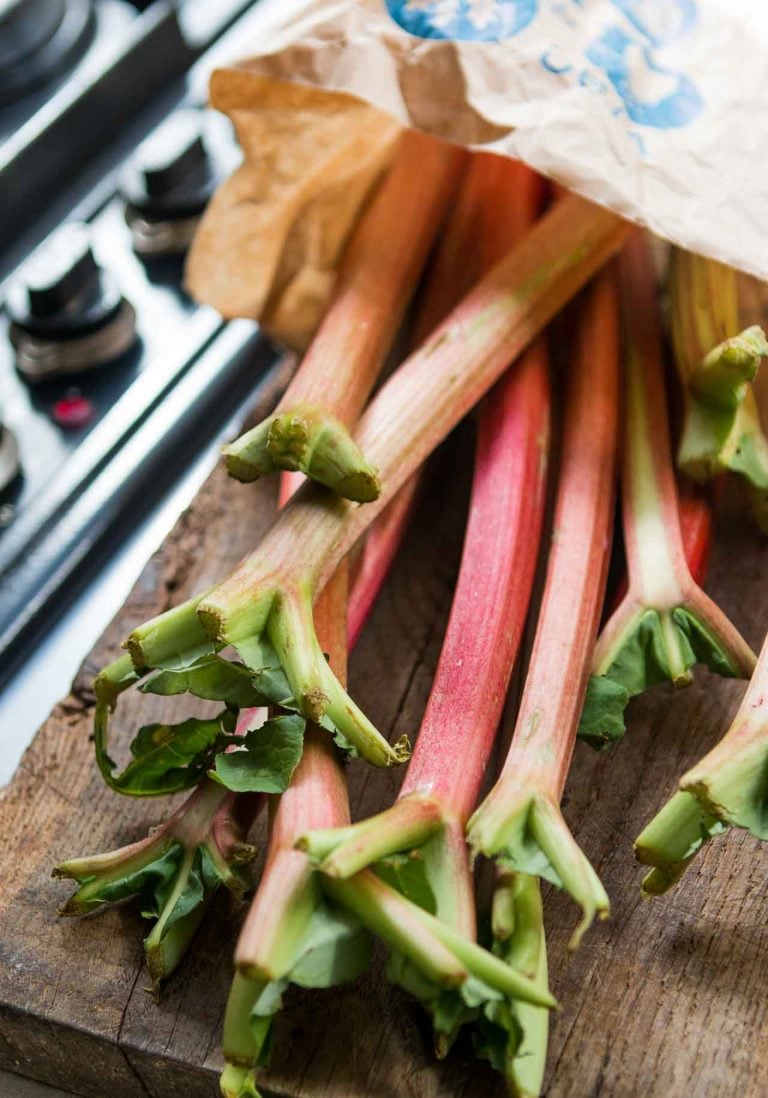 Being early spring, aside from counting on a stove, I was also counting on their being berries, as we were having in France. But they also informed me that there may only be a couple of baskets of those—if I was lucky enough to nab one. Knowing how people at markets in the U.S. tend to hover unnaturally towards free samples, which is quite possibly they don't offer samples at markets in Paris. However, there was rhubarb. Could I make something with that?
Fortunately I remembered a recipe from my friend Susan Loomis for Red Wine-Poached Rhubarb, which is easily made in a saucepan on the stovetop—or hot plate, which I adapted for circumstances in New York. I'm not going to spend my time right now explaining how if you don't like rhubarb, you should try this recipe. Because to me, there's nothing more irksome than someone trying to convince me to try something that I know that I don't like. But if you're part of the "in crowd" of cool, sophisticated, highly-intelligent people who know and appreciate rhubarb, this recipe is a winner : )
Aside from it's ease of preparation, this recipe has just a few ingredients and can be prepared with just five or six stalks of rhubarb, along with some leftover red wine. (Rosé would probably work, although for some reason, I never seem to have any of that leftover.) It also has the added advantage of being a dessert that benefits from being prepared in advance and letting rhubarb steep in the wine reduction for a few leisurely hours. That gives time for the juices to thicken nicely, or you can let it sit overnight.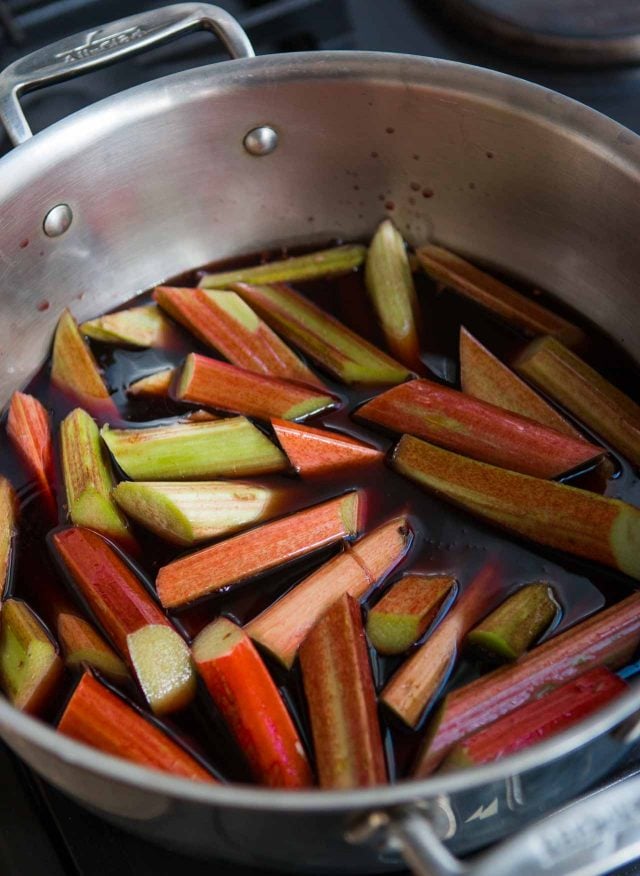 The next day, you can enjoy some for breakfast with yogurt, or later in the day as the French might, with yogurt or fromage blanc for dessert. It's also nice spooned over
vanilla ice cream
, slightly warm or at room temperature. It's grand alongside
cheesecake
, too.
Red Wine-Poached Rhubarb
Adapted from a recipe by
Susan Herrmann Loomis
. Breaking with those who know more than I do, I use a downscale red wine when poaching fruit. The bottle I chose cost whopping 2.30€, and was on promotion, so I got an additional 20% off. But feel free to use any fruity red that suits your fancy.
2

cups (500ml)

red wine

1/2

cup (100g)

sugar

1

tablespoon

honey

1

small cinnamon stick

2

whole cloves

2-4

allspice berries

1

pound (450g)

rhubarb

,

trimmed and rinsed
In a wide, non-reactive saucepan, heat the wine, sugar, honey, and spices.

Cut the rhubarb into 3- to 4-inch (8-10cm) lengths.

Once the wine is almost boiling, poach the rhubarb in two batches, standing vigilant with a slotted spoon. When just tender, remove the rhubarb and put it in a bowl or ceramic dish and poach the remaining rhubarb. Depending on the rhubarb, each batch may take as little as one minute, or up several minutes more, to soften.

Once all the rhubarb has been poached, reduce the poaching liquid over moderate heat until you have about 3/4 cup (185ml). Pour over the rhubarb pieces and let stand for a few minutes before serving.
Notes
Serve warm with a scoop of cool ice cream or frozen yogurt.
Storage: The compote can be made up to a day in advance. Keep in the bowl, covered at room temperature, until ready to serve. Rewarm before serving or serve at room temperature.
Variation: Once cool, add a basket of raspberries or blackberries, or sliced strawberries. Or cook the rhubarb with fresh cherries, pitted and cut in half.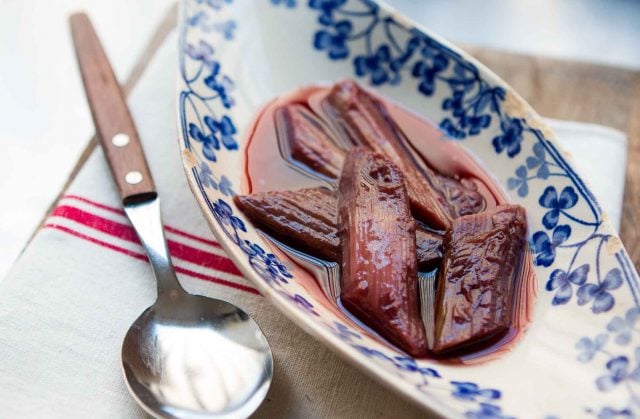 Rhubarb-Related Links and Recipes:
Crème Bulgare, Jam, and Candied Rhubarb
Polenta Cake with Rhubarb Ribbons
Rhubarb-Raspberry Yogurt Ice Pops