One thing that surprises people is how much French people, even with a tempting barrage of éclairs, macarons, and pain au chocolat on every street, love gâteau au fromage, or as it's commonly called: le cheesecake. (Not to be confused with le cheese, which is a cheeseburger.) But it's a no brainer since French people like cheese and they like cake. So why not combine the two into one dessert?
The French version is usually lighter, relying more on fromage blanc, a soft, fresh cheese not easily available in the U.S., in contrast to our cream cheese-laden version. (I have a version of that kind of French cheesecake, along with a swap-out for the fromage blanc, in The Sweet Life in Paris.) In fact, I have a few cheesecake recipes out there, including in my last book. But was tempted by this one from Ruth Reichl, while reading her terrific book, My Kitchen Year: 136 Recipes That Saved My Life.
I'd met Ruth Reichl back in the 1990's, in the Napa Valley while cooking a large birthday dinner for Marion Cunningham, who had so many friends that the party had to be held in a big winery. Marion loved American cooking and ingredients, so I made a wild hickory nut ice cream, and spent the day in the kitchen with the other cooks, pitching in, as did the guests. One woman with long, wavy black hair spent an hour or so with us, shucking peas and chopping nuts (and drinking wine), whatever needed to be done. Like the other people who wandered in the kitchen, she didn't ask: she just picked up a knife and started chopping.
Being cooks, of course, we did a lot of chatting as we went about our work, some of the talk probably veering into the gossip category. I had no idea who was standing next to me as our kitchen conversations went off in many different directions, and different people were discussed, while we laughed and worked. A while later, someone came in and said, "Hi Ruth!" to the woman next to me. It was then I realized it was Ruth Reichl, and was lucky I hadn't said anything incriminating as I suffer from foot-in-mouth syndrome. (And boy, do I have a few stories regarding that, which didn't end as well…)
Ruth herself is a pretty straight talker and had a tough year after Gourmet abruptly closed, recounting the aftermath in the beginning of the book. Right after she got the news, she went on a book tour that she had committed to, having to talk to people about what happened at the magazine while coming to grips with losing her job and her staff, all of which happened in the blink of an eye.
I enjoyed baking from her book not just because it's a good read and chronicles how she rebounded from the events by cooking and baking her way back, but the recipes are written in a clever, more conversational style, rather in the standard format, making you feel like you are part of her story as you mix and stir. If you like personality in your recipes, this is the book for you. That philosophy also continues through the photos, which weren't heavily styled but were taken at her home, and in her kitchen, made by Ruth herself. So the look and feel of the book has the personal stamp of someone who isn't a professional chef, but someone who gets joy and pleasure out of cooking and baking.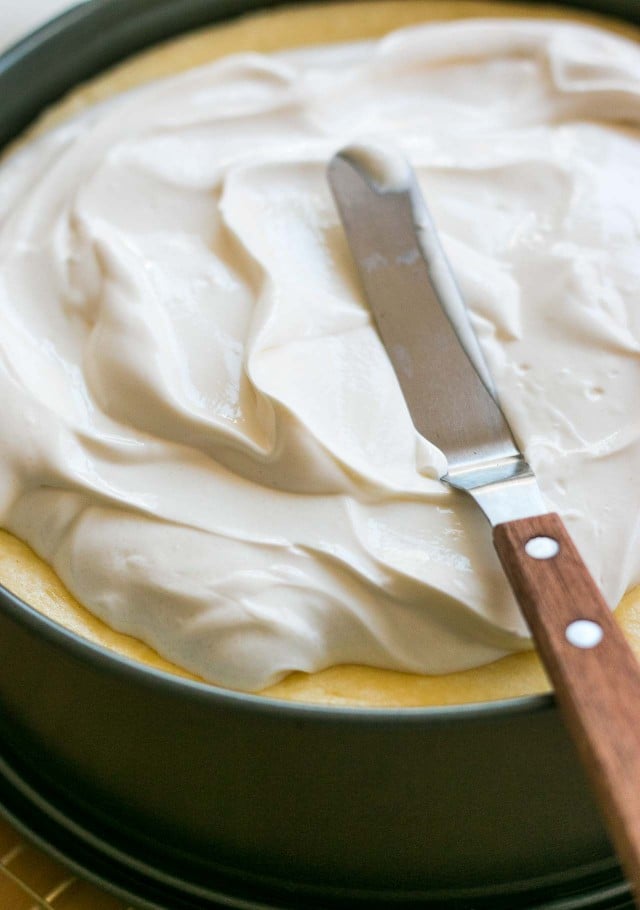 Just about every recipe in the book reads like something you want to make. Yeasted waffles, Thai-style noodles, Spaghetti Carbonara, Matzo Brei, and Sour Cherry Tart – don't those sound good?  She makes a convincing argument for Bacon and Marmalade Sandwich, a combination that I never considered, but now do. And Lemon Panna Cotta, a custard that miraculously comes together without eggs or gelatin, that I just have to try.
But my favorite part of the book is her description of how to grate the frozen butter in Nancy Silverton's "Buttery Fantastic Flaky Biscuits" that calls for an astonishing half-stick of butter (50g) in every biscuit. She says about the grating process, "This will take you longer than you think, and you will have to stop from time to time to let your fingers thaw." Now that's the kind of information I like before plunging into a recipe, and makes me realize that the biscuits must be worth the frozen fingers and time involved, if that's how she's leading off the recipe.
Being at the helm of Gourmet for a decade, she noted that the most requested recipe from readers were for cheesecakes. Like bagels, cheesecake didn't originate in New York, but came from Greece. But like the French, Americans – and New Yorkers – have adapted it to our tastes, using our beloved cream cheese, which can now be bought easily in French supermarkets under the name pâte à tartiner or fromage à tartiner – "spreading paste" or "spreading cheese."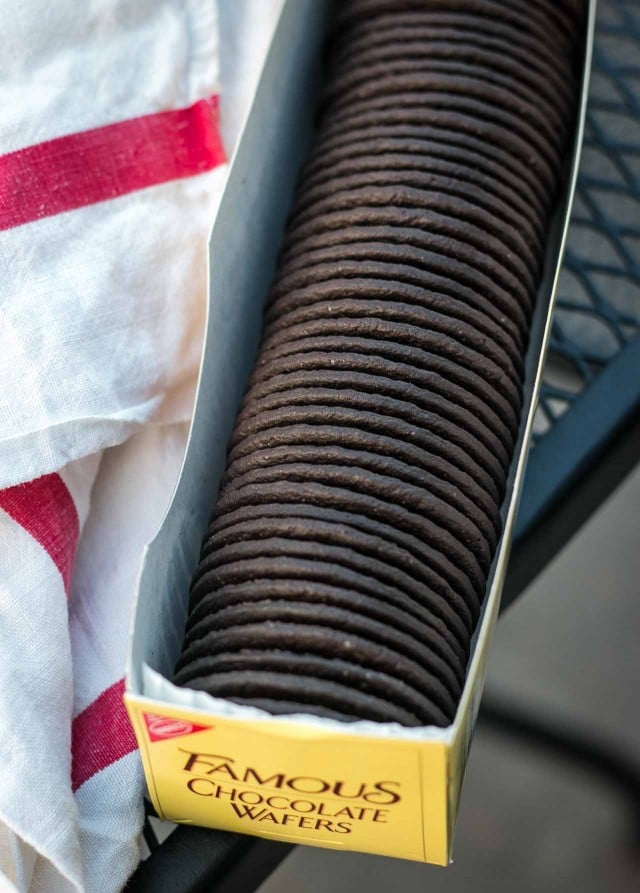 Ruth uses Famous Chocolate Wafers, which I was able to get while I was in the states. I'd never tasted them, and was surprised that they were actually pretty good. You can swap out gingersnaps, speculoos cookies, graham crackers, or make your own chocolate wafers. (There's a recipe in my book, Ready for Dessert.) A little shortcut is that if you're using the Famous Chocolate Wafers, you can crumble and pulse 27 of the cookies in the food processor, then add the melted butter, sugar and salt, and pulse them together for the crust.
Speaking of cream cheese, I did a taste test for a variety of cheesecakes a while back to see how regular cream cheese fared versus the "natural" versions (this was before we used the word "artisanal" came into play) that can sometimes found in cheese shops in America. The conclusion was that the flavor of the natural cream cheese was better, but the texture was creamier and smoother when store-bought cream cheese was used. So it's up to you. Either way, with the crown of sour cream topping, I think you'll find that it's hard to keep your fork out of this cheesecake, as I couldn't resist doing.
Cheesecake
Adapted from
My Kitchen Year: 136 Recipes That Saved My Life
by
Ruth Reichl
The base of this cheesecake is a New York-style cheesecake, which means it's dense and rich, but has the addition of a sour cream topping. Other types of cheesecakes include those made with ricotta cheese, which often called Italian-style cheesecake. I've linked to a recipe for one like that below. But for most of us, this is what we think of when the word "cheesecake" comes up. You'll notice that this cheesecake bakes at a low temperature and isn't cooked in a water bath, as other cheesecakes sometimes are. My springform pan didn't leak but if you're concerned, you can bake the cheesecake by setting the cake pan on a foil-line baking sheet in case you think your pan might leak. Make sure the cream cheese and eggs are at room temperature, which will help them combine easily. If you live outside the U.S., you can check my post,
American Baking Ingredients
in Paris for
substitutions
for certain ingredients, which may be helpful even if you live outside of France. As mentioned in the post, you can swap out other cookies for the chocolate wafers, such as store-bought or
homemade gingersnaps
.
Cookie Crust
6

ounces (170g)

chocolate wafer cookies

8

tablespoons (4 ounces, 115g)

melted unsalted butter

1/4

cup (50g)

sugar

pinch

of salt
Cheesecake Filling
1 1/2

pounds (680g)

cream cheese

,

at room temperature

1

cup (200g)

sugar

Finely grated zest of one lemon

4

large eggs

,

at room temperature

1 1/2

teaspoons

vanilla extract
Sour Cream Topping
2

cups (1 pint, 450g)

sour cream

1

tablespoon

sugar

1

teaspoon

vanilla extract
Lightly butter the bottom and partially up the sides of a 9-inch (23cm) springform pan.

Crumble and crush the chocolate wafers in a food processor or in a sturdy freezer bag with a rolling pin. You should have 1 1/2 cups of crumbs. Mix in the melted butter, 1/4 cup of sugar and pinch of salt. Press the crumb mixture into the bottom and partially up the sides of the springform pan with your hands as evenly as possible. I start with my hands then use a straight-sided glass to press the corners in so they're not too thick, and help the edges climb up the sides of the pan. It may not look perfect, but don't worry. Put the pan in the freezer for 15 minutes.

Preheat the oven to 350ºF (180ºC).

Bake the crust for 10 minutes. Remove the crust from the oven and place on a wire rack. Reduce the oven heat to 300ºF (150ºC).

In the bowl of a stand mixer with the paddle attachment, or by hand in a bowl, beat the cream cheese, 1 cup sugar, and lemon zest for about thirty seconds, until combined. With the mixer on medium-high speed, add the eggs one at a time stopping the mixer and scraping the beater and sides of the bowl to incorporate the eggs, mixing until smooth and free of lumps. Add the vanilla. If necessary, grab a sturdy whisk and give the batter a few beats to smooth any stubborn lumps out by hand.

Scrape the cheesecake filling into the baked crust and bake until a few inches from the edges are cooked but about 4-inches (10cm) in the center is still jiggly, about 50 minutes. Remove from the oven and let cool for 10 to 15 minutes.

While the cheesecake is cooling, mix together the sour cream, 1 tablespoon of sugar and vanilla until smooth. Working with a little bit of delicacy, spoon the sour cream in a few mounds over the top of the cheesecake, being careful because that the filling underneath is still not fully set and you don't want to disturb it. Use a spatula to very gently spread the sour cream mixture over the top of the cheesecake, making every attempt not to disturb the cheesecake underneath. Bake for 10 to 12 minutes until the sour cream glaze is just set.

Remove from the oven and let cool for 10 minutes. After 10 minutes, run a knife around the outside of the cake to loosen it from the pan. Cool completely in the pan, then chill for at least 8 hours, or overnight before serving.
Notes
Serving and storage: I like cheesecake plain, served cold or close to room temperature but still cool. Cheesecake can be kept 3 to 4 days in the refrigerator, or frozen for up to two months.
Related Recipes
Italian Cheesecake (Amateur Gourmet)