Chicken in Red Wine Vinegar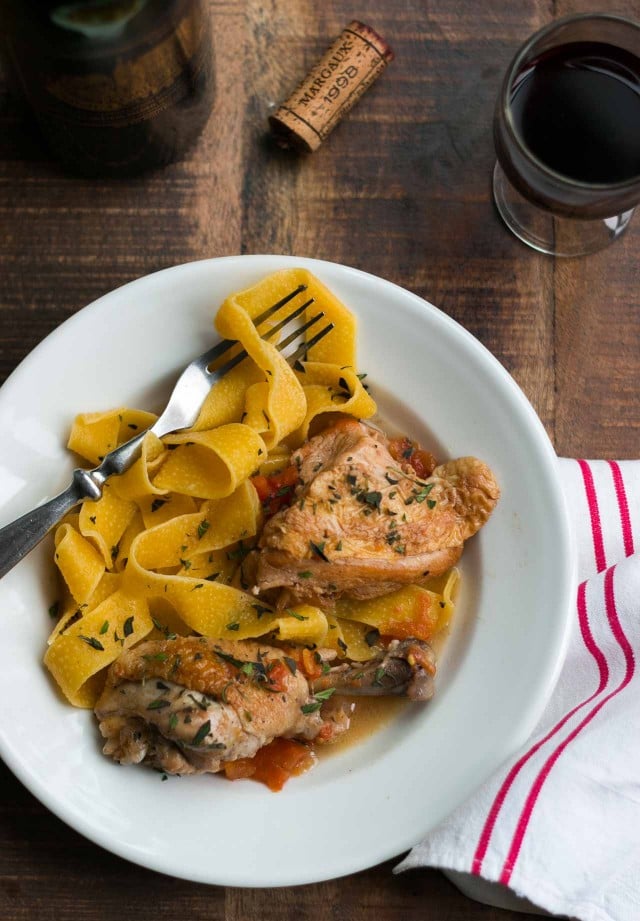 When I moved to France, Romain dubbed me "chicken man," because I was always ordering, or buying, chicken. It's not that the French don't eat or like chicken, it's just that it's considering rather common fare, and not really something that is given a lot of attention. Americans love chicken, not just in our beloved fried chicken, but in lots of other preparations. I'm not sure why we took to it with so much fervor, but I'm guilty of liking it quite a bit. When I want something meaty, but not too heavy or "beefy," chicken certainly fits that bill.
There are a few notable restaurants in Paris that serve roast chicken: at L'Ami Louis, the poulet rôti will set you back 95€. And no, I've not had it, for a variety of reasons. (One of which, of course, is the price.) But few Parisians order roast chicken when dining out because the spit-roasted poulet rôti you buy at the markets and at butcher shops is so much better than what you can make at home. And most butchers and volaillers know that if they put that rotating spit outside their shop, it's hard for passers-by to resist going home without one. Although my butcher also has lamb's heads on the spit and they keep trying to convince me to try one of those instead. For a variety of reasons, one being that I don't feel comfortable picking around teeth and jawbones to have my dinner. And I'm not sure my other-half would be so happy if he opened the bag, expecting a roast chicken, and instead was greeted by a lamb face staring back at him.
Even though I said that French people don't eat chicken when they go out with the same zeal that Americans do, a classic French dish that I first had many, many years ago at a bouchon in Lyon is chicken cooked in red vinegar. It's a wonderful dish and a little break if you've been making the same chicken (or lamb head) dishes, over and over and over again.
One thing that doesn't get a lot of press is vinegar. People talk endlessly about olive oil, but vinegar – its less-glamorous cousin – gets short shift. Vinegar is pretty inexpensive and, like olive oil, using a good one is one of those very easy ways to improve the flavor of your foods. Unlike olive oil, however, it won't break the bank to buy decent bottle of vinegar.
When I was 9 or so, I had dinner at a friend's house and his mother made a salad that was so good, I had to ask what was in it. She pulled out a bottle of Dessaux Fils red wine vinegar, which seems to no longer be made in France anymore, and I got my mother to upgrade from the supermarket-brand vinegar she was using. It even made the Good Seasons dressing that launched my career as a pastry-maker (I got to measure ingredients!), taste better.
I normally eschew tomatoes in the winter, and am not a fan of hot-house tomatoes. but I didn't want to veer too much from this recipe, adapted from Bistro Cooking, a much-loved collection of recipes for classic French fare by Patricia Wells. Roma tomatoes are usually better, but I couldn't locate any. But use those if you can. French chefs like to peel tomatoes, and I was gifted a nifty Swiss tomato peeler by Nick Malgieri, which I finally put to good use. Which worked better, uh…once I took the plastic edge guard off. D'oh!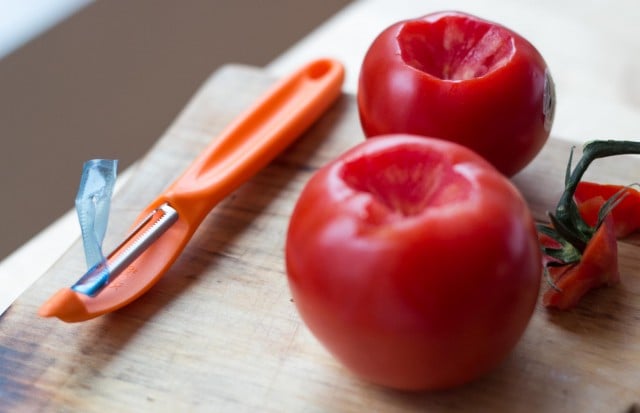 Good French cooking doesn't involve a lengthy list of ingredients, or even a Swiss vegetable peeler. But relies on coaxing out flavors from the few that you use. It's also frugal: There's nothing in this dish that's going to break the bank. It's just a few simple ingredients, simmered together on the stovetop, resulting in a soul-satisfying dish that's hard not to like. Part of coaxing out the most flavor from meats and poultry involves browning the meat in butter or oil, which deepens the flavor of the sauce and flavors the meat.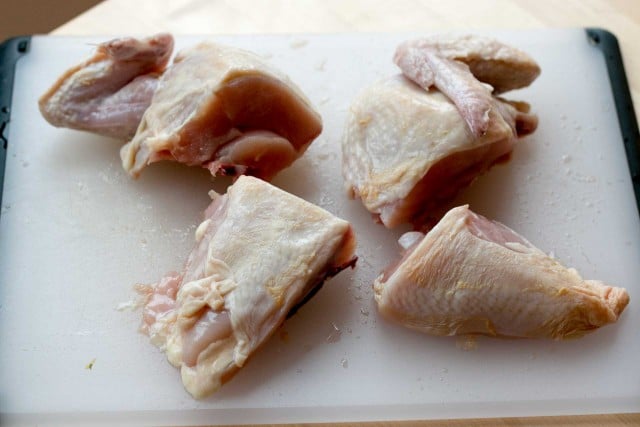 French cooks (and Asian ones, come to think of it), often cut on-bone chicken breasts crosswise, creating two smaller pieces, which allows any marinade or other cooking flavors, to permeate the meat. This is just the kind of dish that you want in the winter. You can pair it with wide noodles, which soak up the sauce, or puree, or mashed potatoes, to the French. While chicken doesn't always get the same love that we give it (nor do lamb têtes), they do love potatoes. So much so that when you see the word puree, it's a given that it's going to be potatoes. The side dish is up to you, but the red wine? That's non-negotiable.
| | |
| --- | --- |
| Chicken in Red Wine Vinegar Sauce | Print Recipe |
Adapted from Bistro Cooking by Patricia Wells If you want to use other pieces of chicken, feel free to. (This recipe can be made with 4 to 5 pounds, 2 to 2.25kg, of any bone-in chicken parts.) The chicken should get well-browned. The original recipe said to use a skillet but if you have a Dutch oven, I'd use that. If so, if you have one of those splatter screens, this is the time to use it. Should you not have a tomato peeler, cut an x in the bottom of the two tomatoes, plop them in a small pot of boiling water for about 30 seconds, then rinse them in a strainer or colander with cold running water. The skins will slip off. Cut them in half around the equator, squeeze out the seeds, and dice them into small pieces. Do-ahead folks will love this recipe as it's just as good the second day. You can let the chicken and sauce cool, then refrigerate. Rewarm the chicken and the sauce in a covered pot.
1
chicken
cut into 8 pieces; two legs, two thighs and two breasts (with wings attached) split crosswise, at room temperature
Salt and freshly ground black pepper
1
tablespoon, plus 3 tablespoons
unsalted butter,
at room temperature
1
cup (250ml)
chicken stock
1
cup (250ml)
good-quality red wine vinegar
2
medium tomatoes,
peeled, seeded, and diced
Flat-leaf parsley,
or another chopped herb, for garnish
1. Pat the chicken dry and season the pieces with salt and pepper.
2. Heat the olive oil and 1 tablespoon of butter over medium-high heat in a Dutch oven or wide skillet. When the oil is hot, brown the chicken parts in two batches, starting them skin side down, turning them only when they are well-browned on one side. Once the pieces from the first batch are well-browned on both sides, remove the pieces and put in a bowl or plate and cook the second batch. When the second batch of chicken parts are well-browned, put them with the other browned chicken pieces and pour any excess fat out of the pan and dispose of it properly. (Or use it to make bird suet.)
3. Add about one-quarter of the stock to the pan and scrape the bottom to lift and incorporate all the browned bits. Add the chicken to the pan – as well as any liquid in the bottom of the bowl or plate they were resting in – and the vinegar. (The original recipes warns of kitchen-cleaning vinegar fumes, so be prepared, although I didn't experience that.) Cook over medium heat, turning the chicken pieces a few times, until the vinegar is reduced by about half, about ten minutes.
4. Add the tomatoes and the rest of the chicken stock. Reduce the heat to medium-low, cover, and simmer for about 20 minutes, turning the chicken pieces over midway during cooking, until the chicken is cooked through. To test, pull a piece of one of the thickest pieces of chicken meat away from the bone to make sure it's fully cooked.
5. Add the remaining 3 tablespoons of butter, cut in pieces, to the warm pan liquid, swirling it around until the butter is melted. Taste, and add more salt and pepper if desired. Serve with wide noodles, sauteed greens like Swiss chard or kale, or mashed potatoes with some of the sauce. Sprinkle with freshly chopped parsley, or another favorite herb.
Related Recipes
Roast Chicken with Caramelized Shallots