Olympic Seoul Chicken Recipe
This award-winning recipe goes quite a ways back. It first landed on my radar via food-writer Arthur Schwartz, who led me to this recipe for this Asian-inspired chicken dish. It sounded so good and easy to make in a skillet, on the stovetop, and included everything I like – moist chicken thighs, a burst of chili powder, a bit of sweet-saltiness, and lots (and lots) of garlic. Count me in.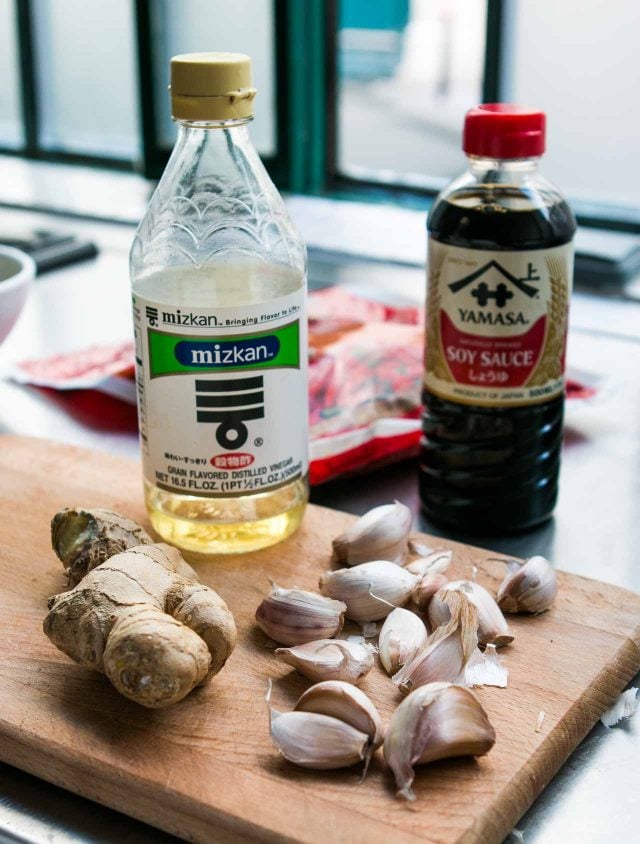 When I first posted the recipe, a reader jumped up and noted that her mother was the inventor of it as part of a cooking contest in 1988, and she took the top prize in the contest. It may seem more Japanese to some, but with the overload of garlic, I think calling it Korean (or Korean-inspired) wouldn't be far off. You'll note the recipe calls for a ton of garlic, a whopping ten cloves, which I chopped up in my mini-chopper. The original recipe called for dried ground ginger (1/4 teaspoon), because perhaps fresh ginger was harder to find in those days, or maybe because it was easier.
The recipe uses skinless thighs, which helps the marinade absorb into the meat. I know people have made it successfully with boneless, skinless thighs, so that's another possibility. Just be sure to reduce the cooking time as the boneless thighs will cook faster.
The skinned chicken thighs do tend to stick to the pan, which gives them a nice burnished quality, but keep an eye on them. And when you add the marinade, be sure to scrape up any tasty browned bits stuck to the bottom of the pan.
Olympic Seoul Chicken
I updated this prize-winning recipe with more zip from fresh ginger, and used Korean red pepper (gochugaru). You can use red pepper flakes or another red chili powder. (If you use cayenne, you might want to dial it down since that can be quite hot.) The original recipe uses white vinegar but I swapped that out with rice vinegar. If you don't have a skillet large enough to saute eight chicken thighs in on batch, or use a Dutch oven or large casserole.
1/4

cup (60ml)

white or rice vinegar

,

unseasoned

3

tablespoons (45ml)

soy sauce

2

tablespoons (30ml)

honey

1

inch (3cm)

piece fresh ginger

,

peeled and minced

8

chicken thighs

,

skinned

10

cloves

garlic

,

peeled and minced or grated

1 1/2

teaspoon

teaspoons child powder

,

or 1 teaspoon red pepper flakes

optional: a handful of chopped green onions

,

including the dark green part, for garnish
Mix together the vinegar, soy sauce, honey, and minced ginger in a small bowl. Set aside.

Heat enough oil in a large skillet until it just covers the bottom, about 2 tablespoons. When it's hot and shimmering, saute the chicken thighs until well-browned on all sides, about 10 minutes.

Add the garlic and chili powder and cook for 2 more minutes, stirring constantly so the garlic doesn't burn.

Pour in the vinegar mixture, scrape the bottom of the pot to release any stuck on bits of garlic, cover, and simmer for 15 minutes, or until the thighs are cooked through. While the thighs are cooking, turn them a couple of times in the marinade.

Once they're done, remove the cover, add the green onions, if you wish, and cook for another minute or so, until the sauce is slightly thickened.
Notes
Serve with rice, kimchi, cucumber salad, or any other accompaniments.
Related Recipes
Vietnamese Caramelized Pork Ribs
Smashed Asian Cucumber Salad (Woks of Life)