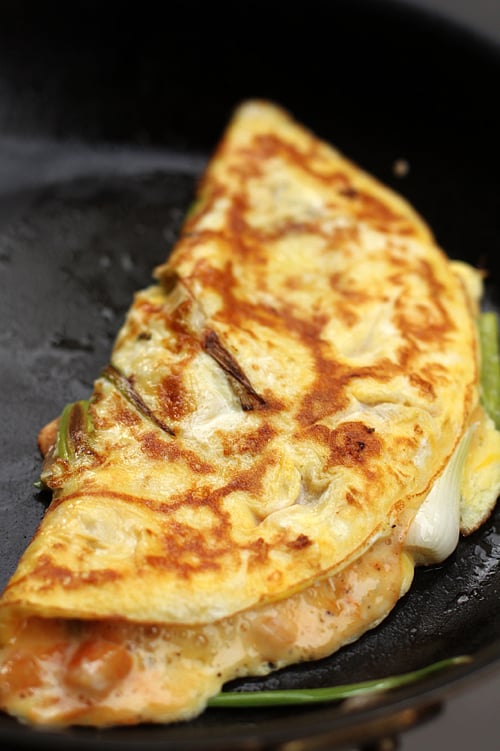 Here's a quick one, which is perfect because it's precisely the idea of Jaden Hair's book, The Steamy Kitchen's Healthy Asian Favorites
, which was just delivered to me (I saw a preview and wrote a quote for the book). It's full of pretty amazing ideas for quick Asian dishes that can be made with easily available ingredients – often ones you already have in your pantry. Honestly, I don't think I've ever gone from opening a package containing a cookbook, to making something from it, to eating it.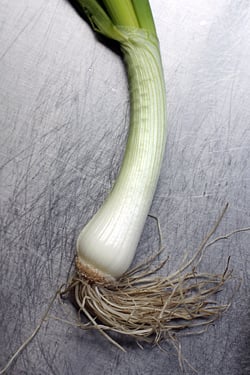 I'd made some kimchi a few weeks ago (there's a quick version in the book that is ready in fifteen minutes) and had some lovely French farm eggs on hand, so decided to whip myself up a kimchi omelet for a mid-morning snack. People in France don't normally eat their lovely eggs for breakfast, nor is kimchi a common pantry item, but like Jaden, I'm have a tendency to forge my own path.
So a few eggs, some chopped kimchi, and a couple of moments in a hot skillet, and voilà! – that was fast, my kimchi omelet was ready.
Kimchi Omelet
Adapted from
The Steamy Kitchen's Healthy Asian Favourites
by Jaden Hair of
Steamy Kitchen
I don't think I've ever made a recipe so fast from a book. And it wasn't just easy, it was a great-tasting dish that came together in a couple of minutes. Jaden's recipe called for zucchini slices, which I didn't have on hand, so I omitted them. But mushrooms, peas, or a fistful of chopped greens (like kale or Swiss chard) would be other possibilities, or even seafood such as shrimp or prawns. She did mention the secret ingredient is mirin, which I did have on hand from making
Teriyaki Chicken
. If you don't have it, you might want to add a tiny dash of rice wine vinegar and a teensy sprinkle of sugar.
2

large eggs

1

teaspoon

mirin

salt

black pepper

1

teaspoon

vegetable oil

1/4

zucchini

,

thinly sliced

1/2

scallion

,

cut into 1 1/2-inch (4cm) batons

a generous 2

tablespoons

chopped kimchi
Mix the eggs in the a bowl with salt, a few turns of black pepper, and the mirin.

Heat the oil in a nonstick skillet. Sauté the zucchini, (or other vegetables) scallions, and kimchi for 2 minutes, stirring occasionally.

Add the eggs and cover the skillet, and let cook for 2 minutes over moderate heat.

Remove the lid and fold the omelet in half and cook further if you prefer your omelets more cooked.

Serve with additional kimchi on the side if you like.
Related Recipes and Links
The Kimchi Cookbook (Amazon)