Teriyaki Chicken
I always feel like a tourist when I got to a Japanese restaurant because if bento boxes are on the menu, I'll scan the other choices, but will invariably choose the teriyaki chicken. I know, I know. It's the "safe" choice – but I can't help it. I love anything grilled, especially with a salty-sweet marinade punched up with fresh ginger, then charred over a blazing-hot grill to seal it into moist, juicy meat.
I may have an overload of adjectives in my food vocabulary (case in point: the last sentence of the previous paragraph) but I don't have a grill, but shortly after I received a copy of Japanese Farm Food, I saw a grill pan on one of those 'flash' shopping sites in France and I snagged one. And after waiting six weeks, it finally arrived. Funny how they don't seem to want to send it to you with the same urgency that they want you buy it.
I met Nancy Singleton Hachisu at Food Blogger Camp in Mexico a few years ago and I guess I said something to her about writing a book. She lives on an organic farm in Japan, which I found fascinating, and now – in my hands – I have her actual book, which she was kind enough to thank me in.
(So I will not besmirch her good name and point out that she gave me a run for the money in how much Mexican food – especially those duck tacos, Nancy… – that one could eat.)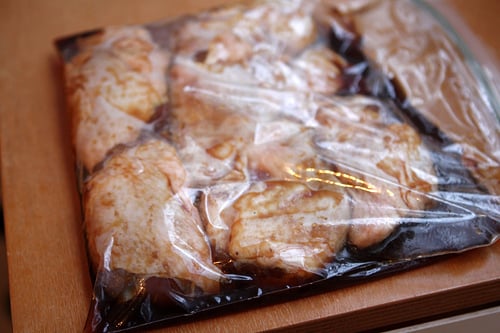 But how could someone not encourage her to write about her fascinating life in the Japanese countryside? She's lived in Japan for decades, her farmer husband grows all sorts of interesting and varied crops, and the finished book was certainly worth waiting for.
In it, Nancy shares her recipes and techniques for simple Japanese salads, preserves, dumplings – and even offers up a unique shoe-free technique for making her own udon noodles. (Who knew that you didn't need shoes for making noodles?) The beauty of the book is that there is just enough explanation of the foods and the recipes, which usually only require just a few ingredients, are authentic and easy enough to recreate in any home kitchen.
I was drawn to quite a few recipes, but was particularly intrigued by her "country-style" Teriyaki Chicken recipe, which only has three ingredients in the marinade. Yes, you read that right: three. I had Japanese soy sauce but needed the other ingredient, mirin. So I headed over to Ace Mart on the rue Saint Anne and wasn't sure which one to get. So chose the one with the fewest ingredients. Fortunately when I got home, I looked it up in her ingredients section and realized I did the right thing, and bought a good one – hon mirin. Whew.
I mixed the simple marinated together and let the chicken thighs marinate overnight. Then grilled them off in my brand-new grill pan, which was worth waiting for. As was her excellent book.
| | |
| --- | --- |
| Teriyaki Chicken | Print Recipe |
Adapted from Japanese Farm Food (Andrews McNeel) by Nancy Singleton Hachisu Nancy refers to this teriyaki recipe as "country-style", which I think means the marinate isn't as sweet or sticky as other styles of teriyaki. This is a straightforward recipe with a simple marinade, which is perhaps how farm folks eat in Japan. This recipe uses boneless chicken thighs. If you can only get bone-in ones, simply turn the chicken thighs skin-side-down, make two slices on both sides of the single bone, the cut it off at the top, where it's attached and pull it out. Some might inquire about boneless, skinless chicken breasts, which I suppose you could use with this marinade, but I would advise against them as they'll dry out when cooked. You'll probably have to cook these in batches, as I did, unless you have an outdoor grill, then use that. If using a grill pan, don't clean it between batches; the juices will collect after each cooking and darken the chicken nicely as you go.
One
2-inch (5cm) piece of
fresh ginger,
peeled and grated
2
pounds (900g)
boneless chicken thighs
(4-8 thighs, depending on size)
1. Mix together the mirin, soy sauce, and ginger in a large zip-top freezer bag. Add the chicken thighs, force the air from the bag and seal it closed. Massage the chicken to distribute the marinade then refrigerate the chicken for 8 to 12 hours, flipping it over a few times to distribute the marinade.
2. To cook the chicken, drain the chicken over a saucepan and set the pan over medium heat reduce the marinade it comes to a full boil, then reduce the heat and cook it longer, until it's slightly boiled down.
3. Heat a grill pan or cast-iron skillet over high heat and add the chicken thighs, skin side down, cooking off only the amount of thighs in the pan so they are not crowded – I did three at a time in mine.
4. Sear the thighs for 2-3 minutes on each side, then cover, and cook for 6 minutes.
5. Remove the cover, wipe the condensation off the underside of the cover with a kitchen towel, flip the thighs over, cover, and cook for another 6 minutes.
6. Uncover the chicken and finish cooking them for about 3 minutes on each side, brushing and basting the chicken with the reserved marinade as you go, until the skin and meat have darkened.
Remove from the pan and cook off the remaining chicken thighs the same way.
Storage: Leftovers are especially good to have in the refrigerator for a few days, and I used mine to make rice bowls with kimchi. Nancy suggests sandwiches, too.
Related Recipes and Links
How to Make Perfect Asian Rice
Broccoli with Tofu and Yuzu (Heather Atwood)
Autumn Kabocha with Miso (Food Gal)
Fried Ginger Chicken (View World Kitchen)
Sesame-Miso Vinaigrette (LA Weekly)
Stir-Fried Japanese Eggplant (Simply Recipes)
Le Creuset Grill Pan (Amazon)