Moroccan Spiced Grilled Chicken Kebabs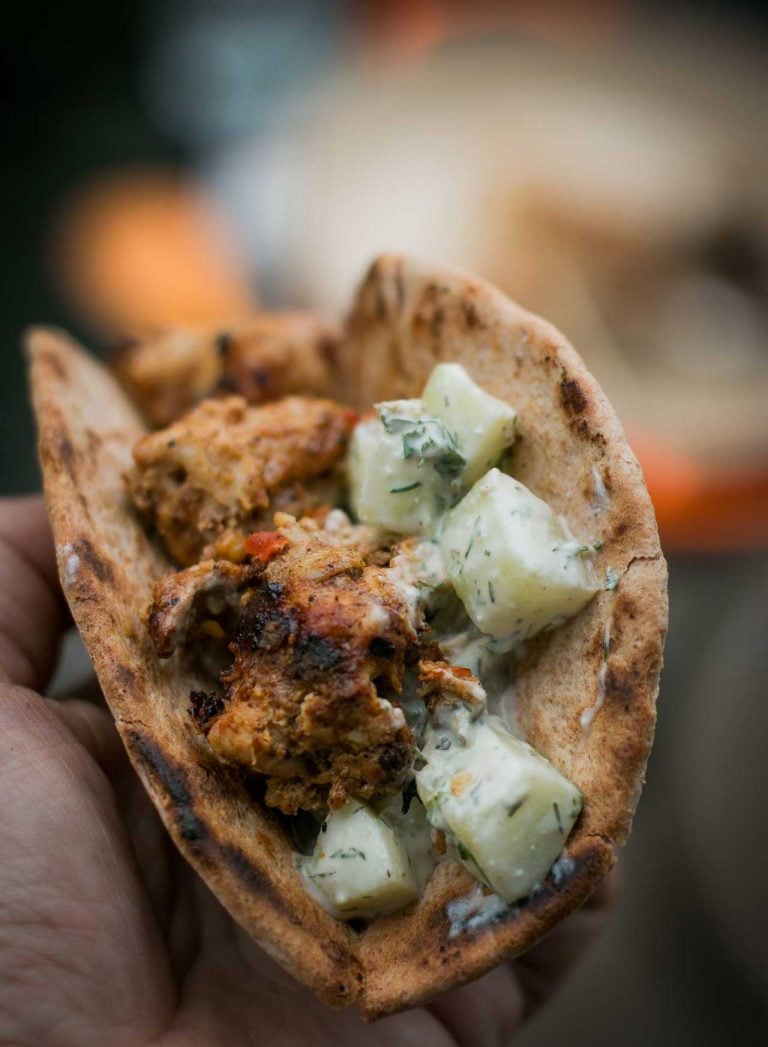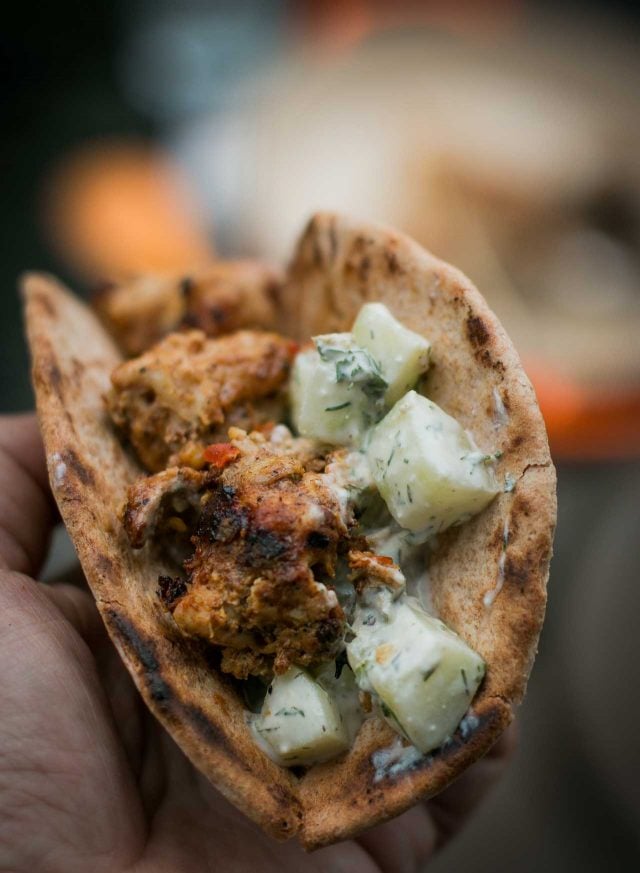 Whew! Last week was a busy one. I was on a deadline for a book, and as always, the last few weeks were a sprint to the finish. My neck still smarts from being glued to my computer, but it was nothing a few post-writing cocktails couldn't fix. However I barely had time to shop or do much cooking while I had hammering out words.
I'm not really a fan of take-out food, nor do I like delivered food, which is curiously becoming as popular in Paris as it is elsewhere. It's just not really my thing. The idea of a meal that is cooked, then packed in a closed foam box for 30+ minutes or so before arriving on my table, isn't so appealing. (Although I did get a pepperoni pizza delivered in New York when I was in the thick of things, which I'll admit was pretty tasty.)
It felt good to send the book in and get back to doing some cooking again. Especially grilling, which is as easy as take-out, and there are no pots and pans to wash, always a plus – whether you're on book deadline or not.
There was a lot of talk recently about the rise of popular websites that promote cooking using pre-made and/or bottled ingredients. Some people don't have time, others are looking for convenience, and some don't care. I certainly have fallen into the first two categories myself, although I haven't found too many convenience products that are as good as what you can make yourself. These skewers are great because they can be prepared in a few minutes using a pre-blended spice mix (which isn't cheating, but more of a "short cut"), and refrigerated until you're ready to eat. Then you just fire up the grill (or grill pan), spear the chicken on the skewers, and in ten minutes, you've got a tasty, hot, fresh meal.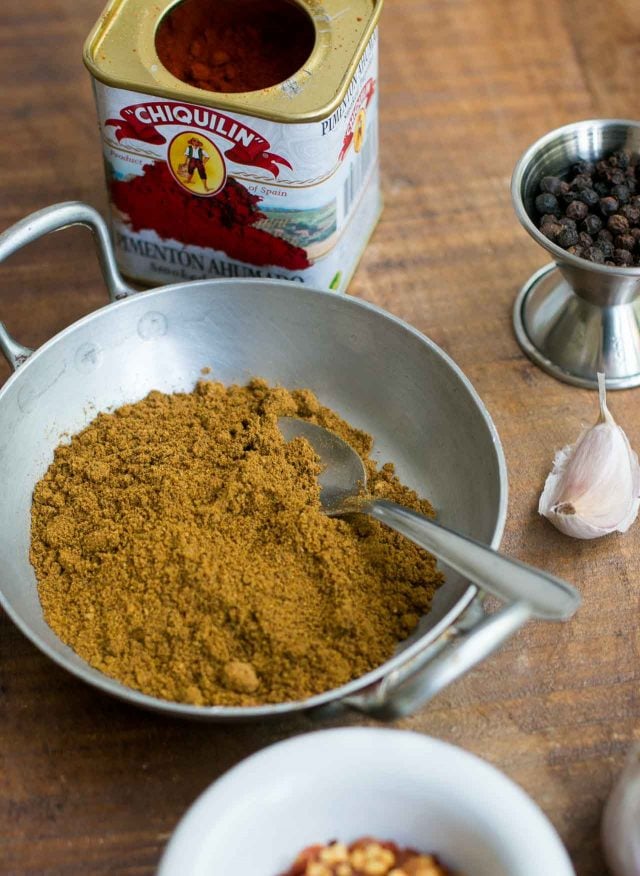 Ras el hanout is a Moroccan spice mix that gets its name from being the "top of the market" – a blend of spices that are the best of the spice shop. It can include coriander, allspice, turmeric, cinnamon, cardamom, and ginger, among other spices. Blends like this are nice to have on hand in your pantry because much of the work is already done for you.
Different cultures have various names for skewered meats, from brochettes to satay. The catch-all word "kebabs" is the term that gets used the most in the United States for skewered meat and vegetables. Because they're so global, you're welcome to use whatever word, or kind of sauce, that you want. In this version, the spices are Moroccan, but the grilled morsels of chicken go well with condiments from other countries and cultures, such as harissa, chermoula, eggplant jam, tzatziki, toum or one of my favorites of all time, chunky feta-cucumber salad. Raw onions, tomatoes and shredded lettuce or cabbage also are possibilities for added crunch.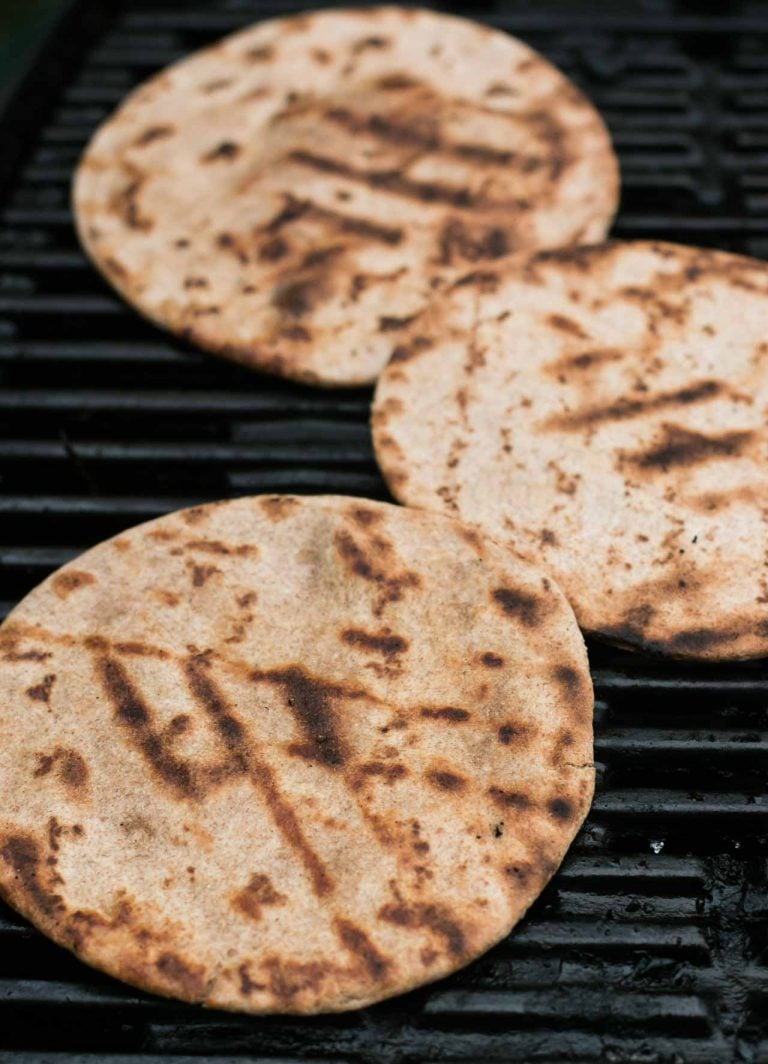 If you want to be ambitious or you want to make it a bigger meal, these skewers are perfect as a centerpiece for a Middle Eastern/North African feast with a selection of salads and dips; I've linked to recipes for some my favorites after the recipe. (After rounding up all those recipe links, can you tell how much I like Middle Eastern food?) Or you can use them to make sandwiches, as I did.
You can do so by brushing them lightly with a bit of olive oil and grilling flatbreads so they're soft and warm, like I did (I was going to make my own, but was catching up on everything else I neglected over the last few weeks), and ate my hot-off-the-grill chicken wrapped up in it.
| | |
| --- | --- |
| Moroccan-Spiced Grilled Chicken Kebabs | Print Recipe |
While these skewers are prime for making sandwiches, they're excellent served with seasoned rice and a side salad or sauce, as I did a few days later. For marinating the chicken, I used Greek whole milk yogurt and would advise using that. If that's unavailable, use whole milk yogurt. Boneless chicken breasts or boneless leg of lamb will work for this recipe in place of the thighs. If using wooden skewers, soaking them in water for 30 minutes prior to threading them helps prevent them from burning, although these cook rather quickly and wasn't an issue for me. Ras el hanout is sold in shops specializing in North African or Arabic ingredients. It's available online at Amazon, Kalustyan's, The Spanish Table, The Spice House, and World Market. You can mix and grind up your own ras el hangout, too.
3/4
cup (180g)
whole milk plain yogurt,
preferably Greek-style
3
tablespoons
fresh lemon juice
5
teaspoons
ras el hanout
2
teaspoons
freshly ground black pepper
1
teaspoon
paprika,
sweet or smoked
1
teaspoon
crushed red pepper flakes
2-
pounds (900g)
boneless, skinless chicken thighs,
trimmed of fat, cut into 1 1/4-inch (4cm) pieces
1. Finely mince the garlic. Grate the onion with the large holes of a grater. (Alternately, you can cut the garlic and onion into smaller pieces and finely chop them together in a mini-chopper.) Put onions and garlic in a large zip-top freezer bag. You may also put them in a medium bowl and marinade the chicken in the bowl.
2. Mix in the yogurt, lemon juice, ras el hanout, salt, black pepper, paprika, red pepper, and chicken. Before you close the bag, push most of the air out of it, then seal the bag. Massage the chicken pieces so that they are all covered. Refrigerate for at least an hour, or overnight.
3. To cook, thread the chicken pieces on 4 to 6 skewers. Light the grill until the heat until it's very hot. Brush the grill with a bit of oil and grill the skewers on one side until they are seared with grill marks, about 4 or 5 minutes, then turn the skewers and grill until the chicken is cooked through. They'll take about 8-9 minutes, total. If you don't have a grill, you can make these in a lightly oiled grill pan on the stovetop.
Related Recipes
Flatbread (Chewswise)
Seeded flatbread (101 Cookbooks)
Garlic Herb Flatbread (Minimalist Baker)
Whole wheat flatbread (Joy the Baker)
Sprouted Wheat Flatbread (King Arthur)