A week or so ago, my French better half was under the weather. It wasn't until that point that I learned that not everyone understands the healing power of chicken soup. So I made a Poule au pot (chicken cooked in the pot) with carrots and pearl-shaped pasta floating around in the broth. I also stopped at the market to pick up a bunch of fresh dill to chop into it.
Fresh herbs are widely used in French cooking and available in Paris markets. Thyme, rosemary, and tarragon are sold in generous bunches, as well as fresh dill, although you only rarely see it on menus unless it's paired with salmon.
It was hard to explain the appeal of dill with chicken soup, but not only did the soup work its magic, the dill in it was also a surprise hit. Since I had a lot of dill leftover, I decided it was Tzatziki time.
There are lots of variations on Tzatziki; some recipes have you grate the cucumbers and others call for plain yogurt, which I find a bit runny, so I use Greek yogurt. If you can only get plain yogurt, use a full-fat variety and drain it in a mesh strainer lined with cheesecloth for a few hours in the refrigerator, as you would make Labneb. It was also time to break out the rosé and the Tzatziki made an appearance as an appetizer that evening.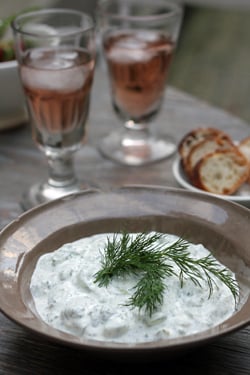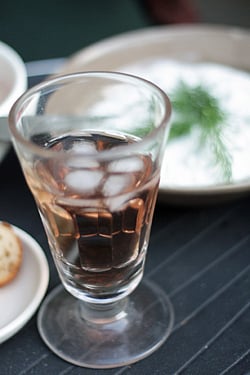 The leftovers made a cool contrast to the seasoned chicken breasts I served as a main course.
So if find yourself with some fresh dill on your hands, and the weather is promising where you live, I can't think of a better way to accompany a glass of wine or whatever you're serving for dinner than this cooling cucumber salad enlivened with fresh herbs, a little garlic, and the tang of yogurt.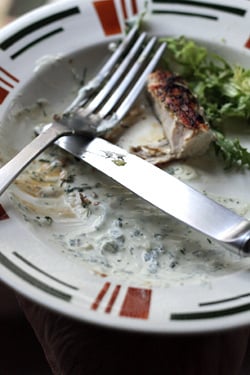 Tzatziki
You can use any herbs that you like. I prefer heavy on the dill, with a good dose of fresh mint in there. Some folks like flat leaf parsley as well. Tzatziki is actually better is made the day before you plan to serve it, which gives the garlic time to infuse the yogurt.
1

large

cucumber

,

peeled and sliced in half lengthwise

1

teaspoon

sea salt

,

plus more to taste

4

cloves

garlic

,

peeled and minced

2

cups (450g)

Greek yogurt

1/3

cup

chopped dill and fresh mint

,

mixed

1

tablespoon

olive oil

1

teaspoon

freshly squeezed lemon juice
Use a spoon and scrape out the seeds from the cucumber, and discard them.

Dice the cucumber into small pieces or shred with the large holes of a box grater. Mix the cucumber pieces in a strainer with the salt, and let them stand for about 30 minutes, shaking and turning them a few times to encourage them to expel their water.

After they've drained, squeeze the cucumber pieces in a dishtowel to get out most of the excess liquid, and transfer them to a large bowl.

Mix the cucumbers with the garlic, yogurt, herbs, olive oil, lemon juice, and taste, adding more salt or lemon juice, if desired.
Notes
Serving and Storage: Tzatziki is even better served the day after it's made, so plan accordingly. It can be made up to three days in advance.
Related Recipes
Fried Beans with Feta, Sorrel, and Sumac