Spice ID?
Before I went to Israel, I was introduced by my friend Paule to some wonderful spices and seasoning mixtures, which a friend of hers who lives in Tel Aviv brought to her. When I popped the lid off the first one, I wasn't prepared for the overwhelming aromas, some familiar – dill and garlic, and others with unidentifiable seeds and spices.
She shared some of them with me, and I liberally sprinkled them over eggplant dips and marinated chicken with the dill mixture. Which, of course, depleted my stock. So when I went to Israel, I was hoping to restock my stashes but didn't come across them in the travels. I had a hard time explaining what they were when folks asked me what I was looking for. And I don't mean to be dramatic, but I think they changed my life.
The first was the dill mixture. Dill isn't widely used in France, although it's available (It's mostly paired with salmon) and I surprised a few friends by its alliance with le poulet. And aside from me, I think I've gotten a few other people hooked on this particular one around here.
Another spice blend was fiery-red, with what looks like coriander seeds, rosemary, and coarse salt, amongst the blend. When I asked around about this one before, some told me it was simply called "Tuscany seasoning", perhaps for lack of a better word or description? This one made an amazing spice rub for some pork dishes that I made.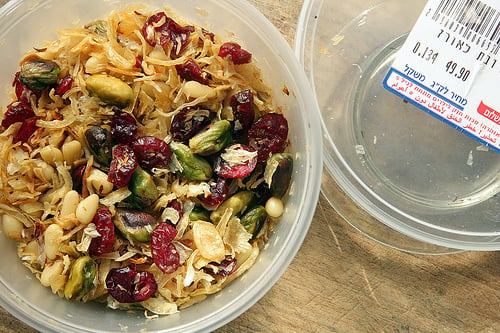 There was also this one – a heady mixture of garlic, pistachios, and dried cranberries. I'm not sure what one does with this one, but I can't resist lifting the lid and taking a whiff whenever I can. My Arabic and Hebrew are a little rusty so I've included the labels for ID purposes. Can anyone give any clues as to what they are? Then I'll know what to ask for next time I go. Because I'm not sure how much longer I can go on without having them.