The other day I was looking for a cookie to make to pair alongside a compote of summer fruits and a batch of white nectarine sorbet I was churning up for dinner. The requirements for the cookie were it had be simple to put together (because I was super-busy that day), I had to have the ingredients on hand (because I was super-busy that day, and didn't have time to go to the store), and it had to have cornmeal (for no particular reason, just because I was craving cornmeal.)
I normally rely on one of my own biscotti recipes, but I decided to pull out a copy of The Field Guide to Cookies by Anita Chu, of the blog Dessert First. It's a nifty little book – a true field guide, if you will – of over a hundred cookies, with tips and a picture of each one. It's been on my shelf for a while, and I've been keeping it handy for just the right moment. And now seemed to be it!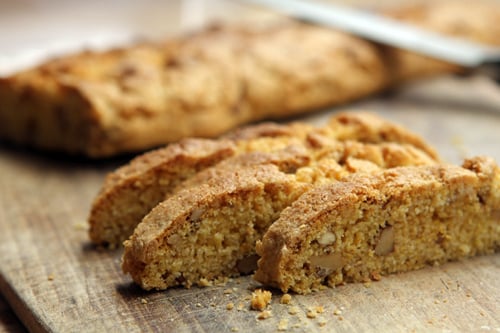 To make a long story short, these were just the right cookies. The addition of butter makes them a bit more tender than biscotti made without it. They were simple to put together and one could vary them by swapping out another kind of nut. A teaspoon of anise seeds or a nice dusting of ground cardamom could take them in another direction, if one was so inclined. And when seasonal fruits are in full-tilt, like sweet-ripe nectarines and peaches in the summer, or Comice pears in the fall – crunchy cookies like these biscotti, served in a bowl alongside, are always a welcome accompaniment.
I also like having biscotti around because they make the perfect little treat to dunk into my ritualistic cup of dark espresso after lunch, so you can make a big batch and keep them for weeks – and dip and dunk whenever you wish.
Cornmeal Biscotti
Adapted from
Field Guide to Cookies
by Anita Chu I tinkered with the recipe just slightly, dialing up the cornmeal and adding a few more nuts. I'm thinking next time, I'll add a half-cup (60g) or so of chopped dried sour cherries to the dough.
1 1/2

cups (210g)

flour

1/2

cup (70g)

cornmeal

,

preferably stone-ground

1

cup (200g)

sugar

1

teaspoon

baking soda

1/4

teaspoon

salt

2

large eggs

zest of one lemon

1

teaspoon

vanilla extract

,

or 1/2 teaspoon almond extract

4

tablespoons (55g)

melted butter

,

salted or unsalted

1

cup (100g)

walnuts

,

toasted and coarsely chopped
Preheat the oven to 350ºF (175ºC.) Line a baking sheet with parchment paper or a silicone baking mat.

In a large bowl, whisk together the flour, cornmeal, sugar, baking soda, and salt.

In a separate bowl, mix together the eggs, lemon zest, and vanilla or almond extract. Make a well in the center of the flour mixture and pour in the beaten eggs. Add the butter, then mix until the dough is wet and crumbly. Add the nuts and stir to get them mixed well into the dough.

Turn the dough out onto a lightly floured counter and knead a few times until smooth. Divide the dough in two, and roll each portion into a 13-inch (33cm) long, then transfer them to the baking sheet. Leave ample space between the two logs as the dough will spread a bit during baking.

Bake the logs for 20 minutes, or until they feel set. Remove them from the oven and let cool for 20 minutes. Reduce the heat of the oven to 250ºF (120ºC.)

Using a sharp bread knife, slice the longs crosswise into individual cookies, each about 1/3-inch (1cm.) Place the biscotti on the baking sheet, cut side down, and bake for 20 minutes. Remove the biscotti from the oven and turn each one over, then continue to cook for 10 to 20 minutes more, until golden brown.

Let cookies cool completely, then store in an airtight container. These biscotti will keep for at least two weeks.
Related Recipes