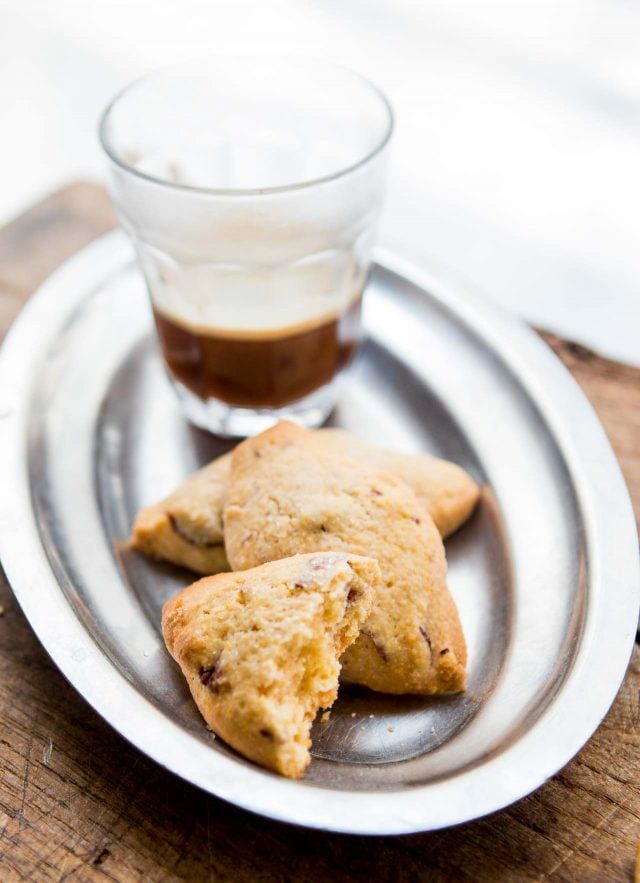 I recently found myself with too much fine polenta on my hands that I'd gathered for some recipe testing. Grocery stores in France carry polenta (usually instant), and corn flour can be found at natural foods stores, but there are not many things made with cornmeal in the canon of French cuisine. So when I want to make a recipe that calls for cornmeal, I buy semoule de maïs fine, available at my local magasin bio or épicerie orientale, a catch-all term for stores that sell foods for Middle Eastern cooking.
It also gives me a chance to go to the Middle Eastern food shop, where I always spent way too long prowling the aisles, and for some reason, I always come home with a lot more things than what I originally went in there for.
She wasn't Middle Eastern, but somehow, finding myself with too much cornmeal on my hands, I was reminded of pastry chef Gina DePalma, who often baked with it. Everyone who knew Gina had stories. She was frank and forthright, and few have captured the spirit of Italian desserts as well as Gina did as a pastry chef and baker, and as a cookbook author. (Carol Field did it well in The Italian Baker, another classic book on Italian baking, as did Nick Malgieri in Great Italian Desserts.)
When you talk to people in the baking world, especially people who worked with her, their eyes widen as if they are still being watched by her. Gina was the proverbial force-to-be-reckoned-with, and I like people like that.
I can't say we were very close friends, but we bonded as bakers tend to do. We'd met in New York and became pen pals just when she decided to pack it all up and move to Rome. A few months later, she learned that she had a particularly aggressive form of cancer and returned to the U.S. We kept in touch over the years via some emotional emails, and eventually she left us. But every once in a while, I pull her book, Dolce Italiano, off the shelf and browse through it. And all that cornmeal gave me another reason to.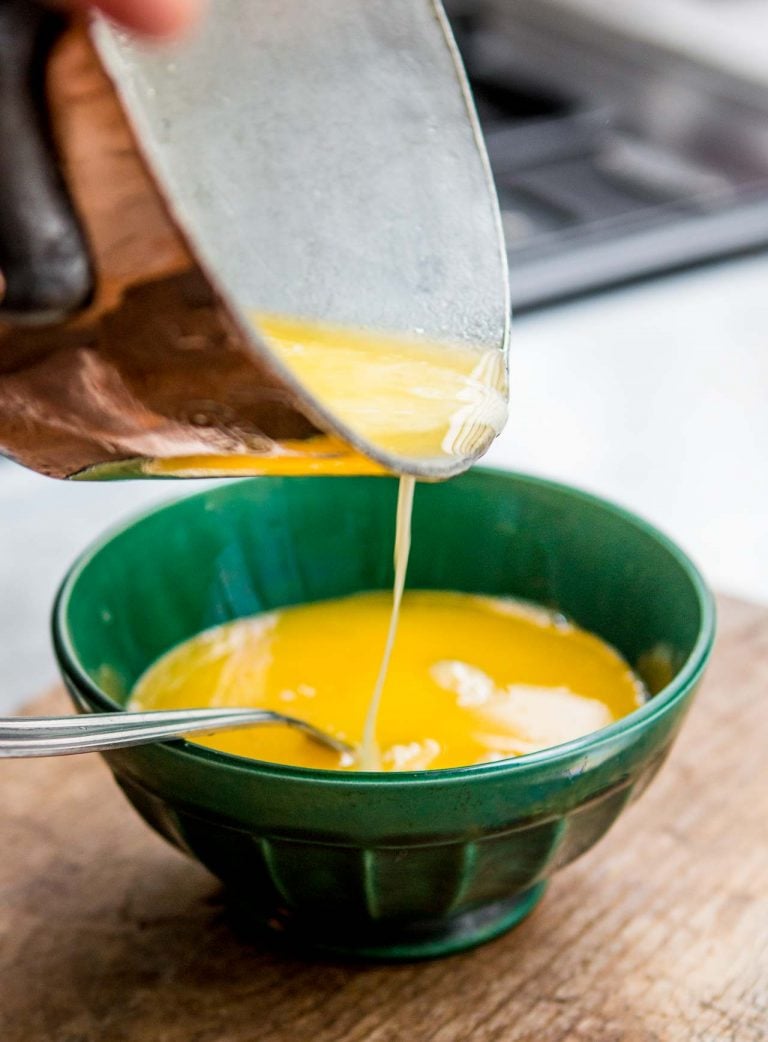 I've made Zaletti (cornmeal cookies) before, because I like them so much. Actually, any time a dessert has cornmeal in it, I seem to want it. I like the flavor and the crunch, but I also like how it leans the dessert in the savory direction.
Like many Italian pastries, these fall into one of two categories; Some are quite sweet, and others are not very sweet at all. I tend to go for the latter and these diamond-shaped polenta cookies fall squarely into the less-sweet category.
The dough is very easy to put together and it's fun to form the diamond-shaped cookies.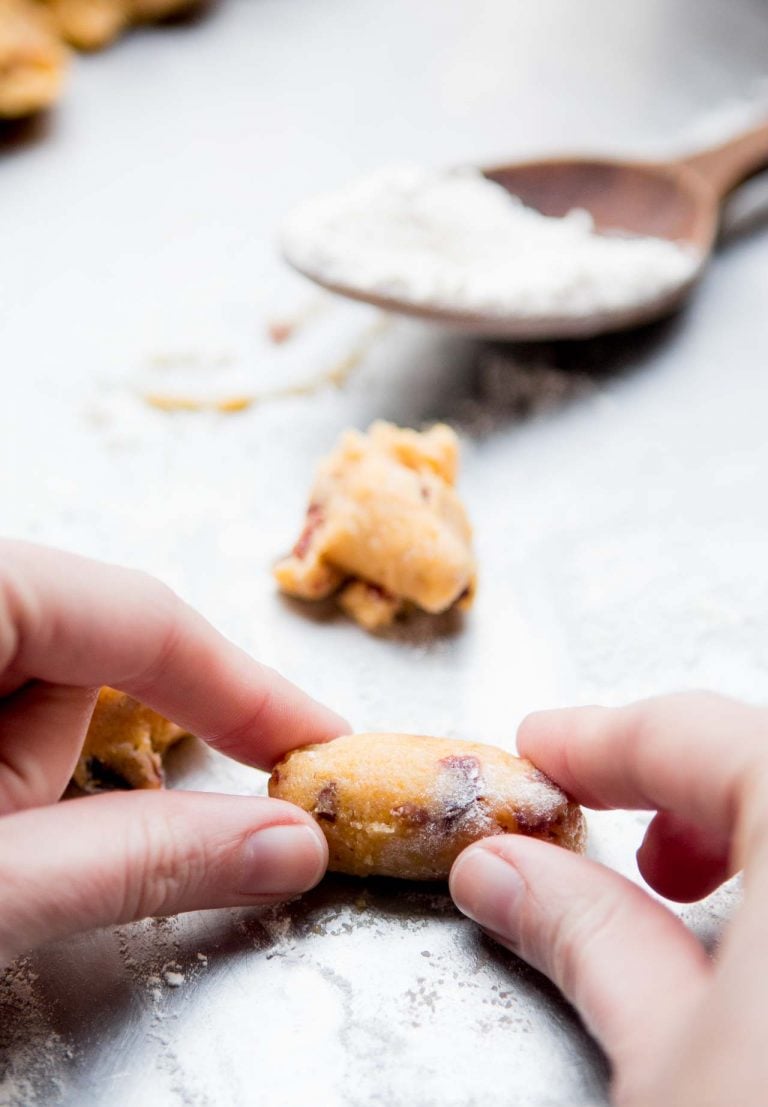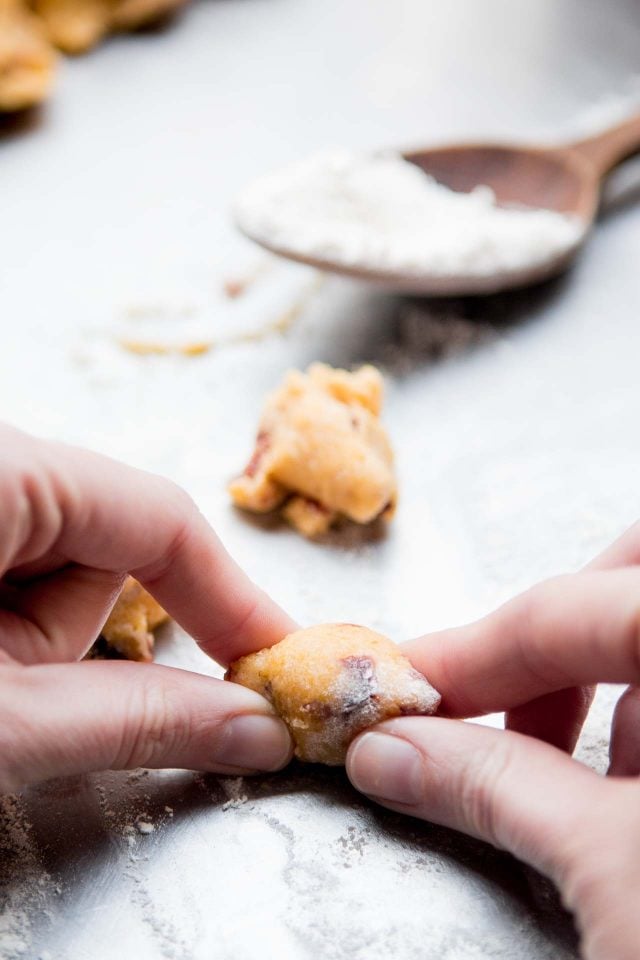 The cookies do tend to spread a bit during baking. But once baked, they're perfect with an afternoon espresso or cup of tea, or a glass of vin santo (sweet Italian wine) or Amaro, the bitter digestive, after dinner. I've been known to break into a few for breakfast as well, which I don't think Gina would have minded.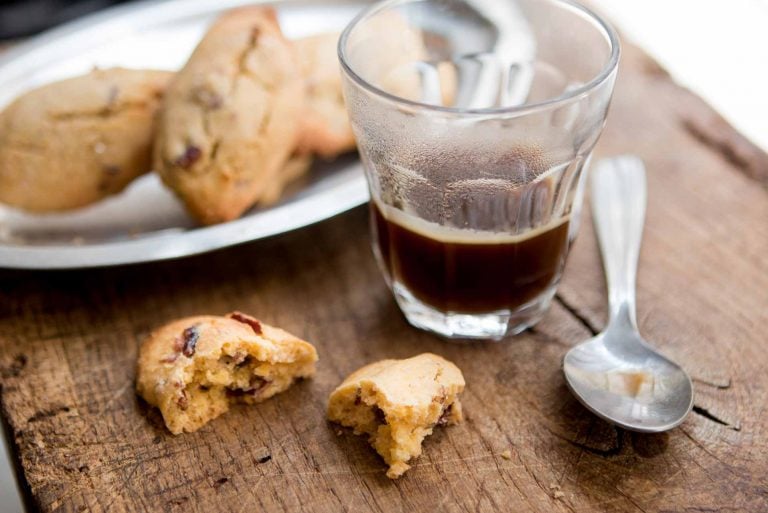 Polenta Cookies
Instead of the eau-de-vie or grappa, you could use amaretto or another liqueur that you have on hand. If you are avoiding alcohol, you could use more water or hot tea for the 3 tablespoons of eau-de-vie. I used fine polenta, but if you have regular polenta on hand, you could use that. Similarly, it'll probably work with stone-ground cornmeal, although it's best to use one that's coarsely ground for maximum crunch. Although these get shaped into diamonds, you could roll them out and cut them into shapes using a cookie cutter.
3

tablespoons

water

3/4

cup (90g)

dried currant or another dried fruit,

,

such as chopped cranberries or cherries

3

tablespoons

eau-de-vie or grappa

1 3/4

cups (250g)

flour

1

cup (160g)

fine (or instant) polenta

3/4

cup (150g)

granulated sugar

,

plus more for finishing the cookies

1

teaspoon

kosher or sea salt

1

teaspoon

baking powder

, preferably aluminum-free

1

large

egg

1

large

egg yolk

8 tablespoons

(4oz, 115g)

unsalted butter

,

melted and cooled

grated zest

of 1 lemon
Heat the water in a small saucepan until it starts to boil. Turn off the heat and add the currants, or other dried fruit, and liqueur. Set aside for 30 minutes to 1 hour. (They can be plumped a day or two in advance.)

In the bowl of a stand mixer, fitted with the paddle attachment, mix the flour, polenta, sugar, salt and baking powder. (You can also make this dough in a large bowl, stirring with a wooden spoon or spatula.)

In a medium bowl, mix together the egg and the egg yolks, then stir in the melted butter and lemon zest. Add the egg mixture to the dry ingredients and stir together for about a minute, until they're well-combined. Add the currants and any liquid, and beat them in at medium speed for about 30 seconds.

Remove the dough from the bowl, wrap it in plastic wrap, flatten it into a disk, and chill until firm, about an hour. (The dough can be made 2-3 days in advance, and baked later.)

To bake the cookies, preheat the oven to 325ºF (160ºC.) Line two baking sheets with parchment paper or silicone baking mats.

On a lightly floured countertop, pinch off tablespoon-sized pieces of dough, roll them into little logs (you may need to flour your hands as the dough is sticky), then press the logs gently to flatten them a bit, and pinch the ends to taper them. Place them on the baking sheet about an inch (3cm) apart, to allow for some spreading. Sprinkle the tops with granulated sugar.

Bake the cookies until golden brown across the top, about 15 minutes, rotating the baking sheets in the oven midway during baking. Let the cookies cool for a few minutes, then transfer them to a cooling rack.
Notes
Storage: The cookies can be kept up to one week in an airtight container at room temperature.