Cornmeal Cookies (Zaletti)
If I had to name one food that I couldn't live without, chocolate would be right up there. Salted butter is on that short list, too. Seeded bagels, California dried apricots, black and white cookies, osetra caviar (if money, and sustainability, were no object), lobster rolls, French fries, and really good fried chicken would also be on that list. Not as fancy as some of those things, but just as good, another thing that I can never seem to get enough of is crunchy cornmeal.
And the good thing is that I live next to Italy, so whenever I pop over and visit my neighbors, I always bring back not only good coffee by the kilo, but as much polenta as I can jam into my suitcase as well.
A few years ago I was shamed into only using stone-ground cornmeal, but the locals seem to have taken to instant polenta, which I was told wasn't bad by a well-respected chef. That's what is widely available here, but I just couldn't bring myself to agree when I tried it for myself.

Arabic food stores sell cornmeal in various grades, but plain or coarse polenta is what I use for these cookies, not fine. The reason I haven't tried them with fine polenta because I just never buy it. So there.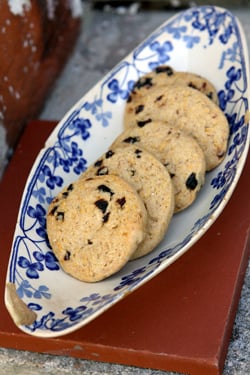 These crunchy, rustic cookies are adapted from the recipe for Zaletti in Carol Field's excellent book, The Italian Baker, which was one of the cookbooks that I shipped from San Francisco that is in that wayward case of my all-time favorite cookbooks that I shipped here back in 2004, which I am almost giving up hope for recovering. Almost.
Thankfully the recipe was in my personal book of treasured recipes, which I hand wrote in restaurant-sized quantities. So I used my impeccable math skills and reworked it back into manageable quantities, which came out as good as I remembered them.
Excuse me for saying this, and no disrespect is meant, but many Italian pastries and cookies don't look so great. In fact, my favorite Italian cookie is called Brutti Ma Buoni, which literally means "Ugly but good."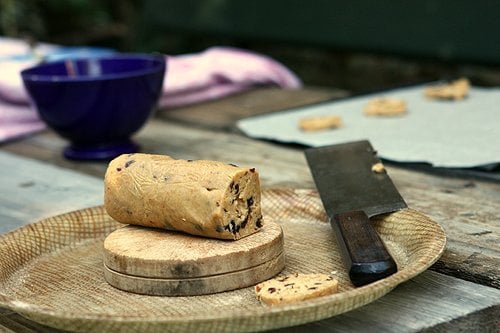 And Italians seem to have a love-hate relationship with sugar in desserts: some are intensely sweet, especially those with whipped cream, while others are almost void of the sweet stuff. These fall into that second category. Look, I don't have anything against sugar (which is a good thing, because if I did, I wouldn't have a job), but it's nice when things are more about the flavor of the ingredients rather than being sugary sweet.
One touch that's probably not that authentic was I tried adding a lemon glaze to the cookies. I didn't mind the taste, but anticipating some odd comments (not that that's stopped anyone before…), I decided they looked best without it. However if you want to give it a go, stir together 1/2 cup (70g) powdered sugar with 5 teaspoons of lemon juice until smooth, then drizzle it over the cookies once cooled.
Cornmeal Cookies
Adapted from
The Italian Baker
by Carol Field You can use any dried fruit you like, or follow the suggestions here. It's a good idea to chop the fruit into small pieces, which makes neatly slicing the cookie dough easier.
3/4

cup (90g)

dried currants

,

or finely chopped sour cherries or raisins

2

tablespoons (20g)

flour

5 1/2

ounces (155g)

unsalted butter

,

at room temperature

1/2

cup

plus 1 1/2 tablespoons (120g) sugar

2

large eggs

,

at room temperature

1/2

teaspoon

vanilla extract

1 1/2

cups (210g)

flour

1

cup (140g)

polenta

,

regular or coarse

2

teaspoons

baking powder

3/4

teaspoon

salt
Toss the dried fruit and the 2 tablespoons (20g) of flour together in a small bowl and set aside.

In the bowl of a stand mixer, or by hand, beat together the butter and sugar until smooth and creamy, about one minute. Add the eggs, one at a time, then the vanilla, beating until incorporated.

In a separate bowl, whisk together the 1 1/2 cups (210g) flour, polenta, baking powder, and salt.

Mix the dry ingredients into the beaten butter mixture until incorporated, than stir in the dried fruit.

Form the dough into a rectangle 4- by 7-inches (10 by 18 cm), wrap in plastic, and chill the dough for about an hour, or until it's firm enough to handle.

Divide the dough in two, lengthwise, and roll each piece of dough on a lightly floured surface into a smooth cylinder 7-inches (18cm) long. Wrap the cylinders and freeze until ready to bake. (If you prefer to bake the cookies right away, pinch of pieces of dough about the size of a small unshelled walnut, and roll into balls. Place them evenly spaced on the prepared baking sheet and press them down gently with your hands to flatten them partially.)

To bake the cookies, preheat the oven to 325ºF. (170 ºC)

Line two baking sheets with parchment paper or silicone baking mats.

Slice the cookies into 1/4-inch (.75cm) slices and place them evenly spaced on the prepared baking sheets. (The dough is easier to slice when frozen, but if it's too firm or crumbles when you cut it, let it sit out on the counter until it reaches a good consistency.)

Bake the cookies for about 12 minutes, rotating the baking sheets midway during baking, until the cookies are very light brown on top. Remove the oven and let cool completely.
Notes
Serve the cookies by themselves, alongside a fruit compote, or with a scoop of your favorite ice cream or sorbet.
Storage: The cookies will keep in an airtight container for up to four days. The dough can be refrigerated for up to one week, or frozen for one or two months.
Related Links and Recipes
Ingredients for American Baking in Paris
Baked Polenta (Giovanna's Trifles)
Italian Christmas Cookies (Divina Cucina)
Breakfast Polenta (101 Cookbooks)
Grades of Polenta (Chieftain Wild Rice)