After my recent lament about the state of bistros in Paris, where I noted that the wine bars in Paris often had the best food, when my friend Rochelle who owns Chefwear was in town this week, I wanted to go somewhere casual, where we'd be assured of good, honest food.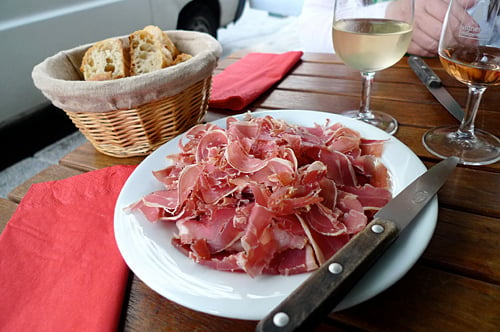 So we agreed to meet at Le Garde Robe, one of my favorite wine bars in Paris, which serves mostly natural wines. Another plus are the charcuterie and cheeses they serve by the plate (€12 for a platter of each, or you can get one mixed), which makes a great accompaniment to the wines. Each wooden board arrives in front of you resplendent and is a great way to sample some of the top-quality meats and fromages from France, and beyond.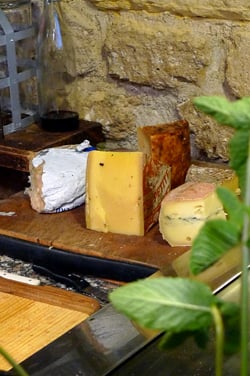 Another thing about Le Garde Robe is that the fun spills into the street. I've spent a few late evenings perched on a stool outside with friends, laughing and drinking until way past my bedtime. And the staff often becomes 'creative' when using parked cars and trucks to help them out. (Can you imagine the driver's reaction in America if they came out and saw a board leaning against their car?)
I met Rochelle way back in 1989 when we were both baking and working as pastry chefs in the San Francisco Bay Area and we met over a shared love of caramel. Our sweet fate was sealed when I gave her my recipe for dark caramel sauce. She told me it's still her favorite.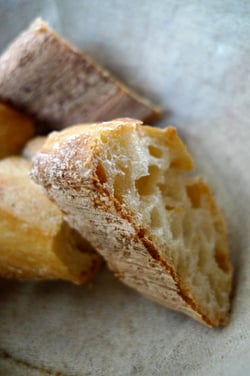 We traipsed through the wine list, tasting various wines offered by the glass (€5-€6.50) noted on the chalkboard. The staff is very savvy about the wines and I always ask them about the ones on the list because they change each day, which I can justify as being part of my "education", as I'm always interested in learning more about wine.
The other evening, when the woman (who I am this-close to being on first-name basis with, at this point) behind the bar asked how I liked the rosé that I started with, which was being chilled in a bulbous carafe so it was icy-cool, I responded that it wasn't a big, full-on rosé as I was anticipating, she looked very concerned and wanted to replace it. It was fine, but unlike other rosés that can be heavy and round, this one was a bit lighter and less-complex than I was expecting. But her response was such a nice change from the grumpy welcome I had at Au Petit Riche, it made the glass go down even easier.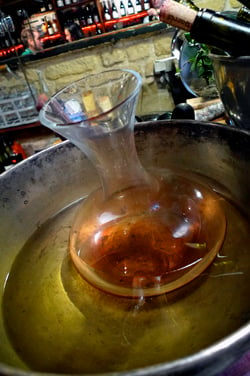 It can be a challenge to find fresh, vibrant vegetables on menus in town (vegetarians take note), and Le Garde Robe fixed us a giant platter of raw vegetables served with a dipping bowl of pesto. But the vegetables aren't just hacked up and thrown on a plate; they're sliced thinly, drizzled with nice olive and argan oil, and sprinkled with crackles of fleur de sel.
We also had a heaping plate of nutty Iberian ham that went nicely with the Sauvignon Blanc we transitioned to. If you don't want to order one of the wines by the glass, you can also check out the wines lined up on the wall and choose one to drink, paying a surcharge of €7 over the price shown. Neighbors come in to buy their wine here, hence the price difference. Needless to say, I'm apartment-hunting nearby.
I'm not sure if they serve dessert, but we ended up walking around the corner to Spring, because Rochelle's company is in Chicago, where Daniel Rose, the chef/owner of the restaurant, is from. And I wanted them to meet. (Okay, I also curious to go back and take a peek at how they were doing after their opening.)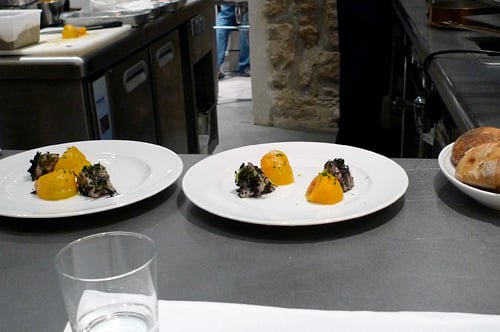 Of course, we didn't go for a full meal—we just walked in and pulled up to a couple of stool that happen to be available at the kitchen counter. (There are several reviews of Spring at Paris By Mouth*). A few minutes later, two small plates of savory food arrived: the first was a couple of wedges of tomatoes covered with leek 'ashes', which added a nice smoky touch to the sweet heirloom tomatoes. A small plate of eggplant purée topped with chunks of pickled eggplant and deep-fried shallot rings was a good accompaniment to both the wine, and the summery tomatoes.
A second plate brought a roasted morsel of veal, with another piece of veal sliced and used to hold up a prawn, a combination that went very well with the wine they suggested. We both drank Sancerre rosé, which was not only excellent, but educational, as I never knew there was rosé from Sancerre. But I'm trekking to their boutique this week to pick up a few bottles to get me through until the end of summer.
Finally came dessert, which started with bowls of raspberries, with the gentle dampness of berries that have been just-picked, floating in a light peach tea with unsweetened cocoa nibs bobbing in the broth, which provided not-too-sweet transition to dessert.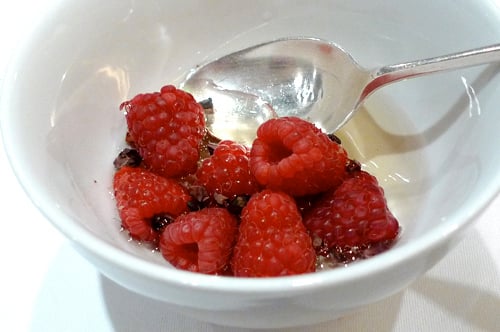 Which was two small rectangles of ricotta cake scribbled with dark chocolate sauce, which were memorable, indeed. Well, they would've been, had we not had about six glasses of wine each, including a sweet dessert wine at Spring to finish it all off.
Thankfully Rochelle has a better memory than I do and tipped me off as to how our evening ended the next day.
Le Garde Robe
41, rue de l'Arbre Sec (1st)
Tél: 01 49 26 90 60
Spring
6, rue Bailleul (1st)
Tél: 01 45 96 05 72
[UPDATE: As for Fall of 2017, Spring is now closed. Check out Daniel Rose's French bistro, La Bourse et La Vie.]
Favorite Wine Bars in Paris
Paris Wine Shops & Bars (Dr Vino)
Le Vert au Vin (John Talbott's Paris)
Tombé du Ciel (Hungry for Paris)
*UPDATE: I did go back a few days later and had a full-on lunch with friends. We had a lovely bottle of Chablis and each had the 'bouillon' lunch offered, which is a series of tastes and different dishes, with a bowl of soup being part of the attraction.
Our meal started with rich eggplant puree topped with pickled eggplants, smoked yellow heirloom tomatoes, fried eggplant slices (that were amazing), then a cool, bright-green soup made of salad greens graced with crisp bacon. On the side were copious slices of warm duck breast with very thin French radishes and tiny beets scattered over the top. Dessert was cheesecake on a crust of speculoos (spice cookies) with the best raspberries I've had in Paris, and a perfect little dab of tangy lemon curd.
The meal was truly wonderful, but is a lot of food at lunch. So if you go, bring your appetite. The price for three of us, which included a €40 bottle of wine, one order of cheese (€7) served tableside from their fine selection, and coffee was €167. Because of the specialness of the ingredients and the attention devoted to their preparation, there are no choices on the menu at Spring. So if you go, you should be open to eating whatever is being served that day.
Related Links
French Menu Translation Made Easy