O Chateau: Wine Tasting in Paris
Sometimes I go back into the archives and pull up a post to refresh it. Perhaps the hours have changed, they've moved, or something else prompted me to tweak the entry. But a lot has happened since I first wrote about Ô Chateau wine tasting programs. First off, since I wrote about them, they've moved – twice.
Now in their third, and final, location, they've expanded their tasting areas, adding a smaller one for more intimate events, and expanding the main tasting room in the cave. (Guided tastings start at €30.)
But the biggest change is that there's now a full-scale wine bar and restaurant. So for folks that want to taste some wine with a trained French sommelier, perhaps with owner Olivier Magny (who is also the author of Stuff Parisians Like, where he casts a humorous glare at his fellow Parisians), you can do that. But if you're just interested in having a glass of wine, along with something to eat, the wine bar allows you to do that.
I'm by no means a wine expert but of the forty wines that are stocked in the cruvinet-style wine refrigerator, you can drink a €5 glass of whatever the house is pouring during their happy hour, or splurge on a glass of Yquem, which will take a big chunk out of your wallet, but you won't be the same for the rest of your life after tasting it. I'm still reeling from a generous sip I had back around 1988.
The kitchen is now under the direction of Campbell Whitman, a graduate of Cordon Bleu in Paris, whose family owns a small winery in California. But the food isn't stodgy at all, and when I went with my recent tour group, we were all delighted to snack on wooden boards of excellent foie gras de canard, generous slices of nutty Bellota Spanish ham, and even house made desserts. I've been back a few times and the food at the wine bar is better than many of the restaurants in Paris, including mashed potatoes that will make you raise a glass to toast Monsieur Parmentier, the gentleman who prodded Parisians to eat potatoes by tricking them into eating what they thought was a precious crop, which staved off famine.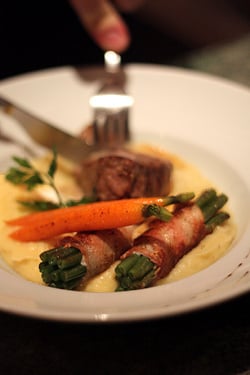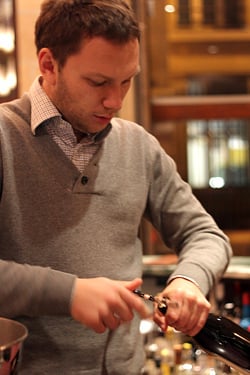 Because Olivier speaks a variety of languages, with startling fluency, you'll find the place staffed by people of various nationalities, as well as guests from around the world. So if you're a lonely, solo (and timid) traveler – as I sometimes am – you're like to find someone speaking your language here.
At a recent tasting, I learned a few things about French wine, such as the average price that a person pays for a bottle of wine in France is €3.60, color doesn't indicate sweetness in French wine – such as in rosé wines, and France has 150,000 wineries versus 1600 in California. And there are 800 wineries in Saint-Émilion alone, the same amount as in all of Australia.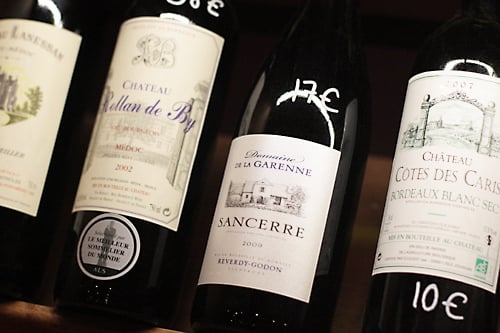 France makes 23% of the wine in the world, you can't show people having a good time and enjoying a glass of wine in ads for wine in France, close to 47% of the women in France don't drink wine, and because of global warming, the south of France will be producing less wine and northern parts of the country and Europe, such as Normandy and England, will likely become more important wine producing regions.
Still, for most of us who live in France, and for folks coming for a visit, wine is an important part of French culture. And if you'd like to learn more, either by tasting with a trained wine expert, or just on your own, Ô Chateau is one of the few places in Paris which gives you the option of doing either.
Ô Chateau
68, rue Jean-Jacques Rousseau (1st)
Tél: 01 44 73 97 80
(Map)
Related Links
French Menu Translation Made Easy