Thanksgiving in Paris…and above & beyond
When folks ask me what the French do for Thanksgiving, I don't think the word they're expecting to hear are "Um, nothing." And why should they? It's not as though America shuts down for le 14 juillet.
Still, a few places around here do get into the spirit and you'll see a few bags of cranberries at the market, a few more sweet potatoes piled up, and smart volaillers stocking whole turkeys, normally a rare site in France.
Since it's pretty much life-as-usual around here on the fourth Thursday of November, when a message from Olivier Magny of O-Château popped up in my Inbox earlier in the week, asking if I'd like to go to a wine-tasting, at 30,000 feet that day, I said, "Sure!"
So there I was, stepping out of my apartment, at 7:15 am Thanksgiving morning, heading to Orly airport to meet up with Olivier and his team of sommeliers.
The other passengers on the plane were a little astounded to see a team of folks walking up and down the aisles pouring wine, with Olivier giving tri-lingual tasting notes as we sipped three wines from Catalonia, the place where our flight was heading.
So what's not to enjoy?
And in about an hour, after all three wines had been tasted and evaluated, with our tray tables up and seat backs in the full, upright position, we arrived at the airport, where a group of us shuttled to the nearby Hesperia Tower for lunch made by Michelin-starred chef Santi Santamaría.
It wouldn't be Spain without starting out with a dish of salty Marcona almonds, which are one of my top-ten foods in my book. I don't know what I would do if I have unfettered access to these super-crispy nuts, but if you haven't ever had them, do yourself a favor and try them.
And it wouldn't be Catalonia if there weren't croquetes. These were filled with diced Iberico ham, another one of Spain's great delicacies. I ate all of mine as fast as possible. And looking around the table, I saw I wasn't the only one not pining for roast turkey with all the fixins.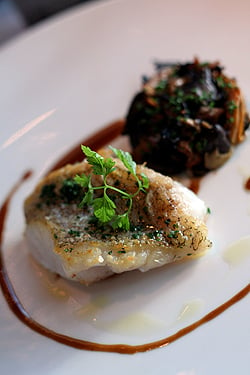 A few more courses later, we ended with a square of chocolate mousse wrapped in a sheet of chocolate icing and topped with a neat oval of vanilla ice cream and I said "Si!" when the waiter came by to see who wanted—or in my case, needed—coffee.
Then, before I knew it, we were headed back to the airport. Although there was a group of scantily-topped women, dining in the courtyard outside, below and I had to pry a few of the men in our group away from the window. But since it was Thanksgiving, we did have to make concessions because no matter where you live, whether in France, Spain, or American, there will always be those who enjoy breast meat, and those who prefer les croquetes. And I'm thankful to spend the day with a convivial mix of all of the above.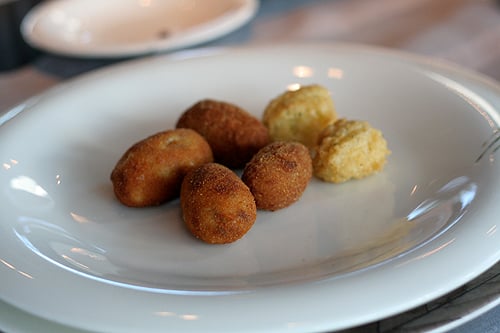 But lest you think I did without the traditional Thanksgiving fare, you're wrong. My plane touched back down in Paris at 6:40pm and I made it back to the center of the city in less than an hour. Planning in advance, I'd dropped off a batch of pumpkin ice cream at the apartment of our hostess earlier in the week, and a mixed group of Americans and French gathered round the table for roasted bird, gravy, cornbread stuffing, and even sweet potatoes topped with rounds of Haribo marshmallows. Which are, admittedly, a tough sell to anyone who isn't American. (And even to a few who are.)
By the time I stumbled into bed late last night, I'm sure I could've thought of a few things to be thankful for. But my head finally hitting the pillow at the end of the day had somehow made it to the top of that list.
When I woke up this morning, I was thankful that I opted out of the all-night tour of Barcelona that was proposed at the very last minute as we were standing in line at the airport waiting for our return tickets. While some of the others were winding up after a night of festivities in Barcelona, I was in my toasty bed. Which, after a day like yesterday, was a place I felt truly thankful to be.



Related Posts
Olive Picking in Provence (Thanksgiving 2008)
And, next weekend, December 6th, I'll be doing a book signing with wine at O-Château from 3-5pm sponsored by Context Paris. More information is on my Schedule page.